Back by popular demand, Squeeze My Cans, a one-woman autobiographical solo performance by Cathy Schenkelberg, is now playing at Greenhouse Theater Center, where it was featured last summer as part of the Solo Celebration! Series. Directed by Shirley Anderson, this short play tells the story of playwright/performer Schenkelberg's experience with Scientology. Funny and heartbreaking, Squeeze My Cans provides a fascinating look into a well-known but mysterious cult.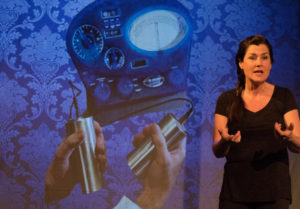 The title is a tongue-in-cheek reference to E-meters, devices used as part of Scientology's practice of auditing, a series of question-and-answer sessions designed to help practitioners reach "clear" status. Confused? Me too. Although context clues help the audience get the gist of what Schenkelberg is talking about, some of the explanation of the practices of Scientology is murky or non-existent. If you're starting with zero knowledge of Scientology (as I was), it may be helpful to do a quick Google search of its beliefs and practices before attending, as the show assumes at times a knowledge of basic terminology.
Cathy Schenkelberg is a talented and entertaining performer. She is honest, unapologetic, engaging, energetic, and most of all, funny. Even in the show's less coherent moments, it is impossible to lose interest or investment in Schenkelberg's story. Her quirky personality and willingness to share the most intimate details of her life with strangers are the driving forces behind the performance. Although Squeeze My Cans provides a less-than-comprehensive explanation of what Scientology is and does, its exploration of Schenkelberg's emotional journey through finding and leaving the religion is both thorough and compelling.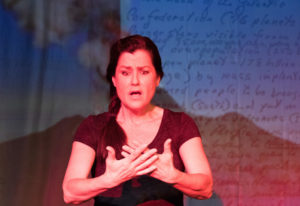 The show uses projections (designed by Victorio Deiorio) as a backdrop for the storytelling. One of the simplest and most effective devices of the performance is the projection of a running total of how much money Schenkelberg has spent on Scientology. Even as she describes stages of supposed spiritual enlightenment and her excitement at reaching higher and higher levels in the instructional courses' hierarchy, it is impossible to forget the financial toll the religion is taking on her. Light design by Brandon Baruch plays an important role in the show as well, enhancing the storytelling without ever getting in the way.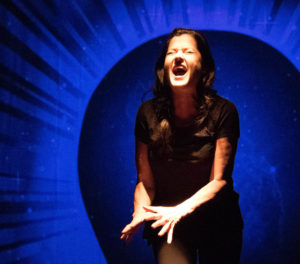 Cathy Schenkelberg's one-woman show is a captivating glimpse at the emotional and spiritual struggle of a woman trying to find her purpose in life through a money-hungry cult. Although the text could use work in places, Schenkelberg's talent and honesty as a performer, as well as her excellent comedic timing, make the show an entertaining and thought-provoking one.
Ticket Information
Location: The Greenhouse Theater Center, 2257 N. Lincoln Ave, Chicago
Dates: Friday, February 17 – Sunday, March 12, 2017
Curtain times: Thursdays and Friday at 7:30 pm; Saturdays at 7:30 pm & 10 pm; Sundays at 2pm
Tickets: $25. Students $20. Tickets are currently available at the Greenhouse Theatre website, in person at the box office or by calling (773) 404-7336.
All photos by Caleb Forsythe.