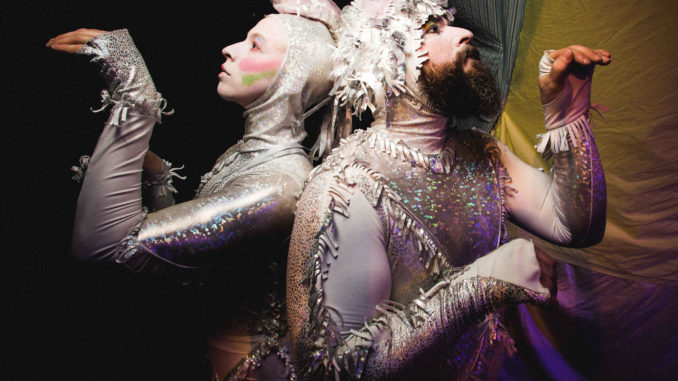 Husband-wife team Leah Urzendowski and Anthony Courser draw from childhood TV shows and the politics of joy in the The? Unicorn? Hour?, directed by Adrian Danzig. This charming oddity of a show embraces the spirit of childlike joy and can best be described as really f*cking delightful.
For this show, the Neo-Futurists' performance space is transformed into a "joy womb," something akin to the interior of a blanket fort. The effect is immediately soothing, creating an environment that is soft and gentle and prompts reminiscence of beloved childhood pastimes. Scenic designer Archer Curry has done a marvelous job capturing the spirit of the performance. Perhaps even more essential to the storytelling is costume design by Sky Cubacub, which transforms Urzendowski and Courser into glittering silver embodiments of unicorns with both sparkle and pizzazz.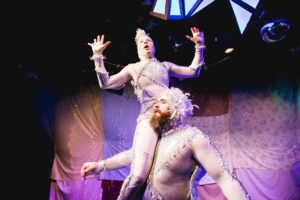 Further contributing to the world-building are a number of special effects, including curtains and doors that open by themselves and a symbolic hot air balloon that pops out like a cuckoo clock and slowly descends towards the stage. Bubble makers and disco balls play a key role as well. And lighting design by Claire Chrzan and sound design by Spencer Meeks create beautiful and emotional spectacle throughout.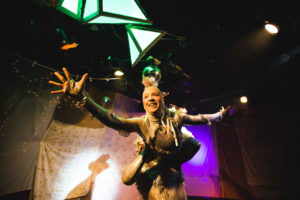 As to the play itself, it does not so much tell a story as create a mood. For example, the "swear square," a chalked-off section of the stage designated for cursing, is introduced early in the performance and immediately sets the mood for the hour to come, with the two performers giddily running in and out of the square, inventing new and more creative ways to swear as they go. Although it has all the trappings of an adult performance (f-bombs abound), The? Unicorn? Hour? nevertheless embodies in abundance the spirit of a children's show.
Performers Leah Urzendowski and Anthony Courser express honest, simple emotions and take unabashed delight in their own antics, which include dance, physical storytelling, and a variety of "stunts." Both Urzendowski and Courser are utterly charming, and what could have easily become silly or overwrought in other hands becomes exciting and transformative in theirs. The show is hilarious, foulmouthed, innocent, and sweet all at once, and every moment of this romp through the forest is infused with a pure sort of joy.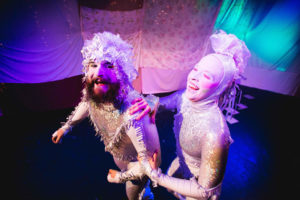 The play is successful in its mission to banish darkness and generate light. Joy can be its own kind of resistance, especially in times that can so easily dampen or crush the spirit. The? Unicorn? Hour? is a candle in the nighttime, sixty minutes' worth of joyful moments that invigorate and delight. The ending in particular is deeply moving and so uplifting that it brought me to happy tears. The? Unicorn? Hour? is essential viewing for anyone who feels the threat of despair closing in and wants to push it back. Leah Urzendowski and Anthony Courser have brought something purely good into our troubled world.
Ticket Information
Location: The Neo-Futurarium, 5153 N. Ashland
Dates: April 6  – May 13, 2017
Times: Performances run Thursdays – Saturdays at 7:30 p.m.
Tickets: $10-25. Tickets and information are available at the Neo-Futurists website or 773.275.5255.
All photos by Joe Mazza at Brave Lux.