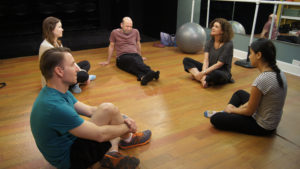 Redtwist Theatre presents Circle Mirror Transformation, written by Annie Baker and directed by Scott Weinstein. Set in an adult creative drama class in a small town in Vermont, the play tells the story of five very different people who, thrown together through the intimate interactions of the class, form connections and pull apart in quiet but life-altering ways. Baker's play is a work of genius, and the folks at Redtwist bring it to life with elegance and nuance.
At the heart of the class is Marty, a long-time community center administrator and instructor who has finally achieved her dream of teaching a creative drama class for adults. Enrolled in the class are her husband James, middle-aged recent divorcé Schultz, high school student Lauren, and Theresa, an actor who became disenchanted with the New York stage and settled down in the small town in hopes of making a difference in people's lives there. As the class and the story progress, fleeting moments of romance, friendship, tension, and more spark between the participants as they share more and more of themselves through the exercises.
Annie Baker's style of storytelling is hyper-realistic. For example, the title Circle Mirror Transformation comes from the name of a theatre game that is played in real time onstage, in which the participants lie with their eyes closed in the dark and must count to ten as a group without anyone speaking simultaneously. The game is slow and quiet, but within it lie infinite layers of meaning as each subsequent iteration embodies the changing mood and relationships of the characters involved. Annie Baker makes symphonies out of silences, poetry out of the pedestrian. Her text is subtle, rich, and layered, yet simple.
The actors in this production deliver solid performances. Emily Tate in particular is compelling as Theresa; although she reads as much younger than her character's stated age of 35, Tate has both vivacity and vulnerability onstage, which make her a delight to watch. Talia Payomo captures the spirit of a sweet but outwardly disgruntled teenage girl with skill. The ensemble overall succeeds at embodying the subtext and subtlety of Baker's script.
Set design by Elyse Balogh is simple, creating the environment of a dance studio/workout room with only a few basic elements. Costume design by Kotryna Hilko features some delightful elements, including an ACLU T-shirt on James, a number of multicolored, hippie-esque pieces on Marty and, a personal favorite, fun socks on Lauren, including a pair featuring taco cats (which should be a staple of any wardrobe). The screen printing on Lauren's T-shirts, however, leaves much to be desired. Lighting design by Daniel Friedman is clean and appropriately subtle, and sound design by Karli Blalock displays the passage of time while also functioning as a suitable transition.
Circle Mirror Transformation is a fantastic play, and the folks at Redtwist Theatre have done a good job bringing Baker's script to life. This play is a must-see for fans of the Pulitzer prize winner's work.
Ticket Information
Location: Redtwist Theatre, 1044 W Bryn Mawr
Dates: Saturday, April 15 – Sunday, May 14, 2017
Times: Thursday, Friday, Saturday at 7:30pm; Sunday at 3pm
Running Time: Approximately 105 minutes, no intermission
Understudy Performance: Tue, May 9, 7:30pm; $20 (seniors & students $5 off)
Tickets: Thursdays, $30; Fridays, Saturdays, Sundays, $35 (seniors & students $5 off). Tickets available at the Redtwist Theatre website or by calling 773-728-7529.
All photos by Jan Ellen Graves.