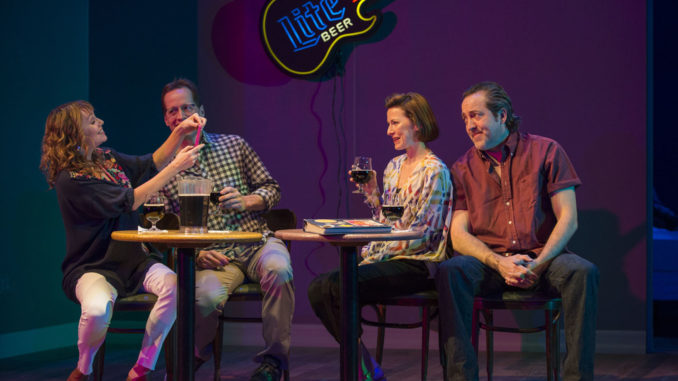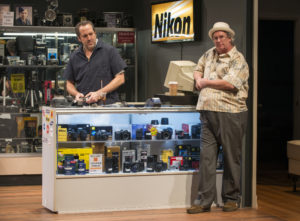 Pulitzer Prize and Tony Award-winning playwright Tracy Letts is back at Steppenwolf once again. Only this time it's not so much his new play, Linda Vista, that's causing controversy. Rather, it's his firm decision to refuse the Jeff Awards Committee to see it without purchasing tickets. In an interview posted to the Chicago Tribune Lett's berates the committee. He accuses them of being a club for old white people to get free tickets without ever contributing to the theatre community.
Such sentiments should not be surprising coming from Letts. If anything, these statements exemplify the essence of our lead character, Wheeler (Ian Barford), in his new premiere. Wheeler is a man who is coping with a midlife crisis and whose problems are ultimately his own fault.
I have never disliked a lead character as much I did sitting through this show. In fact, I found Wheeler so utterly repulsive, obnoxious and loathsome that I rooted for him to fail and I wasn't the only one. In the second act, Wheeler comes crawling back to a young woman he dumped to plead with her to give him another chance. She refuses which spurned nearly half the audience to spontaneously break into loud applause in outright approval at seeing this sardonic loser get tough love thrown in his face.
That said, Linda Vista, as a whole is not a bad play, especially for a premiere. The show is highly entertaining, edgy, and very funny. It also grapples with the tough love complexities of human interactions and the constant back-and-forth swing we deal with in relationships. One in which we're happy grateful to be with a partner one moment and sad regretful the next.
The title refers to the San Diego condominium building that Wheeler moves to. The play's overture features Wheeler and his best friend moving boxes into his new unit; it recalls the various move-ins a 20-year-old might experience, complete with beers at the end, thus cluing us in that Wheeler has some maturing to do.
Wheeler is a 50-year old man that abandoned a career as a photojournalist at the Sun-Times. He had been living in the garage of his wife's home in San Diego. But, with the messy divorce in the final stages and his son, 15-year old Gabe, wanting nothing to do with his him anymore, Wheeler flees into the cruddy apartment complex to start his life anew with the help of his friend Paul (Tim Hopper) and his wife Margaret (Sally Murphy).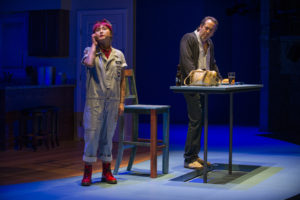 Paul and Margret  have set Wheeler up on a blind date with a young life coach named Jules (Cora Vander Brock). They slowly hit it off. But things get complicated when Minnie (Kahyn Kim), a Millennial Vietnamese woman, moves in for a safe place to stay after discovering she's pregnant with her abusive boyfriend.
Meanwhile, there's also a subplot involving Wheeler's job as a camera repairman, wherein he has to deal with the constant creepiness of his perverted boss, Michael (Troy West), and the overt sexual harassment Michael flings at the store's new assistant, Anita (Caroline Neff).
Steppenwolf has been introspective lately on the downfall of the straight white man producing works like Domesticated and the aptly titled play Straight White Men. In these plays I was able to find sympathetic qualities in the leading player's plight to be intrigued. With Linda Vista, the only thing I found amusing about Wheeler were his political jokes on Donald Trump (though these side-quips came out as seeming more like words straight out of the playwright than from the character). Other than that, I just couldn't have cared less about Wheeler's journey.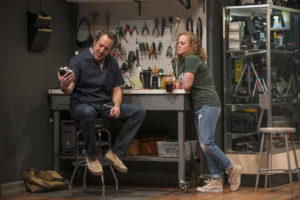 If there's one thing Lett's could work on more for future versions of this show, it's making Wheeler at least somewhat charming. As he is now, I don't understand why we have to sit through nearly three hours of this annoying loser take out his self-destructive behaviors on two women, who, in reality, would've never fallen for this man.
There's nothing remotely redeeming about Wheeler. He's not funny, captivating, interesting, physically attractive, or sympathetic enough for us to find some ounce of likeability towards him. He's also not emotionally vulnerable enough to warrant the pity or protection that Jules and Minnie seek. In the end, Lett's tries to redeem Wheeler by having him stand up to Michael in Anita's honor, but even that's not enough to save this pathetic character.
I can't say that everyone will have the same reaction as me. Maybe if you're a straight white man of the baby-boomer generation, you may very well find some traces in Wheeler resonating with aspects of your life – such is the subjective nature of art that filters through our unique life experiences. Vista, like so many of this excellent playwright's other works, turns a spotlight on the unexamined life of the downtrodden. In this case, it's the aging straight white man. It's a group that is hard for me to feel pity for given how much privilege (perceived or not) and destructiveness they've had on the world for the last 2,000 some years.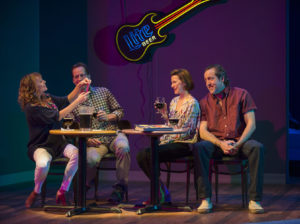 I get the sense that Vista is really just a self-examination of Letts himself. All plays have roots in the playwright's life experiences. And, while I don't know Lett's entire background, I can tell that this play, in particular, is deeply personal for him. It seems to be an outpouring of Lett's own struggle to understand how bad choices have resulted in unlucky circumstances. There's also an anxiety to being in your midlife, where you realize there's only so much time left and your stuck dealing with decisions made by your younger self.
Vista is, after all, a comedy. It is quite funny in places, especially whenever Tim Hopper and Sally Murphy are on stage. It often feels as if you're sitting through TV sitcom. But, just like many brainless sitcoms, after a while you may wonder to yourself, what's the point of all this? Halfway through Act Two the woman seated to my left leaned over as I was taking notes and whispered "Is this play going anywhere?" at which point my friend seated to the right of me responded with a swift "no."  Without a specific aim, the play seems to meander all over the place, never really finding its focus.
The scenic design by the always outstanding Todd Rosenthal involves a rotating set that, along with Dexter Bullard's superb direction, keeps this show's 3-hour pace from lagging and highlights the often sitcom-like feel to it. It's easy to see Linda Vista as a movie similar to how Lett's past works, Superior Doughnuts, and Osage County were.
I should also mention that there are some sexual scenes in this play, which includes a ten-minute scene done entirely in the nude between Bardford and Vander Brock. Sex and nudity, in general, are incredibly difficult to pull off effectively on stage. Nudity tends to take audiences out of the world of the play and into a quizzical mindset of how the actors must be feeling. However, Bullard managed to make the nudity feel so organic to the script, and the actors seem so comfortable with it, that the stark nakedness almost seemed like an afterthought.
The cast is excellent. I've said before that Ian Barford's acting exudes a sitcom-like persona. He's a perfect fit for this script and the cynical self-doubting anti-hero he portrays. And this is the best work I've ever seen from Tim Hopper. His connection with Ms. Murphy is spot-on. The two feel like a real couple.
Lett's sharp writing combined with the quick dry, deadpan delivery from Hopper give this play its funniest scene involving locker room banter about what matters most in life at your deathbed. That it "doesn't matter what you should do in life, only what you're going to do." What matters most at the end of our lives is knowing we took full advantage of whatever happiness we have now.
Bottom Line: Linda Vista is somewhat recommended.
LINDA VISTA – Steppenwolf Theatre
Running Time: 2 hours and 50 minutes, including a 15-minute intermission
Location: Steppenwolf (Downstairs Theatre), 1650 N Halsted St, Chicago IL 60614
Located a block north of the North & Clybourn station on the CTA Red Line on Halsted Street.
Runs through: May 21, 2017 (EXTENDED through May 28, 2017)
Tickets: $20 – $94 and can be purchased online (see link above) or by calling the Steppenwolf Audience Services Box Office at 312-335-1650
Discounted Tickets: Ask Box Office about student tickets ($15), 20 for $20, groups, half-price rush discount tickets, and Flex Card Memberships
Curtain Times: Tuesdays – Fridays at 7:30 PM, *Saturdays at 3 PM & 7:30 PM, and Sundays at 3 PM. *There will be no performances on Saturday, May 13.
Additional Performances: Sundays at 7:30 PM (April 16 thru May 14) and Wednesdays at 2 PM (May 3 thru May 17)
Performances for People with Disabilities: There are a few performances during the run that will contain an Audio Description, American Sign Language Interpretations, and Open Captioning. For more information, please visit the Steppenwolf Accessibility Page for specific dates.
Written by Steppenwolf Ensemble Member Tracy Letts, Directed by Dexter Bullard
The production team includes Todd Rosenthal (scenic design), Laura Bauer (costume design), Marcus Doshi (lighting design), Richard Woodbury (sound design), Gigi Buffington (vocal coach), Aaron Carter (artistic producer), Tom Pearl (director of production). Additional credits include JC Clementz (casting) and Nicole Arbusto (Los Angeles casting), Christine D. Freeburg (stage manager), Elise Hausken (assistant stage manager), Juli Del Prete (assistant director), Kaili Story (assistant lighting designer), Sarah Illiatovich-Goldman (script supervisor), Vanessa Rundle and Joe Creen (run crew), Sarah Diefenbach (wardrobe crew), Michael Dold and Bennett Seymour (additional properties), Lavina Jadhwani, Derek Matson, Derek McPhatter and Leean Torske (artistic engagement associates), Jacob Brown, Andrew Glasenhardt, Bailey Jones, Kevin Lynch, and Mark Vinson (additional carpentry), Sarah Lewis (assistant change artist), Zhanna Albertini (additional paint), Lina Benich (stage management apprentice), Dianne Nora (assistant to playwright)
Cast includes: Ian Barford (Wheeler), Tim Hopper (Paul), Kahyun Kim (Minnie), Sally Murphy (Margaret), Caroline Neff (Anita), Cora Vander Broek (Jules), Troy West (Michael, Voice)
Understudies: Aurora Adachi-Winter (Minnie), Jeanne T. Arrigo (Margaret), Erin Barlow (Jules, Anita), John Gawlik (Wheeler), Loren Lazerine (Michael, Paul)
Photo Credits: Michael Brosilow