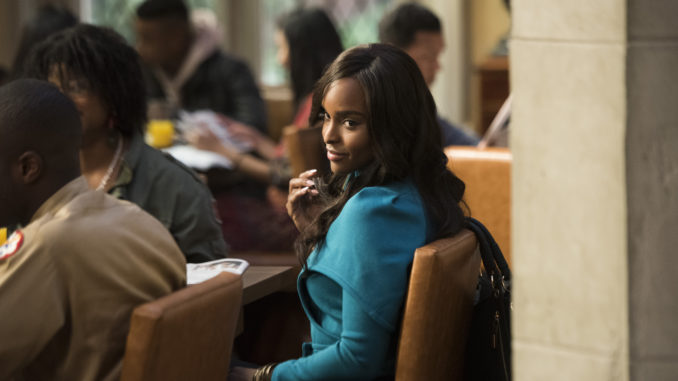 The 10 episodes from Season one (1) of one of the most anticipated new comedy 'Dear White People' produced by Lionsgate for Netflix is now streaming worldwide since today April 28th.
This half-hour show is an incisive and satirical Netflix original series.   The series is entertaining, classy, and distinctive because it depicts smart African Americans who struggle with today's society.  'Dear White People' highlights the important issue of discrimination of smart and educated minorities in colleges across the United States. The series has attractive, lovely, intriguing, and unusual characters that each face their own demons. The path that each of the characters takes in season one represents the change we need in our society, but with witticism.   The original series is lively, clever, and humorous, but also has a bold and brainy script that is even better than the original movie.  You will be hooked and obsessed with the fresh storyline of the millennial black generations of 'Dear White People'.
The series is about the predominantly white Ivy League University where racial tensions bubble just below the surface.  'Dear White People' is a send-up of the now post "post-racial" America that weaves together a universal story of finding one's own identity and forges a wholly unique path. The series is based on the acclaimed 2014 film by the same name which follows a group of Winchester University's students of color as they navigate a diverse landscape of social injustice, cultural bias, political correctness (or lack thereof), and activism in the millennial age.  Through an absurdist lens, 'Dear White People' utilizes biting irony, self-deprecation, and sometimes brutal honesty to hold up a mirror to the issues plaguing society today, all the while leading with laughter.
Justin Simien is the creator, executive producer, director, writer and co-showrunner Justin of 'Dear White People'  Netflix Original.  The Original Series has as stars Logan Browning (Sam), Brandon P. Bell (Troy), Antoinette Robertson (Coco), DeRon Horton (Lionel), John Patrick Amedori (Gabe), Ashley Blaine Featherson (Joelle), and Marque Richardson (Reggie).  Yvette Lee Bowser ("A Different World", "Living Single") serves as co-showrunner and executive producer, while Stephanie Allain ("Hustle & Flow", "Beyond the Lights") and Julia Lebedev ('Dear White People') executive-produce.
Splash Magazines had an exclusive interview with Antoinette Robertson during SXSW in Austin TX with our writer Yenis Monterrey
Yenis Monterrey.- There is a racial achievement gap in school and colleges and "Dear White People" seems to touch the issue very accurately. How did you feel as an African American in accepting a role that could really touch you inside out? Was it difficult for you to accept the role?  Do you feel your voice will be heard with your character? Your character is an ambitious, smart and empowering woman.
Antoinette Robertson.- I felt honored that Justin would entrust such a powerful character to me.  I felt grateful for the opportunity to create something that will inform, inspire, and provoke awareness on so many levels. I didn't hesitate for a moment when taking the role because I feel so passionate about activism and art coexisting.  I definitely feel as if COCO's voice, likeness, and experiences will cause people to identify with her, as she slowly reveals the truth of her struggle.  Her unapologetic ambition and tenacity are definitely empowering.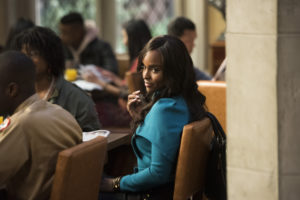 Yenis Monterrey.- One thing I like about the show is that it presents the most qualified and smart black people as top college students. We need a show like that on TV that portrays African Americans as smart, and ambitious with dreams. How do you feel about it?
Antoinette Robertson.-I live for it!!! It's about time art mirrored humanity and portrayed African Americans with all the multidimensionality that we possess. Those positive images are so desperately needed because how we are represented does indeed matter. Younger generations need to see themselves as powerful capable individuals and that begins with the images that they consume. Seeing people of color depicted in upwardly mobile positions and collegiate atmospheres that are reflective of society is part of that and that narrative should also be represented.  They need to know being a Harvard educated black man that became president isn't an anomaly but could be their reality.
Follow LA Splash Magazine Twitter @SplashMagWW Instagram @Splashmags
Follow Yenis Monterrey (Writer) Twitter @Foxactress Instagram @YenisMonterrey
Follow 'Dear White People' on Instagram @dearwhitePeople Follow 'Dear White People' on Facebook