By Kathy Carpenter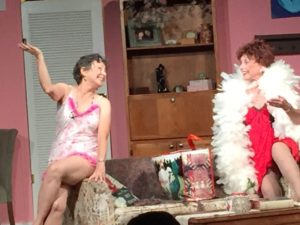 photo courtesy of PowPac Theatre

Community theatre a niche.of it's own. In San Diego county we are fortunate to have great theaters interspersed throughout. I have been blessed to attend shows at most of these venues, and if a play sounds like one you would enjoy you most likely will. I'm surprised time and time again at the quality of plays San Diego offers. From youth theater to Broadway and everything in between.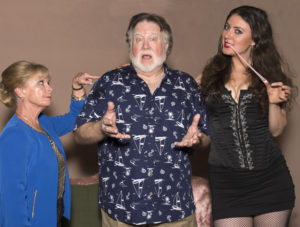 photo courtesy of PowPac theatre

PowPac is the community theatre in Poway. Located on the far side of town in the Lively Center strip mall on Poway Road.  A quaint homey venue. The lobby is a place the locals gather to visit before the show decorated in the theme of the play setting the ambience and tone, inviting us in. The sets are always fabulous. Of all the community theaters they always make you fell like part of the family.

photo courtesy of PowPac Theatre

Nana's Naughty Knickers. Senior fun for those who know and love their grandma's. Funny and cute. "If you are quiet, you're not living.You've got to be noisy and colorful and lively–Mel Brooks." Is it wrong to pursue something you love if it's not hurting anyone? When College aged Bridget awaiting her law school entrance comes to spend the summer with 85 year old grandma she finds Nana pursuing an old passion. She's selling naughty lingerie to seniors out of her apartment. So many red flags to Bridget, but Nana isn't ready to give up on life. She just wants to have fun.The play takes pace present day in an apartment in Manhattan.

photo courtesy of PoWPac Theatre

Linda Benning plays the spirited Nana. Fun loving and adorable. Yvonne Lindtroth Silva plays her hard if hearing friend, Vera .  Christina Cunningham, plays Bridget, her granddaughter, Joshua Meihaus, plays the helpful neighbor, cop. The cast rounds out with Janay Sarah, Jackie Bryom, Tom Pierpont, and Alejandro Gutierrez. A well meshed cast working together to an audience delight. Directed by Robyn Smith, who believes you should pursue your harmless dreams no matter what your age.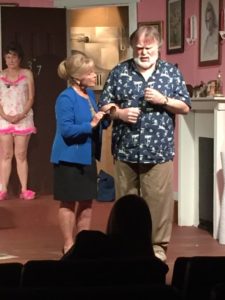 photo courtesy of PowPac Theatre

During this show Powpac is supporting Mama's Kitchen by raffling off a painting. Bring your cash to support a great cause.
PowPac features a six play season. Generally serving up a little something for everybody. "Nana's Naughty Knickers," finishes off the  A Season of Firsts, and plays weekends through June 18, 2017. Opening the "Let's Laugh season, is "Perfect Wedding," a comedy by Robyn Hawdon.  July 21 – August 20, 2017. Followed by "Quartet," a funny, yet poignant play, "Making God Laugh," comedy drama, "P.S. Your Cat is Dead," comedy, "A Bench in the Sun," comedy, and rounding out with "Steel Magnolias'" comedy drama.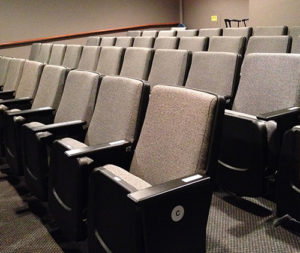 photo courtesy of PowPac Theatre

Come for the play become one of the family.
www.powpac.org
[email protected]
858.679.8085