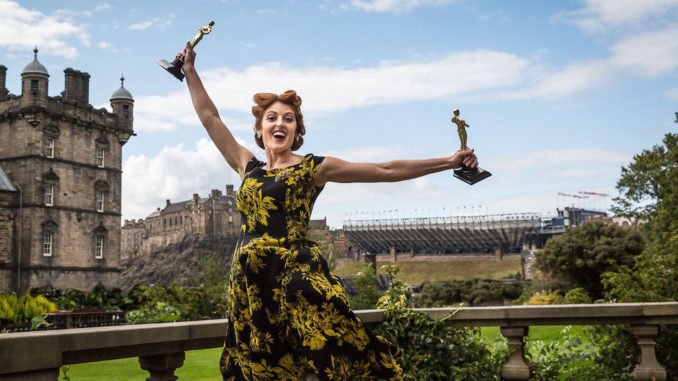 She might not have "Bette Davis Eyes," or her stinging sarcasm, but actress Jessica Sherr packed her portrayal of the legendary actress in her one-woman show, "Bette Davis Ain't for Sissies," with a lot of the dreams, sacrifices, and energy of the original. The play comes from the heart, depicting how the fictional Davis comes to terms with a minor career setback, a "Best Actress" loss in the 12th Annual Academy Awards. The title is taken from a famous quote attributed to Davis, "Old age ain't no place for sissies."
The drama that kicks off this character study is based on the true story of the 1939 Oscars when the LA Times broke the traditional Oscar news embargo, and released the winners list in its evening edition. The paper's afternoon release left plenty of time before the 11:00 PM announcement for Davis to learn she would not win the Best Actress award for "Dark Victory." The award instead would go to Vivien Leigh for her portrayal of Scarlett O'Hara in "Gone With the Wind."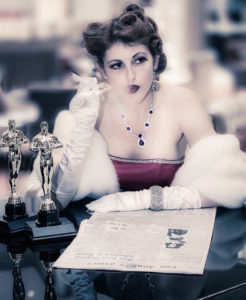 Davis already had two Best Actress Oscars, one for "Dangerous" in 1935, and the other for "Jezebel" in 1938, but, at least in Sherr's version, that didn't diminish her disappointment. In the play, Davis leaves the ceremony early, goes home, and takes off her gown, leaving the jewelry on. Once comfortable, the Davis character engages in a monologue about her life and career, and a string of phone calls with several people including her mother, Ruth Augusta Davis or "Ruthie," as Davis called her after her separation from Bette's father, and friend and colleague, actress Olivia De Havilland. She dismisses her mother's suggestion that she's a spoiled sport, insisting her early departure from the awards ceremony was really due to the next morning's early shooting schedule for her role as Empress Carlotta in "Juarez."
In the ensuing discourse, Sherr's Davis talks about many formative moments of her life up to that point, including her transition from the Broadway stage to Hollywood, her early work with Carl Laemmle at Universal Studios, her introduction to George Arliss, who helped bring her to Warner Bros., several past roles, her marriage to and split from Ham Nelson, an affair with Howard Hughes, and her 1936 lawsuit against Warner Bros. Davis had been disappointed with the roles the studio was giving her, and sought the power to choose her own roles, regardless of studio ownership, but Warner Bros. won the suit in a United Kingdom court, and Davis soldiered on.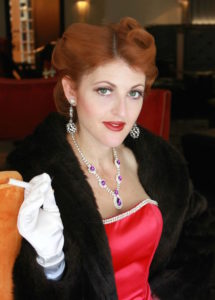 Sherr's strong performance was somewhat marred by production issues. The set, depicting Davis' home, appeared to be authentic to the period, but seemed a little drab for an established, two-time Oscar winner. There were a couple of technical issues as well. At times, when the Davis character refers to a particular role, Sherr pauses for a too brief clip of almost unintelligible audio from the movie. At other times, when her character reminisces, the lights dim to indicate a memory, but wash her out in the process. Bathing the actress in a brighter, or a blue light might have been more successful. One highlight, however, was Sherr's Bette Davis wardrobe. Her Oscar gown seems worthy of the Oscars, and her wardrobe changes were accomplished seamlessly. After the play, Sherr revealed that a scarf, and a pair of green gloves used in the play were owned by Davis, and loaned to the production from her estate.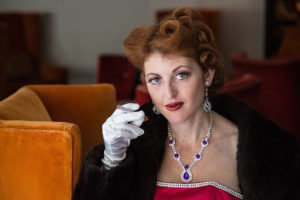 The good, outweighs the bad in this show. Sherr, also the playwright, takes an interesting little factoid of Hollywood history, and makes it into an original, independent art piece with respectable story and character arcs. Her performance captures many of the qualities that made Davis one of the greatest actresses of her time, her willingness to take on tough roles with good sense, and humor rather than fear or regret, and a complex and contrasting personality that went from tough to emotional and vulnerable. Like Davis, Sherr shows that she isn't afraid to take on a tough role, or bring out essential truths about her character that might not be all that agreeable.
Does Bette go back to the awards ceremony, and accept defeat with grace? You can find out at The Athenaeum Theater, through July 2. For more information, and tickets see the show's website at http://athenaeumtheatre.org/bette-davis-aint-for-sissies/.
Photos courtesy of Jessica Sherr