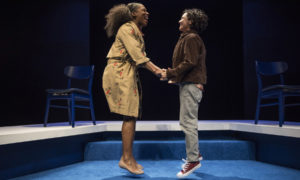 About Face Theatre presents Bright Half Life, written by Tanya Barfield and directed by AFT Artistic Associate Keira Fromm. Featuring just two characters, Bright Half Life tells the story of Vicky and Erica, a mixed-race lesbian couple, as they meet, fall in love, break up, reunite, and tackle life's challenges together. These moments happen not in sequential order but in a swirling, non-linear kaleidoscope of events that jump around in time and space, with scenes connected in abstract and thematic ways. The result is a play that is deeply emotional, resonating more on a visceral level than an intellectual one.
This is not to say that the play is without substance; on the contrary, it's full of thoughtful writing, and there is significant complexity, meaning, and weight in Vicky and Erica's interactions. But it's the kind of insight that must be felt, not analyzed—a punch in the gut or a tug at the heartstrings rather than the spark of an idea. In this way, it's different from most contemporary theatre, but in a good way—sometimes a punch or a tug can be more effective than an a phrase or concept, and in the case of Bright Half Life, this is certainly true.
Actors Elizabeth Ledo and Patrese McClain, who play Erica and Vicky respectively, are nothing short of phenomenal. Ledo has an irresistible charm that makes her character endearing even when she's being stubborn and self-centered, and McClain's nuanced choices and emotional openness make it easy for the audience to connect to Vicky. Both actors have an intense vulnerability that is essential for these characters. The two performers have strong chemistry, and their detailed acting choices drive the story forward and create compelling portraits of two women with an unshakeable connection.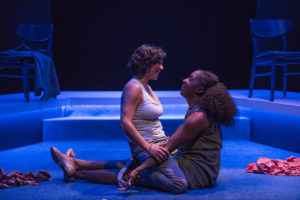 Scenic design by William Boles is simple but effective, featuring three platforms that create a kind of rake onstage, allowing for performers to move to many different "locations" even on a small stage. Much of the shifting in time and place is told through lighting, designed by Chris Binder, which is beautiful and well-fitted to the scenes. Costumes by Melissa Ng also carry much of the story, as the two women add and remove layers in ways both literally and metaphorically related to the events taking place.
Bright Half Life is a detailed and moving study of a lifelong relationship, with all the ups, downs, and nebulous in-betweens that come with it. About Face Theatre has done well in choosing this piece, not only for the quality of the story it tells but also for the diverse perspectives it gives voice to. Bright Half Life is a luminescent piece relevant to anyone who's ever taken the plunge of entering a romantic relationship.
Ticket Information
Location: Theater Wit, 1229 W. Belmont Ave., Chicago
Dates: Friday, June 2 – Saturday, July 1, 2017
Curtain Times: Wednesdays, Thursdays, Fridays and Saturdays at 7:30 pm; Sundays at 3 pm.
Please note: There will be an added 3 pm performance on Saturday, July 1 at 3 pm.
Tickets: $40 adults, $20 students and seniors. Discounts available for groups of 10 or more. Tickets on sale now at the About Face Theatre website, by calling (773) 975-8150, or in person at Theater Wit Box Office.
All photos by Michael Brosilow.