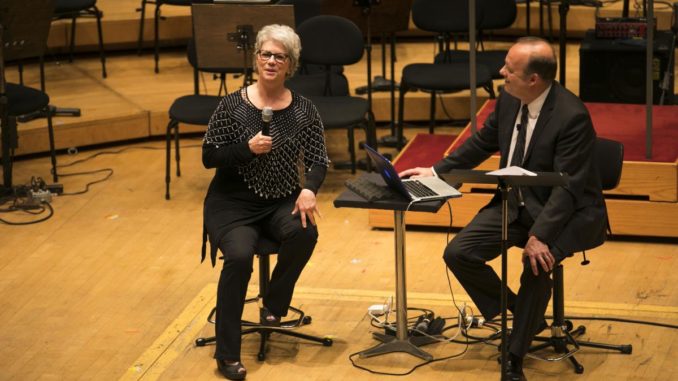 On June 15th, Guest Conductor Susanna Mälkki, Chief Conductor of the Helsinki Philharmonic, led the Chicago Symphony Orchestra with Branford Marsalis, saxophonist, composer and bandleader, on a fine and thoroughly diverting program including a CSO commissioned world premiere, "Proceed, Moon" by composer Melinda Wagner. The program was to be repeated on June 16th and June 17th, as well; all performances at Symphony Center, 220 S. Michigan Ave., Chicago.
Guest Conductor Susanna Mälkki leads the Chicago Symphony Orchestra
The "Symphony in C Major" by French composer Georges Bizet, 1855, written when he was only 17, was immediately pronounced "A youthful masterpiece" of harmony and design in 4 movements. It is a delightful piece, lively, unpretentious, and performed here with style and energy; in particular, the ending was very strong.
Gabriel Fauré's "Pavane", Op. 50, 1887, is a slow, almost delicately paced melodic arrangement, based on a 16th century dance then regularly performed in kingly courts, often as part of a wedding ceremony processional. The piece was played gracefully, sans melancholy, with the absolute mastery of Marsalis on soprano saxophone. Marsalis released his "Romances for Saxophone" CD in 1986 by CBS Masterworks Light Classics that included this piece in an "excellent collection of romantic chamber music". Time has not dimmed his fervid performance of this tender yet deliberate gem of the repertoire.
John Williams' "Escapades" from "Catch Me if You Can", 2002, is a very potent 3-section piece from a very nifty film. It's jazzy, deep, smart, savvy and memorable. Marsalis was enthralling as he rolled out sweet golden notes in this spirited work composed in 3 distinct sections. Robert Kassingeron solo bass and Cynthia Yeh on vibraphone joined Marsalis and the CSO in large ensemble, creating a heady brew.
Marsalis has been cited as "arguably the most respected living U.S. jazz instrumentalist", and his natural dominance in both the classical Fauré and the modern, quirky and imaginative Williams piece was both elegant and profound.
Branford Marsalis on soprano saxophone, Guest Conductor Susanna Mälkki, and the Chicago Symphony Orchestra performing Fauré's "Pavane"
Melinda Wagner is known for composing beautiful, sweeping works. Indeed, she won the Pulitzer Prize for Music in 1999 for "Concerto for Flute, Strings and Percussion". "Proceed, Moon, Fantasy for Orchestra", 2016, is one of several compositions apparently influenced by the cosmos, including Extremity of Sky", 2001-2002, a previous commission by the Chicago Symphony for pianist Emanuel Ax, and "Little Moonhead", 2009, composed for the Orpheus Chamber Orchestra. Indeed, Wagner has noted, "Music offers composers an immeasurably rich and generous sonic landscape in which to explore the 'life story' of each musical idea- its dramas, intrigues, joys and sorrows- a life".
The 18-minute piece was a strong and vibrant score for full orchestra with many unusual percussive sounds, including the use of triangles, chimes, bells and gongs. There are times this triumphant and colorful piece almost sounds agitated, but quickly returns to the melodious. One strange taped segment of children's high-pitched hymnal chanting added an unnecessary- yet brief- distraction.
 Susanna Mälkki congratulates Composer Melinda Wagner after the performance of "Proceed, Moon"
Claude Debussy's "Ibéria", the center of one of the composer's most significant works, "Images for Orchestra", 1908-09, has been called "A Spanish soundscape", and "A triptych within a triptych". Debussy is said to have tried to incorporate visual images into musical terms within its 3 sections. "Through the streets and the paths", inspired by rondo; "The fragrance of the night", atmospherically fascinating; and "The morning of a festival day", a processional, all seem to proceed with natural transitions to evoke the splendor of a magical land. Mälkki enunciated the compositional tools, bringing forth a mosaic of polyphonic musical fragments, with the resultant deep tones and complex themes stirring the imagination. The woodwinds in particular create images of the dance, the strings and muted trumpets blending in impressionistic climaxes with a truly lustrous yet fully controlled finale.
It has been written that Mälkki has "a gift for rhetoric that is at once sinuous and mathematical- an aural correlative to her clipped but balletic podium technique". She marked time strongly with the right-handed baton, turning, encouraging, calling forth the next sounds with the extremely fluent facility of her left hand. This was a concert with an overall Gallic-inspired profoundly ear-pleasing sonority. There were lots of light notes throughout- the sounds of bells, lilting melodies, and vibrant images adduced- and of course, lively tones and great virtuosity.
Branford Marsalis on soprano saxophone; Cynthia Yeh on vibraphone; Conductor Susanna Mälkki; Robert Kassinger on bass and the Chicago Symphony Orchestra performing John Williams' "Escapades"
For information and tickets to all the great Chicago Symphony Orchestra programming, go to the CSO website
All photos by Todd Rosenberg