We traveled to Iceland with few preconceived notions about the far northern European Island. We pictured a cold climate with desolate surreal landscapes and few people. We got the cold we had anticipated and while the population is sparse, they are a friendly hardy people. While the official language is Icelandic, everyone speaks English.
Iceland wasn't high on our travel list, but Viking Cruises offered a pre or post cruise extension there for guests booking its Baltic and Northern European Ocean cruises. Our cruise, Viking Homelands and Into the Midnight Sun, would begin in Stockholm a few days later. We would not have considered Iceland as a vacation destination, but if Viking offered it, we thought there must be good reasons to go there. We pride ourselves in being the adventurous sort and based on past experiences, we trust Viking.
Iceland is a Nordic island country in the North Atlantic Ocean with a population of 332,529 and an area of 103,000 km, making it the most sparsely populated country in Europe. Iceland is volcanically and geologically active. 
As our plane neared touchdown, we glanced out at the desolate terrain. It was living up to our preconceptions. We expected the cold climate, but were delighted to find a population of warm people who seem to enjoy their country despite some physical and climate challenges.
Viking representatives met us at the airport and facilitated our transfer to our hotel in Reykjavik, the capital city. Our Hilton accommodations were consistent with our high expectations of their properties. Our morning arrival gave us time to relax.
The next morning, our Viking guide Helga Ingimundar was at the hotel to lead us on the "Golden Circle Tour" which included Þingvellir (Thingvellir) National Park, a UNESCO World Heritage Site. As we began our bus tour, we looked out at nearly empty roads surrounded by remarkably flat and barren landscapes.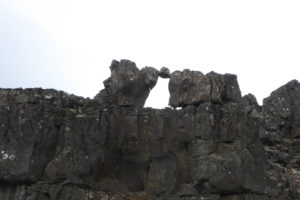 As Helga led us through the National Park just east of Reykjavik, she explained that the area had been formed by the shifting of two tectonic plates.
As we walked, we were shown evidence of how the ground had opened during recent earthquakes, a frequent occurrence in Iceland.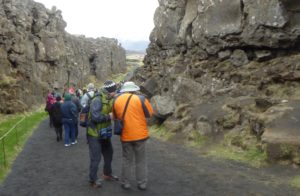 One side is Europe, the other America. In fact, many scuba divers don heavy gear to dive down to a spot in a near-by lake where they can earn the bragging rights to having had one foot on each of the two tectonic plates, one on the Europe and the other on America.
Next, after a short drive, we were there – what we came for. Hissing springs of all sizes and other geothermal phenomena surrounded us and yes, we stood just feet away in designated safe areas as a geyser announced its presence every six minutes or so with a 30 foot hot stream shooting up.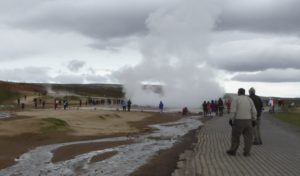 After we satisfied our desire for photos of this unique vision, we enjoyed our pre-arranged sit down lunch at a lovely Inn near the geysers. We continued on to Gullfoss Waterfall.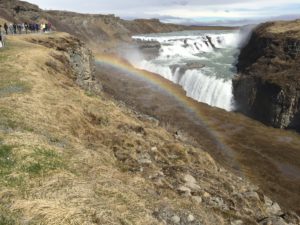 The river Hvita drops 96 feet into two falls creating a beautiful spectacle. We were delighted to be at the right place at the right time to enjoy the rainbows.
 We next visited the Kerid Crater, one of the more dramatic ones that dot the landscape. It was created by an explosion followed by an implosion of its cone and has calm blue colored water at its bottom.
We returned to our warm hotel for an evening at leisure. Some of our fellow adventurous travelers opted to taxi into town, but we stayed local and rested for the next very anticipated day and our trip to the famous Blue Lagoon.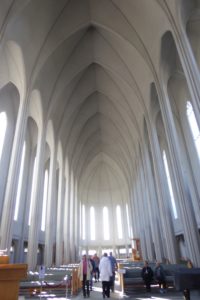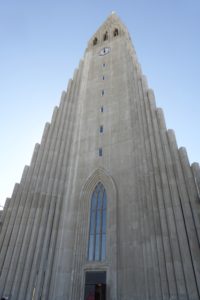 We began the next day with a bus tour of Iceland's capital Reykjavik including the Hallgrimskirkja Church and Hofdi House as well as the modern waterfront filled with tourist boats used for whale watching and diving.
We saw the beautiful "Solfar" or "Sun Voyager", by Icelandic sculptor Jon Gunnar Arnason. While it clearly resembles a Viking Ship, this striking steel sculpture was meant to symbolize a dream boat and an ode to the sun, the promise of undiscovered territory, a dream of hope, progress and freedom.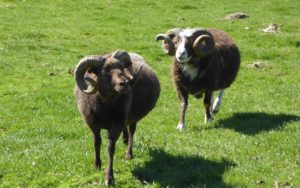 Next was the Árbaer Open Air Museum which depicts the architecture and way of life and lifestyles of the 19th and 20th centuries in Reykjavik. During summer months, animals are there as well.
We enjoyed some panoramic views of the city from the observation deck of the recycle center. Unlike our arrival day, this time the sun shone through the clouds.
After a quick lunch, we set off for the Blue Lagoon, a natural geothermal spa located in the middle of a lava field about 30 minutes from the city. This is the most well-known talked about tourist sites in Iceland, but is also a favorite spot for residents. The water temperature in the bathing and swimming area of the lagoon averages 37–39 °C (99–102 °F). The Blue Lagoon also operates a research and development facility to help find cures for other skin ailments using the mineral-rich water.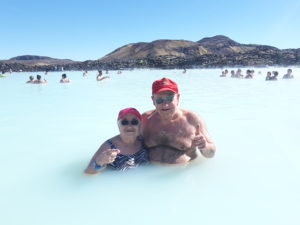 The terrain is brown/gray and barren. We donned our bathing suits and took the mandatory showers in gender-designated dressing rooms before cautiously entering the huge pool of warm blue water, said to be mineral rich with healing properties. The blue color and high lava wall surrounding the lagoon create a sense of calm and serenity even among so many other tourists and locals of all ages. This is a must for any visitor's list.
Our 4 A.M. bus drive to the airport for our flight to Stockholm seemed surreal since it was made in full daylight. The Midnight Sun season was approaching and Iceland is far north.
Looking back, we made a good decision electing to visit Iceland. While it is not high on our list of places to return to, we are glad that we were able to learn first hand about it's unique terrain, people, and geothermal properties. Viking did an excellent job of helping us to experience the highlights of this unique country. We would recommend that anyone cruising with Viking Cruises in Northern Europe avail themselves of the opportunity to take the Iceland pre or post cruise tour.
Photos by Dianne Davis or Burt Davis