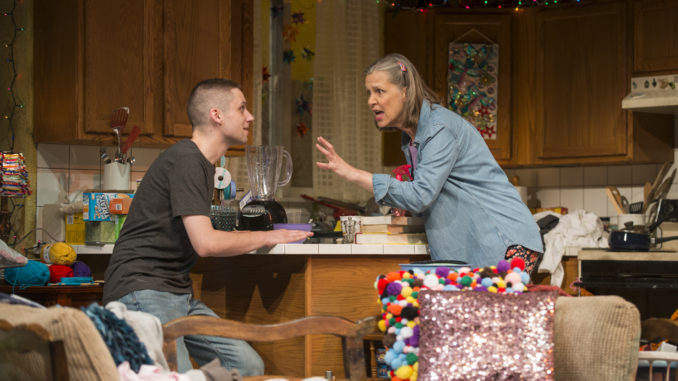 Heteronormative white male dominance has sure taken a heavy beating at Steppenwolf this year. So far, every play has forced us to examine themes of privilege through the lenses of race, class, and character. Now, in this company's newest production, HIR, a notable and intriguing black comedy penned by the audacious performance artist, Taylor Mac, even gender identity is under the microscope.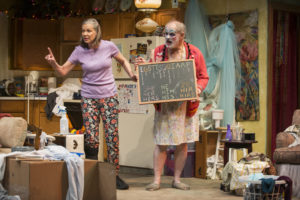 HIR (pronounced "here") is a complex, shrewd, and sensationalistic play; superbly written, but also deeply discomforting. For those of us whose brains like to categorize, this is not the play for you. Nothing about HIR is black-and-white. Instead, it's a blend of colors both bright and dark.
Mac has written a fascinating play that not only challenges our culturally ingrained notions about gender identity, but one that specifically rejects masculinity as a social norm for allowing patriarchal misogyny to persist. Here, or Hir rather, gender is an abstract construct reflecting an ever growing cultural shift in our understanding of gender roles.
Taken at surface level, HIR would appear to be another repressed undomesticated dysfunctional family exposé – an overcrowded genre that has swelled enormously on television, film, and theatre ever since American Beauty won the Oscar in 1999. HIR is filled with such extreme boiling undercurrents of utter self-destructive disorder and bruising revelations that it makes August: Osage County look like child's play by comparison.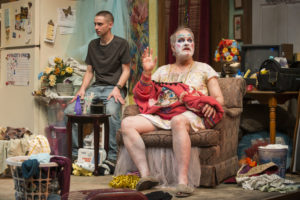 Take for instance the opening setup: A proscenium red-drape curtain cloaks the stage upon first entering. It deceives the audience into thinking we're about to see a traditional American play. Except when the curtain rises, what rolls forth on stage is not the squeaky clean tableau you'd expect, it's a scene of complete chaos; a dilapidated home that's piled so high with trash, junk, and clutter that the front door can't open. Collette Pollard's outstanding scenic design perfectly emphasizes the juxtapositions, contorting our expectations without going overboard with the concept.
Sitting in the center of this wreckage is Arnold (Francis Guinan), a middle-aged man, who in the opening minutes is seen slumped over next to some trash in a sloppy woman's dress, his face painted in garish clown makeup, encased by a rainbow-hued Afro wig on his head. Arnold is the homeowner who, in the previous year, suffered a crippling stroke that left him mentally incapacitated and unable to communicate.
Unable to care for himself anymore, Arnold must rely on his wife, Paige (Amy Morton), a newly empowered risk-taking woman, who has embraced her newfound sense of freedom. She shrugs off her husband's deteriorated condition almost as if it were a joke. She sprays Arnold in the face to chastise him for his unruly behavior. And, under Paige's "care," Arnold sleeps in a cardboard box, wears adult diapers, and is left alone for hours at a time with no supervision. Adding to these disturbing behaviors, Paige also purposefully mixes estrogen pills in with Arnold's medicine.
Paige has also been assisting their daughter/son, Max (Em Grosland), who, until recently, went by the name Maxine. Max/Maxine is in the early stages of gender transitioning and thus has taken to ambiguously gender-neutral terms – "ze" in place of he/she, and "Hir" as a combination of her/his. Paige has even started to homeschool Max to ease the process, though it seems that Max is the one homeschooling Paige.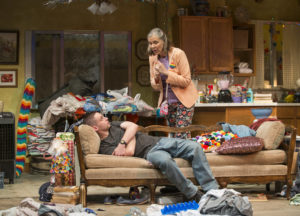 Entering into this nightmarish scenario of tumultuous changes, is their estranged son, Isaac (Ty Olwin), a Marine responsible for picking up the remains of soldiers that were blown to pieces in Afghanistan so they could be sent home for burial. However, he was just dishonorably discharged from service for shooting up meth with a prostitute. Still suffering from the trauma of war, which apparently causes him to vomit anytime Paige turns a blender on, Isaac comes home for the first time in 3 years to a family reeling from their own series of traumatic events.
The above is all just the set-up for the opening few minutes of HIR. The rest of the play cannot be easily summarized. The overall plot is secondary to the power dynamics between the characters that trigger much of this show's bombastic action. The two acts are markedly different in style. And the play centers on a major painful revelation near the very end, a twist that puts everything in perspective but should not be spoiled here.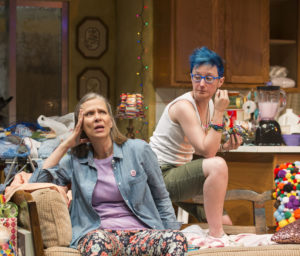 Mac's writing is so deliciously intelligent that you often become self-aware of the playwright. Even for regular patrons, the dialogue sounds unnatural and a bit too intellectualized for a lower-middle class family. Not that HIR is going for anything close to naturalism. Nothing about HIR is natural (in this play that's a compliment). Mac wrote this piece in his signature style – absurdist realism, wherein the actions become exaggerated to excess. Doing so allows the darker realities underneath to remain repressed in the shadows until the very end.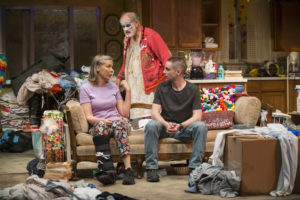 To be sure, the concepts presented in HIR are far more compelling than the actual presentation of them on stage. In other words, the play itself is exceptional. Steppenwolf's portrayal of the play is unexceptional. Although far from terrible, this is one of the most poorly directed pieces this otherwise excellent theatre company has produced in some time.
Aside from a few raw moments, a solid majority of this plays feels far too indefinite under Hallie Gordon's self-contained direction. It's noteworthy that Gordon is also the Artistic Director of the Steppenwolf for Young Adults program, and, as such, she's personally directed nearly all of their productions. The fact that HIR comes off reluctant at all is likely a reflection of the often cautious nature of presenting plays for high school groups; wherein, a director has to challenge young audiences with complex works while also presenting them in stimulating ways that will keep their short attention spans. Similarly, boundaries can only be pushed so far when the target audience is school groups.
Gordon put her focus far more on the absurdist aspects of Mac's script, leaving realism out in the cold. Doing so kept the audience laughing (I was extremely disturbed at how the abuse of a mentally disabled person could cause so much laughter), but Gordon never really pushes past the excessive humor to expose the darker forces at play below the surface that would undercut those laughs. Many of the comedic interludes that she inserted were completely unjustified by the script, even distracting from the seriousness of the situations.
Gordon keeps this play tiptoeing around the uglier aspects of the plot instead of diving straight into them. That sense of timid reluctance inhibits this whole production from really exploding to the unrestrained heights that this talented cast is fully capable of, particularly Amy Morton who looks utterly misguided on stage. The unsettled direction hinders the contrasting duels, it limits the fierce back-and-forth power struggles, and worse yet, it muddles the play's messages instead of elaborating them for us.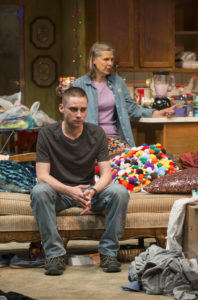 Because of the overall sense of uncertainty, the actors, aside from Francis Guinan and a heartfelt monologue from Ty Olwin at the end of Act One, are not exposing the painful vulnerabilities that are needed to take this production to a whole other level. This detached hesitancy might well be appropriate choices for some of the characters given their struggles to overcome trauma, an understandable choice for sure. However, it also prevents us from seeing their pain. The sense of conflict gets thrown out with the trash, depleting the play's sense of urgency and lowering the enormous stakes down to a humdrum level.
All in all, HIR is a fascinating play butchered by mediocre direction.
Bottom Line: HIR is somewhat recommended.
HIR – Steppenwolf Theatre Company
Running Time: 2 hours, including a 15 minute intermission
Location: Steppenwolf (Downstairs Theatre), 1650 N Halsted St, Chicago IL 60614
Runs through: August 20, 2017
Tickets: $20 – $86 and can be purchased online, at the Box Office, or by calling the Steppenwolf Audience Services Box Office at 312-335-1650
Curtain Times: Tuesdays – Fridays at 7:30 PM, Saturdays at 3 PM and 7:30 PM, Sundays at 3 PM
Additional Performances: Sundays at 7:30 PM (July 16 thru July 30 only) and Wednesdays at 2 PM (August 2 thru August 16 only)
Discounted Tickets: Ask Box Office about student tickets ($15), group tickets, half-price rush discount tickets, and Flex Card Memberships
Performances for People with Disabilities: There are a few performances during the run that will contain an Audio Description, American Sign Language Interpretations, and Open Captioning. For more information, please visit the Steppenwolf Accessibility Page for specific dates and times.
Photo Credits: Michael Brosilow