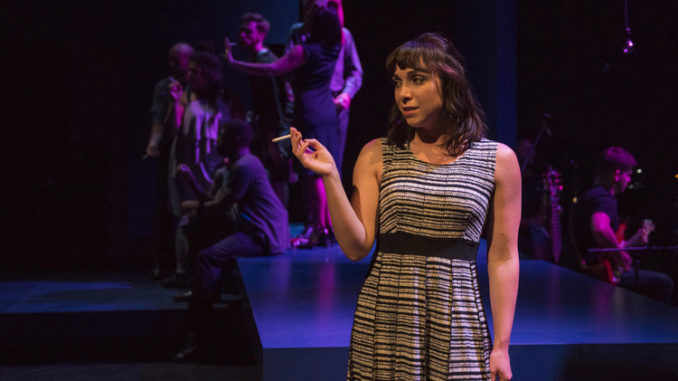 Nicole Laurenzi may have one of toughest starring roles I've seen anyone tackle this year. In Kokandy Production's newest show, the Chicago premiere of the 2003 Off-Broadway musical Little Fish, Ms. Laurenzi plays Charlotte, a tranquil unemotional woman with no discernable personality, charisma, interests, or needs… other than an occasional craving for a puff on a cigarette. She is a character referred to with such endearing descriptions as "all the charisma of fungus or mold," a "blob," and my favorite, "as sentient as protoplasm." Obviously, Charlotte is not exactly a blast to be around.
Portraying a character defined more by inaction rather than action is not an easy task, at least if you want to keep the audience awake. But, how do you play someone who doesn't like to play?  How do you sing without wanting something significant? How do you raise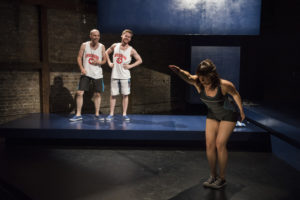 the stakes out of a story about feeling isolated? And, more importantly, how do you translate total indifference into compelling theatre for an audience?
These are pointed questions facing not just Ms. Laurenzi, but also for director Allison Hendrix who has the challenge of turning a fragmented story of detachment into an engaging narrative musical, especially one that's filled with some surprising amount of humor.
Adapted from two short stories in The New Yorker by Deborah Eisenberg, Little Fish is framed, similarly, as a collection of fragmented moments that flicker randomly in Charlotte's memory. It helps her comprehend her purpose in life, while doubling as a loose parable for the emblematic post-9/11 melancholy and alienation that enveloped many Americans.
Here, Charlotte, a thirtysomething woman, leaves her obnoxious boyfriend Robert (Jeff Meyer July 9 – 30 and Casey Hayes August 1 – 20), moves to Manhattan and quits smoking – all of which force a self-evaluation. She winds up roommates with the paranoid drug-dealing, and cocaine snorting, Cinder (Teressa LaGamba) and gets a job as a short story writer – a bit too on the nose – though she can't find the motivation to publish anything. Hoping to fill the void from not smoking she takes up swimming and jogging only to find herself succumbing to self-doubts.
Later, she befriends Marco (Adam Fane), her new gay bestie with a fondness for old movies and gossip, and Katy (Aja Wiltshire), a beautiful and professional woman who seems to have her life made. Both friends reveal conflicts of their own that give Charlotte perspective.
Written entirely by the composer-lyricist-librettist Michael John LaChiusa, a very talented man, who would greatly benefit from working with a co-writer to help give his musicals outside context and objectivity during the creative process. Admittedly, I've not been a big LaChiusa fan in past reviews – where I noted the music as "jarring," "atonal and discordant," and "glaringly untuneful, needlessly long, even braying to the ear." I'm happy to report that none of those adjectives apply to this show, which is by far LaChiusa's most intelligent and thrilling score. In a show structured in segments, the music, infused with a range of jazzy intonations and genres that also include sounds of rock, Latin, and showtunes, perfectly encapsulates that feeling of inescapable mass urban clutter.
It's no secret that LaChiusa, whose intimate shows have drawn stronger acclaim in Chicago's storefront theatres than in the larger cut-throat New York commercial world (where all his shows have flopped), is an admirer of Stephen Sondheim – he famously chastised the creators of the musical Hairspray for their lack of art, prompting Marc Shaiman, the show's writer, to reply, "Maybe if certain theatrical undertakers stopped trying to be Sondheim, we could all 'rest in peace.'"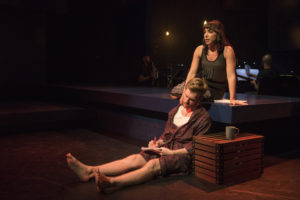 Therefore, it should be no surprise that LaChiusa's Little Fish hues so closely to Sondheim's 1970 masterpiece Company, another nonlinear musical that centers on a single emotionally detached New York urbanite dissecting what "Being Alive" means by learning from those around him. So, yeah, it's the same plot. Nevertheless, the lead characters respond to their bubbling anxieties in markedly different ways – In Company, Bobby goes to parties and hooks up with girls. In Little Fish, Charlotte runs back home and goes to bed.
How you respond to Little Fish will depend if you're able to relate to that feeling of disconnection that Charlotte goes through, one that's particular for urban dwellers. Being in a big city for prolonged periods seems to increase a feeling of dissolution, where being alone in a crowd makes us feel separate from humanity – a concept also explored to some depth in Adam Gwon's beautiful little show, Ordinary Days.
Truthfully, the 9/11 metaphorical framing device doesn't quite work. There's not enough context in the show to give us enough details to know that's the allegory LaChiusa is going for – at least one reference to the tragedy would've sufficed.
I also kept wondering how well this show would play if LaChiusa were to rework the script and revive it today – where instead of quitting smoking being the cause of Charlotte's detachment, it's technology. Nowadays people are "connected" through social media, texts, and e-mails. Seldom, if ever, do people reach out to talk in person anymore.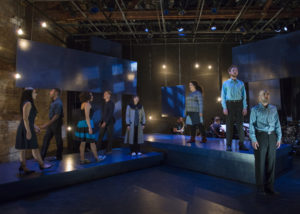 That this production of Little Fish succeeds at all is a highly impressive feat which shows the strengths of Ms. Hendrix's smooth directing, much aided by Ms. Laurenzi's fine performance and an impressive ensemble of young talents who go above the disjointed source material. Vocally, this is one of the most gorgeously sung musicals I've heard in a while.
I was surprised by how Ms. Laurenzi made Charlotte interesting, a terrific achievement for such a tranquilized and lifeless character. It says much about the talents of this young actress. Here, Ms. Laurenzi seemed to want something bigger when playing Charlotte. That willpower of not giving up carries Charlotte, and indeed this whole show through the musical. It also wonderfully embodies the musical's title, where lost "little fish" is representative of a person that has to learn to swim with the tide and not against it.
Teressa LaGamba knocks it out of the park with her stirring vocals and robust charisma as Cinder. Her interactions with Charlotte were terrific and offered us an often hilarious contrast of clashing personalities. Aja Wiltshire is equally both magnetic and sympathetic as Charlotte's good friend Kathy. And, it was so refreshing to see Adam Fane finally given a chance to show emotional vulnerability. He does so with a panache that feels realistic for his character Marco, but also honest enough for the messages to resonate with Charlotte. He plays what could easily be an annoying character and makes him immensely likable.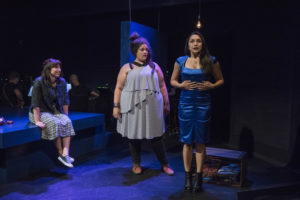 Truthfully, none of the side characters are written very well, perhaps on purpose as we're seeing them through Charlotte's viewpoint. Categorizing people into types – the judgmental boyfriend, the sassy gay friend, and the nightmare of a roommate – is often our mind's way of helping us make sense of our surroundings when at a loss. It's to everyone's credit that they're able to go above the material to make it reverberate in ways the script can't.
Arnel Sancianco's simple, but deeply effective set design, which is a series of blue panels strewn on and above the stage, beautifully evokes the feeling of being lost at sea – surrounded by a vast ocean, yet completely alone at the same time. Alexander Ridgers' lighting design further punctuates Charlotte's isolation for us by using shades of blue in her more solitude moments, hints of reds in her more uncomfortable social interactions, and brighter lights in the times where she makes a connection.
Bottom Line: Little Fish is Recommended
LITTLE FISH – Kokdandy Productions
Running Time: 90 minutes, no intermission
Runs through: August 20, 2017
Location: Theatre Wit – 1229 West Belmont Avenue, Chicago, IL, 60657
Curtain Times: Thursdays, Fridays, and *Saturdays at 8 PM, Sundays at 3 PM
*There is are additional 3 PM Saturday performances on August 12 and August 19
Tickets and Reservations: $33 – $38 and can be purchased online, in-person at the Theatre Wit Box Office, or by phone at (773) 975-8150
Photo Credits: Michael Brosilow