By Kathy Carpenter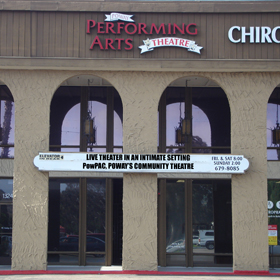 Picking the perfect Wedding location is an important. You probably aren't going to choose Poway, but when you are choosing your next play consider this frivolous new comedy playing at PowPac community theatre. Perfect Wedding by Robin Hawdon directed by Keith A. Anderson opens the PowPac 2017 /2018 Let's Laugh! Season. Everyone has their idea of a perfect wedding but hilarity ensues as we find this play is anything but. PowPac brings us another fun comedy – the perfect summer break.
Perfect Wedding takes place in the present, on a Saturday during summer, in the Bridal suite of a country hotel, in a small town outside Los Angeles. With a small church located across the way. The bridegroom wakes up with a hangover in the bridal suite bed with a naked woman, He conveniently can't remember the night before and the bride is due any minute. Let the fun champagne flow.
This play was a little different for me. In the fact generally these story build in the first half when most of the laughter in the second half. in this play it was the reverse. The change of pace did not affect the play as one not to miss.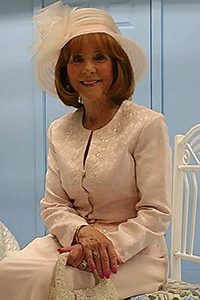 My favorite was Frank Godinez, the best man. Godinez has found his niche as does it well. Nathan Boyer, plays the groom, and to be honest, I have totally been behind Boyer in the past, but something has been off for me with him in his last couple roles. He's still pulling off the characters, the plays are funny, And, I can't put my finger on it, maybe it's just me, but I had to put it out there, something felt off.kilter. Ika Dukavich is making her PowPac debut, as the girlfriend, doing a knockout job. Sharon Wexelman, plays the bride, Linda Englund, the mother of the bride, bringing the realism to the nonsense, Lisette Kent Alllen, plays the maid. my second favorite and a truly wonderful character. A perfect cast for a perfect evening.
I want to mention the wonderful set. Half set as the bedroom, half set as the suite. I especially loved the white plant on the suite side a nice bridal touch, In the room outside the entrance to the theatre are two beautiful bridal gowns, a great way to set the tone. PowPac has my favorite community sets.I guess kudos go to Frank Godinez doing double duty as set designer on this one.
Help prevent the summer slide – where kids forget what they learn during the months they are away from school. From June 30th – August 26, PowPac & The San Diego Theatre Connection support the United Way. Keep kids reading by donating slightly used or new books for kindergarten – fourth grade. Bring to theatre. Financial donations can be made at www.uwsd.org.

Perfect Bride
July 27th – August 20, 2017
13250 Poway Rd. Poway Ca
858.679.8085
[email protected]
www.POWPAC.org
Coming Next
Quartet
A funny but poignant play
Sep. 13 – Oct. 11. 2017