By Kathy Carpenter
"Storybook characters, toe tapping music, and all of the drama that the woods can possibly hold… the beloved musical Into the Woods runs at Kit Carson Amphitheater from August 11 through 26h."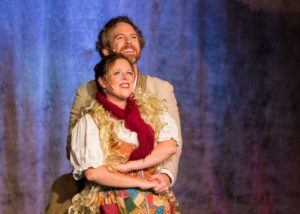 This was my third time to see Into The Woods this summer. The first two times the play was exceptionally well done. I went in expecting a lot. I enjoyed the show. With me was a sixteen year old girl, who does not go to a lot of plays. She thought it was fantastic. That the acting in the second half was tremendous. She does take drama. Two side of the coin. If the show calls to you, go you will bot be disappointed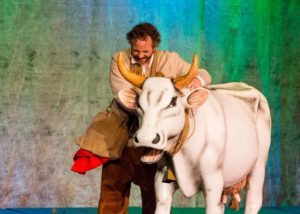 Entwined Fairy Tales – The Baker and his wife wish for a child. Cinderella wishes to go to the festival – Jack wishes his cow could remain his – and Little Red wishes to visit Granny. Be careful what you wish. The first act is your traditional stories intermixed. Your happily-ever-after and where many think the play ends. The second act takes on a grim twist of what if ?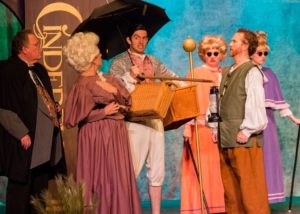 This play involves a lot of characters and roles of which entertain us. My favorites in this version, Was Little Red played by Tamara Alsaied , quite the actress. Brian Evans as the Baker. A lot of shows the Baker is outshone by his wife. Not Evans. Keri miller played the Baker's wife, which because of the Baker took me awhile to see her talent. But she managed to grab my attention in the end. I also loved Cassie Bleheras Cinderella. David Spitzfaden brought Jack to life. The Witch portrayed by Lori Tinkle, had a strong performance.
My favorite song – Halfway through the Woods, sung by Cinderella to Little Red.
One aspect did knock me out of the moment for awhile. They had these big wooden beams with all the stories written on them – but one said Rumpelstiltskin. I kept trying to figured out where he came into the story. Had I always missed something?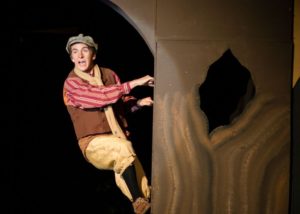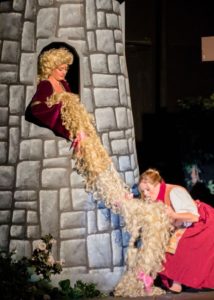 Patio's production of Into the Woods is partnering with the San Diego Theatre Connection on the Readers in the Heights campaign supporting United Way of San Diego. Attendees are invited to open their hearts and wallets to this worthy cause; donations of children's books and financial contribution. Please bring books to show or donate online at www.uwsd.org.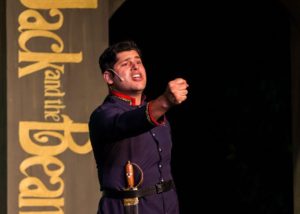 All shows will be presented at Kit Carson Park Amphitheater, located at 3333 Bear Valley Pkwy Escondido. Tickets for this production are available for the cost of $25 for Adults, $22 for Seniors/Students/Military, and $18 for Youth 16 and under. For reservations, contact the Patio Playhouse box office at 760 – 746 – 6669 or www.patioplayhouse.com. Directed by Geoffrey A. Cox. Produced by Kristen Fogle. Musical Direction by Christopher T. Miller. Choreography by Candace Carbajal.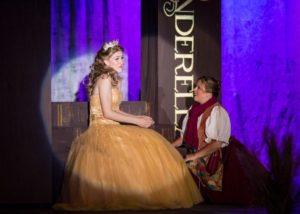 Patio Playhouse usual home is downtown Escondido – in the summer they bring theirs shows to the outdoor venue, I attended the last show at Kit Carson : How To Succeed in Business Without Really trying. Totally fun.
The shows start at 8pm. Being outdoors can get cool in the second half. You may also want to bring something to sit on.
Next show at their indoor venue The Phantom Tollbooth September 15 – October 1. 2017.