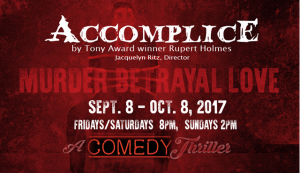 By Kathy Carpenter
Scripps Ranch Theatre presents Accomplice by Rupert Holmes. Directed by newcomer to Scripps, Jacquelyn Ritz, Offbeat, murder with a twist. Clever, maybe? Exceptional cast.
Accomplice is somewhat different. It starts off the first act like any normal funny murder mystery, including a twist you aren't expecting. Leaving the audience feeling pretty good going into intermission. In the play its said at intermission the audience will hash over all possible twists trying to figure out the second half, I doubt you will come up with the final scenario on this one. I know my companion and I were not happy with the second half. We wanted the first half to continue. You will know what I mean if you go out to see the play.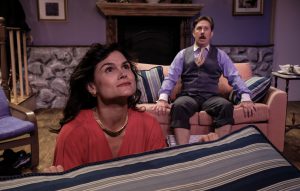 I'll say this much for Scripps when they put in their twists they go all the way. I remember something similar in their last play I went out to. In a way I feel the audience is being cheated.
The setting is England in the mid seventies. A countryside home. A wife is having an affair with her husbands partner and plots to oft her husband.
Four fabulous actors carry off this Edgar Allen Poe Award winning play from 1991. Hannah Logan, plays the devious wife. Charles Peters, actually takes on a duel role. Husband and director. I loved him as the husband. Kenny Bordieri, quite the Englishman. And Tatiana Mac, a breath of fresh air, as the partner's wife. I actually enjoyed these four characters immensely.
I would also like to talk about the set. Scipps is one of those  theatres with incredibly wonderful set designs. I've also noticed and wanted to point out because for me they are becoming known for their bars. They do a lot of plays with drinking and have bars set up. Always something neat. Sometimes hidden but always unusual.
Before we went into the theatre we were looking at some photos taken during play rehearsals and we noticed this big wheel. Immediately when we went in we saw the big wheel and had no idea of it's purpose. Come to find out the wheel was there to hold the wine bottles. Unique and glorious Quite a work of art by someone. Appreciated although not really a part of the show. Check out this craftsmanship if you go to the show and watch for their unique bars in the future.
If you enjoy something out of the ordinary, this one might be for you. If you want traditional stay home.
Accomplice
September 8 – October 8, 2017
Scripps Ranch Theatre
Legler Benbough Theatre
Alliant International University
Box Office 888.578.7728
www,scrippsranchtheatre.org
Season of Love
by James Caputo
A World Premeire
Nov.10 – Dec.10.2017