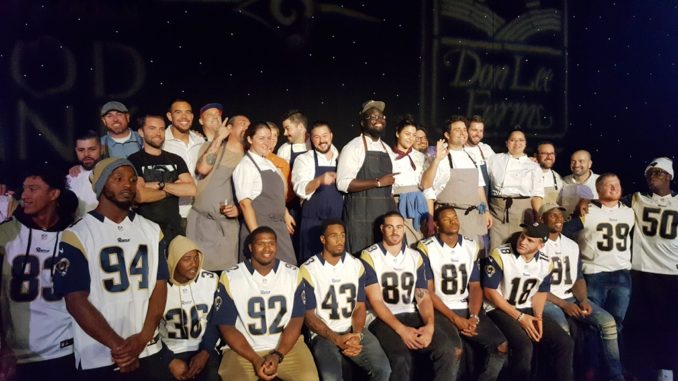 The Second Annual Taste of the Rams was an incredibly special night for guests as they got to mingle with a seemingly endless lineup of Rams while enjoying food from some of the best chefs in Los Angeles while also helping to raise money for the Los Angeles Food Bank. The Rams partnered up with Taste of the NFL and lead sponsor Don Lee Farms to bring this fabulous event once again to Universal Studios.
The night was a football fans paradise as fans got to take pictures and get autographs with a number of Los Angeles Rams including honorary chair, running back Todd Gurley. Other Rams in attendance included; Sammy Watkins, Pharoh Cooper, Andrew Whitworth and Robert Quinn, just to name a few. In addition to meeting the players guests were able to take part in a silent auction with some amazing autographed pieces as well as a live auction that included Ram game day experiences.
As guests walked the red carpet, they were greeted by the Los Angeles Rams cheerleaders and then once inside the party began. The lineup of chefs was about as good as the lineup of Rams. Chefs in attendance included; Vartan Abgaryan (71 Above), Dave Histed (Pavilions), Wilfrid Hocquet (GEORGIE), Ted Hopson, (The Bellwether), Bruce Kalman (UNION), Jessica Largey (SIMONE) Mary Sue Milliken and Susan Feniger (Border Grill), Steve Samson (SOTTO and RossobluI), Adam Sobel (Cal Mare),Yoya Takahashi (UMI), Benjamin Udave (Sysco).
The night was clearly a showcase of everything that is Los Angeles including what is often forgotten from all of the celebrity in this town, that is how many people go hungry every day. Los Angeles has become an increasingly expensive place to live and often when there is not enough money food might be the first thing that doesn't get addressed. This is shown in that 1 in 7 Angelenos live with food insecurity, which in a city this size means that is 1.4 million people who often wonder where their next meal will come from.
While there are numerous charities that do great work, there are few that do so much with so little as the Los Angeles Food Bank. For every $1 dollar donated, they can provide four meals to feed hungry children, seniors and families. Amazingly the Los Angeles Food Bank through community support, serves more than 300,000 people on a monthly basis.
There are few events that allow you to give back, enjoy world-class chefs and hang out with NFL players, the Taste of the NFL offers you a chance to experience all of those. If you are looking for one the most entertaining and worthwhile events to attend and you see Taste of the NFL coming to your city run out and get your tickets.
For more information visit: Taste of the NFL
For more information visit: LA Food Bank
(Photographs Courtesy Stephan Martin)