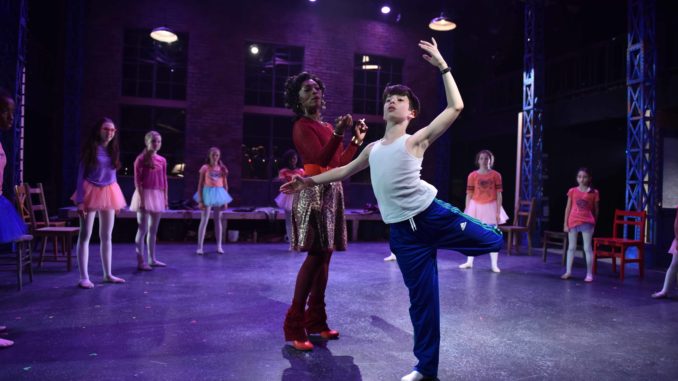 Hope and anguish clash in the emotionally cathartic, visually riveting, and all-around electrifying production of Elton John's 2005 musical Billy Elliot. Featuring an enormous cast of 35 (of which 17 of them are children), this is undoubtedly the most ambitious production that Porchlight Music Theatre has ever done, and, I'm happy to say, it's also their best.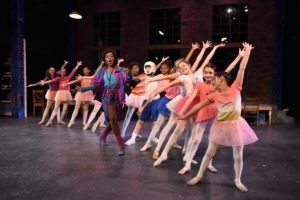 Set during the dire conditions of the 1980s coal miners strike in England, the musical depicts, with gritty rawness and gravity, the poverty, violence and extreme hardships of the period.
The dark moments, and there are many, are wisely countered by the release and promise of a better life that young Billy Elliot, a boy who is still mourning the recent death of his mother, finds after discovering his talent for ballet. And, most appealingly, the roughness here is smoothed over by the warm sense of communal "solidarity" (it's one of the show's main numbers), that pervades this small mining town.
Indeed, it is that feeling of togetherness, which at its core is about a community coming together in hard times to help a child succeed, that may well tug on your emotional heartstrings throughout this particularly fantastic production.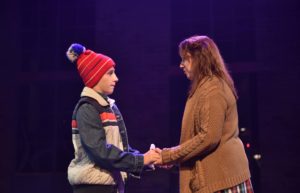 Based on the 2000 film (inspired by a true story) of the same name, this musical is a smashing example of how to efficiently adapt a movie for the stage. Instead of imitating the source material, the show's librettist (and lyricist), Lee Hall, expanded upon the film by exploring the inner lives of ordinary people. In doing so, Mr. Hall allows the characters to release their many repressed emotions in a way that is both touching and absorbing.
These elements are assisted by how seamlessly Elton John molded the music into Hall's script. No song feels erroneously placed, preventing the action from dissipating.
Surely, this musical not only showcases the talents of its large cast, but also the extraordinary gifts of Brenda Didier's directing. How Ms. Didier was able to make such a large cast come together as one cohesive unit is undoubtedly a mammoth achievement that says volumes about her skills and patience as a director.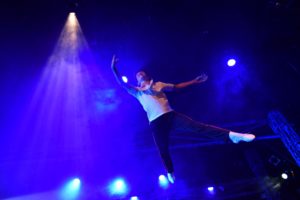 In many ways, this cast is better than the one I saw many years ago in New York (and then again in 2010 when the tour had a nearly nine-month sit-down extended-run in the Loop). Those productions were almost too polished for their good. Flashy dance numbers and perfect technique may be pleasing to an audience, but they don't service the story.
These are ordinary people going through difficult times and the rawness in the movements should reflect that reality. I have a feeling that both Didier, doubling as co-choreographer alongside Craig V. Miller understood this shared vision. All of the dance numbers, aside from the curtain call dance which I've always found cheesy and unnecessary, feel very real.
The same is true for Billy Elliot himself. The character doesn't need a young actor with flawless ballet technique to effectively communicate the story. It's just as good that he doesn't. The performer only needs to be good enough for us to know that he has the gifted foundations necessary for a teacher to take notice of his natural talents and a caring community to support him on his journey. Of course, none of this is to say that Lincoln Seymour (Billy double-cast with Jacob Kaiser) is a bad dancer– he's excellent. Just that he's raw, and that authenticity heightens the show overall.
What's more important are the moments of vulnerability from Billy that give this show a rich vitality (perhaps amplified in this production by the intimate confines of the new venue). It's the tender moments remembering his deceased mother, his anger at the hopelessness of his situation, and the "electricity" he feels while dancing. And, in Seymour's case on opening night, the young actor hit it out of the park.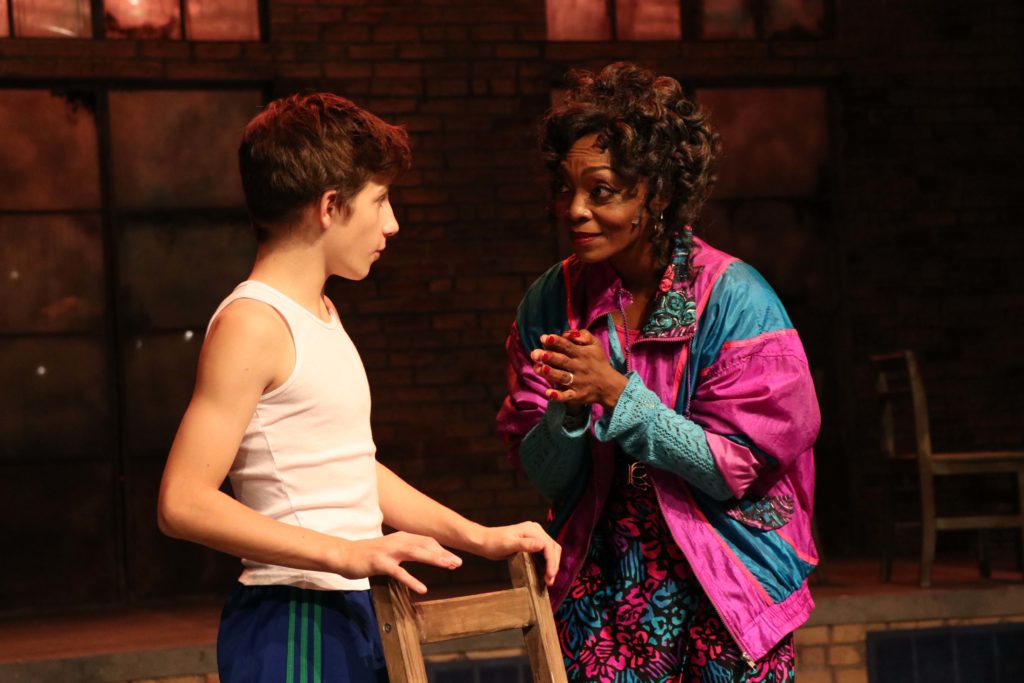 Everyone in this outstanding cast is perfectly in tune with their characters. There are so many truly excellent performances that it would be impossible to list them all. I will, however, highlight a few that were especially noteworthy.
The extraordinary Shanésia Davis is giving one of the best performances of her career as Billy's ballet instructor, Ms. Wilkinson, a woman shielding a broken heart through a rough exterior. Ms. Davis made me realized that her character sees a younger version of herself in Billy. Helping him succeed where she failed gives her a ray of hope. One could argue that this is as much of a story of Billy guiding Ms. Wilkinson as it is her mentoring him.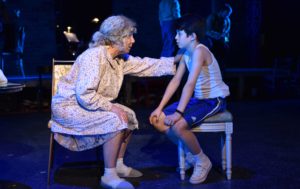 The family dynamic in this show is something to be seen. Sean Fortuanto is an emotional vessel as Billy's strict working-class Dad. It's a powerhouse performance filled with profound complexities.
Words can't describe how genuinely thrilling it is to finally see the incredibly talented actor Adam Fane finally given a chance to tackle an entirely different character as Billy's elder brother, Tony. While it's hard to argue with constant work as an actor, Mr. Fane has been far too typecast in comedic stereotyped roles as of late. One can only hope this springboards him on a different path.
I'd be remiss not to mention the superb Irs Lieberman as Grandma, who is the epitome of perfection in her role.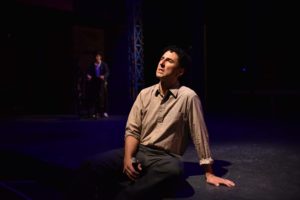 The sense of working-class anger and desolation of opportunities in former coal mining towns is strikingly familiar in the United States in 2017. Billy Elliot is about working through hard times as a community. It's a theme that feels surprisingly more relevant today than when I first saw it almost ten years ago in the midst of the recession.
It's fitting how remarkable this production is considering this earnest company just made a massive leap of its own from being a longstanding presence at Stage 773, in Lakeview, to the resident company at the historic Ruth Page Theatre in Gold Coast. Many former companies at this comfortable 250-seat theatre have soared onto national notoriety such as Lookingglass and Chicago Shakespeare. And, if Billy Elliot is any indication of where things are headed for this company then I have no doubts that Porchlight has an exciting future ahead.
Bottom Line: Billy Elliot the Musical is Highly Recommended
---
Billy Elliot the Musical – Porchlight Music Theatre
Running Time: 2 hours and 30 minutes, including a 15 minute intermission
Runs through: December 31, 2017 (EXTENDED RUN) – Check link above for additional showtimes
Location: Ruth Page Center for the Arts – 1016 N. Dearborn, Chicago, IL, 60610
Parking: The Ruth Page Center does not have parking. The parking lot next to the theatre has been sold. Street parking in the area is extremely limited and public transportation is recommended.
If you plan on driving please consider parking at these garages: Hotel Indigo (1250 N. Dearborn) for $12, InterPark garage (connected to 100 W Chestnut St.) for $12, or at Newberry Plaza (1030 N. State Street) for $8 for 3 hours.
Curtain Times: *Thursdays at 7:30 PM, *Fridays at 8 PM, Saturdays at 4 PM & 8 PM, and *Sundays at 6 PM
*There will be no performance on Thursday November 23.
*There will be an additional 4 PM matinee performance on Friday, November 24.
*The performance on Sunday, November 26 is at 2 PM.
Tickets and Reservations: $33 – $60 and are available online, in person at the Box Office, or by calling (773) 777-9884
Photo Credits: Michael Courier and Austin Packard
Billy Elliot the Musical is recommended for ages 13+. Please be advised that there is strong language, violence, and suggestive subject matter. Parental guidance is suggested. Children under the age of 6 are not allowed.