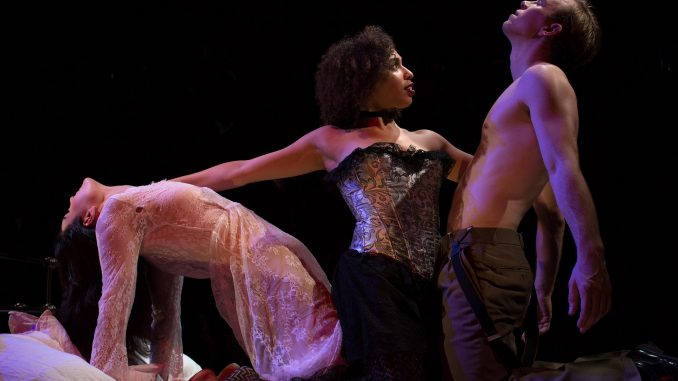 BoHo Theatre is currently producing Marie Christine through December 10th at Theatre Wit, 1229 W. Belmont, Chicago. Written by Michael John LaChiusa, this dark and intriguing musical was inspired by the myth of the infanticidal Medea and "loosely" based on the life of Marie Laveau, a storied practitioner of Voodoo. Set in the last years of the 20th Century, the racially mixed Marie Christine spins a tale of tragedy and magic, shedding light on a life begun in New Orleans privilege, and recounting passion, betrayal and the wreaking of an awful revenge. This was an epic modern opera, fast-paced, beautifully sung, wickedly entertaining and filled with sex, passion, intrigue, humor, skillful dancing and terrific music.
Marie Christine stars Kyrie Courter as the vivacious and dangerous Marie Christine; Ken Singleton as the "beautiful and arrogant" Dante; Averis Anderson as the elegant and vibrant doomed brother Paris/Barfly #1; Curtis Bannister as the sober and controlled/controlling brother Jean/Barfly #2.
Also featuring a fine supporting cast, talented hoofers and warblers all: Nicole Michelle Haskins as Woman 3/Marie Christine's Mother; Teressa LaGamba as Woman 1/Daughter #1; Shantel Cribbs as Woman 2/Beatrice; Neala Barron as Magdalena/Maid #1; Katherine Bourne as Lisette/Maid #2; Emily Goldberg as Helena/Daughter #2; Pavi Proczko as Charles Gates; Patrick Byrnes as Leary/Gentleman #1; Kevin Webb as McMahon/Gentleman #2; Deanalis Resto as Female Swing; Peter Robel as Male Swing.
"Medea", as penned by Euripedes and also by Seneca, was itself based upon the myth of Jason and his wife Medea, a princess of Colchis. Jason abandons her and their two small sons for a Greek princess of Corinth. Medea wreaks a terrible vengeance by killing Jason's new wife and her own children; she then flees to Athens. The big difference between the 2 ancient Greek presentations is that in Euripides' version, Medea is a tortured instrument of fate, while in Seneca's version, she takes fate into her own hands.
Considered shocking in it's time, "Medea" has remained part of the tragic repertoire, and in modern times gained renewed attention, especially with the emergence of the feminist movement, because of it's nuanced and sympathetic portrayal of Medea's struggle to take charge of her own life in a male-dominated world. The play continues to be the most frequently performed Greek tragedy through the 20th century.
This new version of the age-old story adds a fresh perspective on the tale in that it seeks to psychoanalyze Medea, the murderess. We are taken directly into her pain, her anguish, her broken honor. This is a woman scorned to the nth degree. She would have us believe she commits infanticide to save her mixed-race boys from the shame of bastardy and servitude at the hands of her former paramour's new very white wife.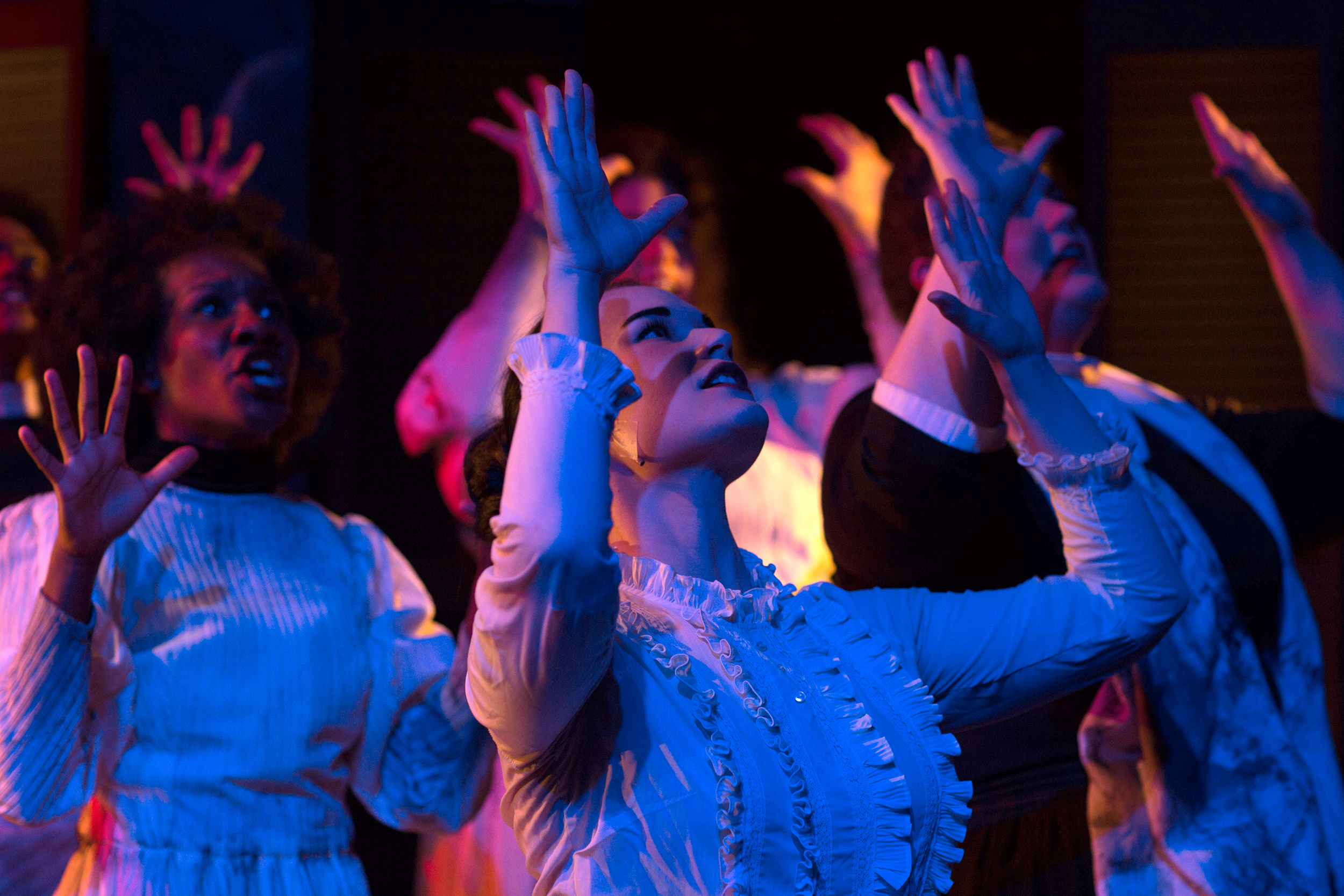 The real Marie Laveau was known as the "Voodoo Queen of New Orleans", and allegedly passed her arcane knowledge and abilities on to the daughter who inherited her name and talents. "American Horror Story: Coven" explored the dark history of Marie Laveau and her power and influence over the New Orleans Creole community. It is central to our story that Laveau mère had not been a slave although research tells us that slave ships from West Africa first brought Voodoo to Louisiana; supposedly, practitioners knew which plants and herbs could heal and which could bring about hallucinations, sickness, and death.
"As a free woman of color, Marie Catherine Laveau was born in New Orleans on September 10, 1801. She was the illegitimate daughter of a free man of color and a Creole mother." Supposedly, Marie's mother and grandmother were Voodoo practitioners. When she was just 18, Laveau married Jacques Paris, with whom she had two children, both of which are believed to have died young and her husband also passed away under "mysterious circumstances". Naturally, these deaths have informed legend and certainly helped inspired the conception of Marie Christine.
Two important points of similarity between the enmeshed tales of Medea/Marie Laveau/Marie Christine are interwoven here: 1) This woman had killed family members and others before; in the original myth as here in Marie Christine our heroine (!) killed her own brother (fratricide) in order to elope with Jason/Dante, as well as killing her beloved's enemies 2) Her response to rejection, painful to see and absorb, is Olympian. Throughout the presentation, it is emphasized repeatedly that this is a woman who is descended from/related to the sun god. She effects magically persuasive spells and curses, has grandiose thoughts.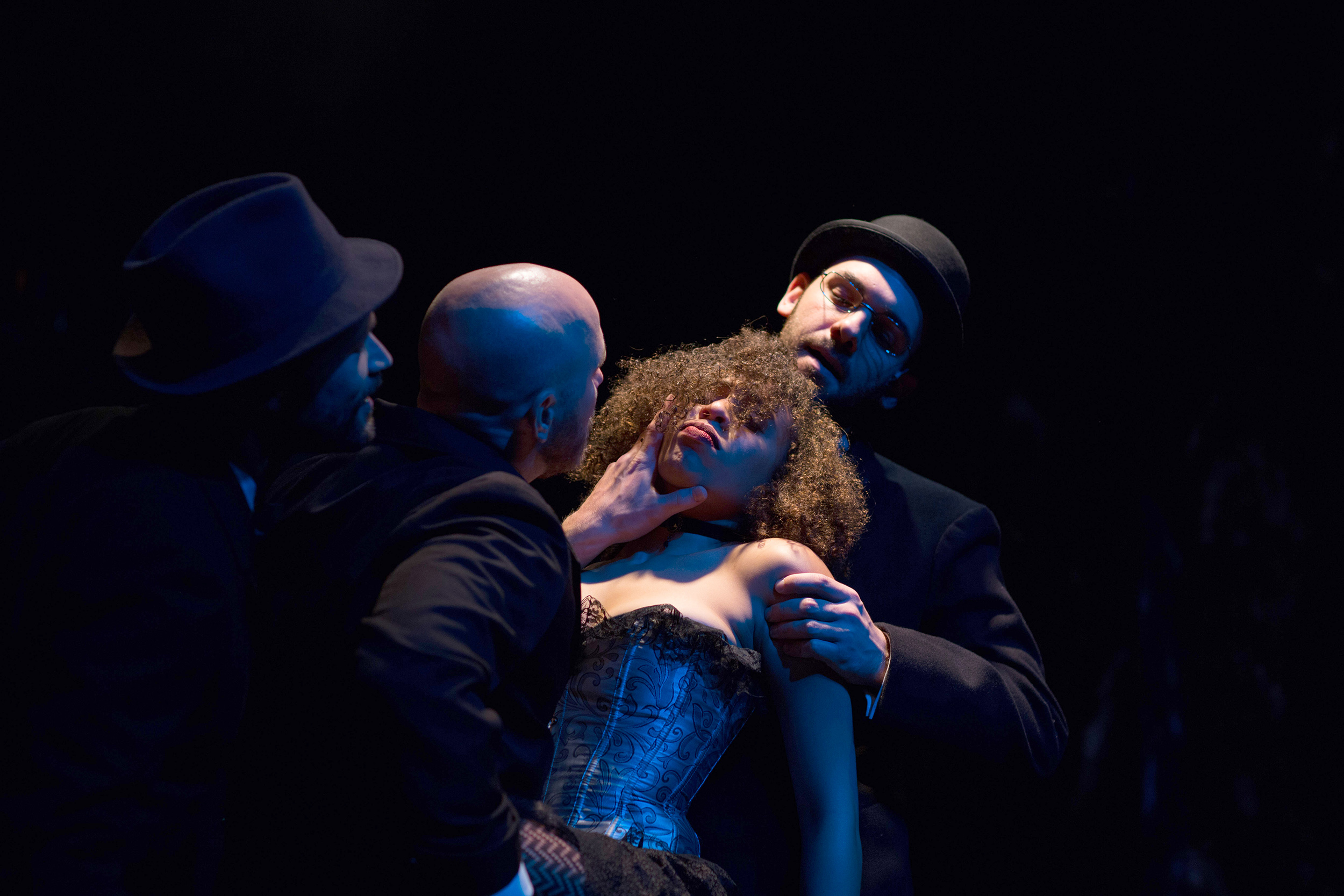 Marie Christine takes us into the life of a woman whose family has been broken by shame, held together by the strictures of society, and blasted apart by jealousy. The story that emerges is sensational, deep, and spectacularly presented by a classically trained cast who take us on an emotional roller-coaster ride of outsized proportion. Further, the musical is built around Chicago and it's corrupt ward-heeled politics, adding details that our audiences can revel in and absorb, although this is not by any means a provincial tale- it is universal in scope and execution. Marie Christine is extremely well done and highly recommended.
Special thanks to the great musicians visible through the main triple doorways of the well-crafted set: Aaron Bentham, conductor/piano; Mark Linley, percussion; Corbin Anderson, reeds; Jered Montgomery, trumpet/flugelhorn; Elena Spiegel, violin; and Tobin Schindler, cello- they poured forth the catchy art music/jazzy songs that framed the spectacular lyrics all evening.
Kudos to the production group which includes: Producer: Meg Love; Music Director Aaron Benham; Choreographer Breon Arzell; Asst. Director Tasia Jones Assistant Music Director Charlie Mann; Scenic Designer Arnel Sancianco; Lighting Designer Heather Gilbert; Costume Designer Izumi Inaba; Sound Designer Karli Blalock; Stage Manager JC Widman; and Production Manager Lindsay Brow.
For information and tickets to Marie Christine, go to www.theatrewit.org
All photos by Katie Stanley