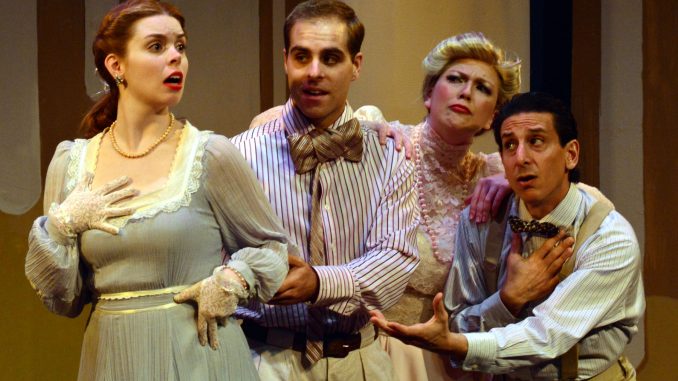 The Lonny Chapman Theatre has chosen its holiday presentation, and what could be more fitting than Shakespeare's charming 1595 tale of lovers, fairies, and enchanted forests? A kaleidoscope of colorful characters merge in this delightful play-within-a-play-within-a-play. Directed by Marc Singer, who has a dual role as Oberon, King of the Fairies, A MIDSUMMER NIGHT'S DREAM has everything – love, unrequited love, dream potions, royal weddings, chaos in fairyland, jealousy, and a bunch of bumbling peasants trying to be actors extraordinaire.
But let's summarize Shakespeare's story, which is probably going to look ridiculous in print. There's the Duke of Athens named Theseus (Doug Haverty) who's planning to marry Hippolyta (Silke Sorenson), former Queen of the Amazons. Into his court marches Hermia's father Egeus (Chris Winfield), who insists that his daughter (Hartley Powers) marry Demetrius (Doren Sorell), the man he's chosen for her. But, counter to his wishes, Hermia has already fallen for Lysander (Mikel Parraga-Wills). Meanwhile, Hermia's best friend Helena (Anna Gion) is madly in love with Hermia's fiancée, Demetrius – but he won't give her the time of day. If Hermia doesn't follow her father's wishes, the penalty is death.
It stands to reason that the pair of lovers, Hermia and Lysander, decide to run away – smack into the enchanted forest – pursued by Demetrius and Helena, both hoping to convince the person they love to forsake the forbidden coupling and come away with them.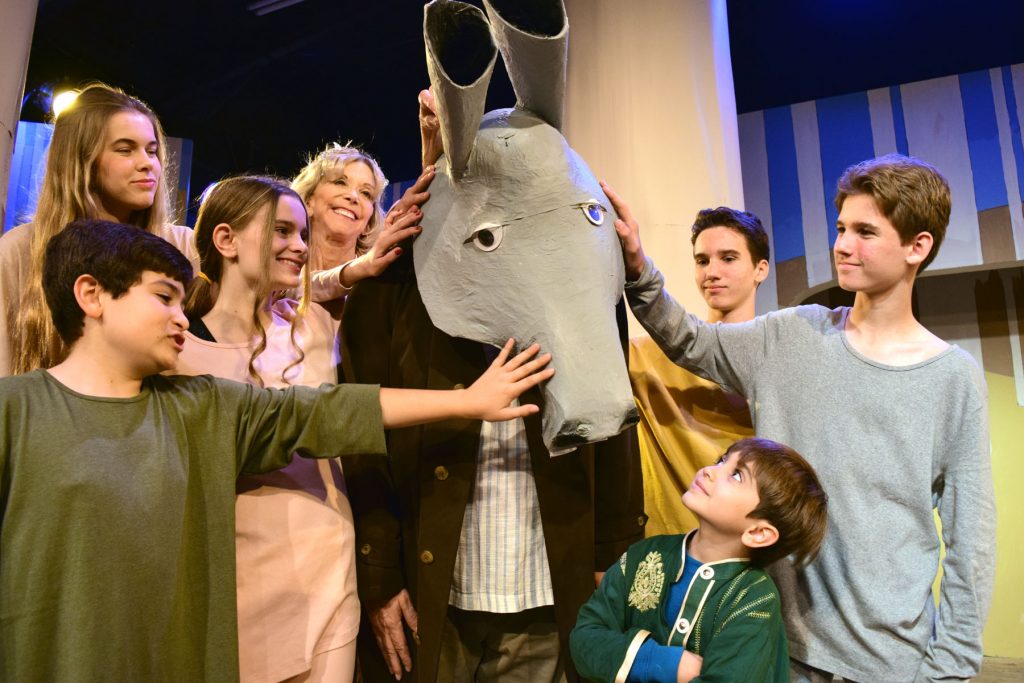 Add to this storyline another in which a group of talent-challenged rag-tag peasants decide to present a play in honor of the Duke's wedding – the sad but romantic tale of Pyramus and Thisbe, starring none other than the scraggly Bottom (J. Christopher Sloan) of booming voice.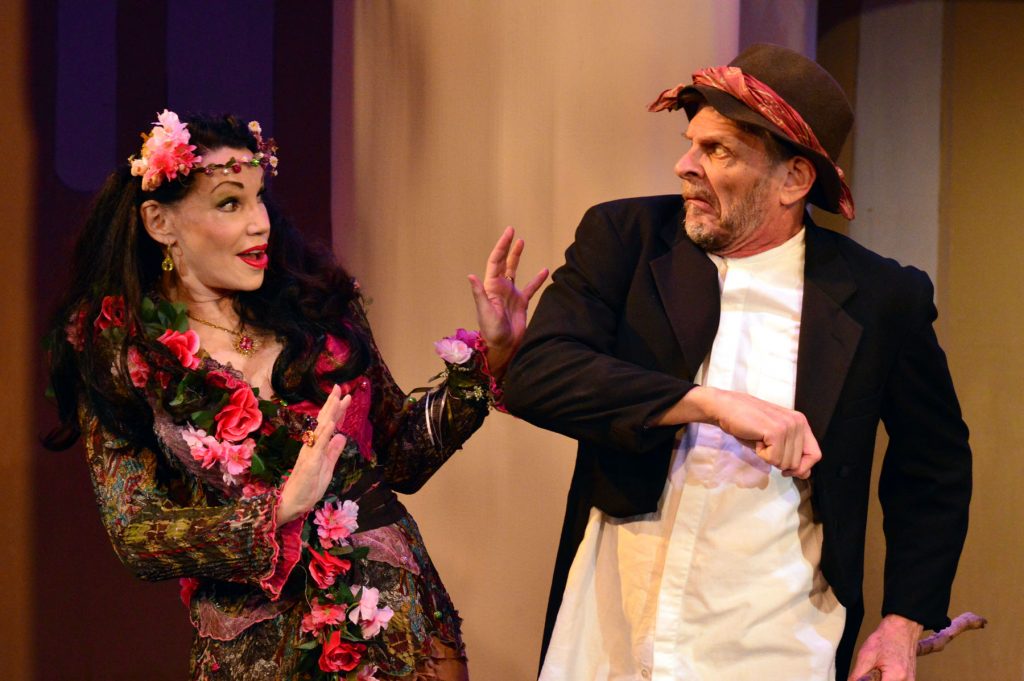 As if that's not enough confusion, there is some added craziness going on in the fairy kingdom. The fairy king and queen, Oberon and Titania (Suzy London), have had a falling out over a young changeling that both covet. In order to embarrass his queen into offering the little boy to Oberon as his page, Oberon begins to sprinkle fairy dust willy-nilly – which apparently causes the sprinklee to sleep and then fall hopelessly in love with the first living thing seen upon waking. Thus Titania falls hard for Bottom, who by now has wandered into the forest and had the mask of an ass cemented to his head by the pain-in-the-neck Puck, also a denizen of the fairy kingdom. To add to everyone's lovelorn misery, both Lysander and Demetrius are now madly in love with Helena and both summarily reject the heartbroken Hermia. Is it making sense now? But to paraphrase Shakespeare (and why not?), all's well that ends well.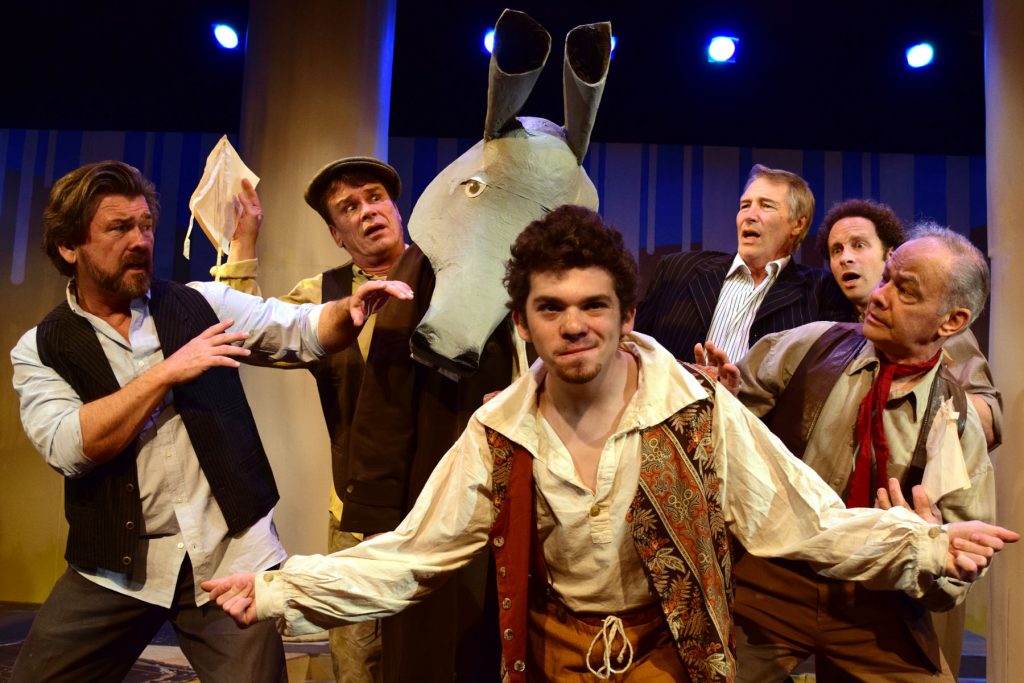 The cast nobly takes on the many roles in this Shakespearean classic. They may have been daunted by the sheer volume of words Shakespeare created for each – and unfortunately issues such as enunciation and speed sometimes made it difficult to follow Shakespeare's lovely lines. Happily, the manicky presentations at the beginning of the play gradually came under better control as time wore on. In this regard, kudos are in order for Bottom and his team of peasant actors, who seemed more comfortable than others in the piece with Shakespeare's dialog. Marc Singer's set design was simple but appropriate for the production – although chasing each other round and round the various pillars was dizzying, to say the least. The entire production team did a good job bringing Shakespeare to life. If there were one word to epitomize the current production of A MIDSUMMER NIGHT'S DREAM, it would be enthusiastic.
A MIDSUMMER NIGHT'S DREAM runs through December 31, 2017, with performances at 8 p.m. Fridays and Saturdays and at 2 p.m. on Sundays. The Lonny Chapman Theatre is located at 10900 Burbank Blvd., North Hollywood, CA 91601. Tickets are $25 (students and seniors $20 and 10+ groups $15). For information and reservations, call 818-763-5990 or go online.