I've been thinking a lot lately about the comfort of familiar stories. Evidence of this phenomenon abounds in my own life—it can be found in the eternal presence of Parks and Rec in the "continue watching" section of my Netflix account; in the bookmarks abandoned partway through Harry Potter books as I pluck them off the shelf and reread them in fits and starts; in a dozen-odd episodes of the podcast Welcome to Night Vale saved on my phone in case of emotional emergency. Familiar words, familiar worlds. The news might announce half a dozen fresh catastrophes a day; the country or the world or my individual life may threaten to collapse from one crisis or another; the very earth beneath my feet may feel as though it's slipping away like sand, but Leslie Knope is always elected to City Council. Harry, Ron, and Hermione are always sorted into Gryffindor. And each Night Vale episode always ends with the phrase "good night, Night Vale. Good night."
A Christmas Carol is another familiar story, and a much more universal one. Whether by reading a picture book, participating in a school or community theatre production, or viewing the definitive film adaptation, A Muppet Christmas Carol, most of us are exposed to Charles Dickens' classic holiday tale at a young age. For many lucky Chicago children, that first exposure comes from the Goodman Theatre's annual production of  A Christmas Carol, now celebrating its 40th anniversary. For many in Chicago, the Christmas season doesn't start until Goodman's Christmas Carol opens.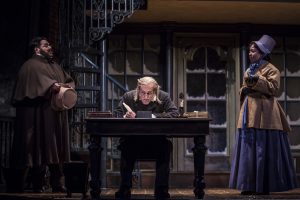 After forty years, I wonder what there is left for me, or any other theatre critic, to say about this beloved holiday tradition. One thing I can state with absolute certainty is this: people, myself included, see this show year after year for a reason. That reason absolutely has to do with the quality of the Goodman's production: with the caliber of actors, directors, designers, and technicians they employ, there's no better stage adaptation of A Christmas Carol around.
But I think, too, there is both value and comfort to be found in the story itself. There's something reassuring, in our ever-changing world and especially in the chaos and uncertainty the Trump presidency has plunged our country into, in knowing that Scrooge will be visited by the Ghosts of Christmas Past, Present, and Future, in that order; that by the end of the show, his greedy, stingy heart will be transformed into one filled with generosity and kindness; and that Tiny Tim will end the show with a triumphant "God bless us, every one!"
And while comfort seems a small thing compared to loftier goals like Changing the World Through Art, if the past year has taught me anything, it's that comfort can be as essential for survival as food or air. The harshness of the world can threaten to tear us apart, but comfort—and especially the comfort of familiar stories, which seems to harness a special magic of its own, humans being story-driven creatures—can be a balm, an essential dose of healing for the soul. And what more healing story could there be than Scrooge's journey of redemption, a reminder that even the cruelest among us are capable of incredible generosity?
Heaven knows there are plenty of connections to be made between the events of A Christmas Carol and our current political climate. So, too, is there joy to be found in spotting the differences between each year's show—the charming Paris Strickland as the production's first female Tiny Tim being the most delightful example in this iteration. But this year my focus was captured most by that which was exactly the same. I drew comfort from this familiar story, this now-familiar production. And that was more powerful than even I could have expected.
Ticket Information
Location: The Goodman Theatre, 170 N. Dearborn, Chicago
Dates: November 18 – December 31, 2017
Tickets: ($25 – $112; subject to change) are available at the Goodman Theatre website, by phone at 312.443.3800 or at the box office (170 N. Dearborn).
Sensory-friendly performance: Tickets (starting at $15, with promo code SENSORY) and resource materials, lobby and seating maps for the December 30 performance are now available at the Goodman Theatre website.
All photos by Liz Lauren.