Gordon Ramsey and hamburgers, it almost seems too easy. How can Chef Ramsey not create a decadent group of burgers? The iconic chef certainly seems to have the Midas touch and Gordon Ramsay Burger at Planet Hollywood Resort & Casino just affirms that if he puts his name behind something, it will wow your taste buds.
You can't miss Gordon Ramsay Burger as you will either notice the 30-foot enclosed flame or the long line of people waiting to experience one of these burgers. Don't let the lines scare you, as you can put your name in and then go gamble or walk through the Miracle Mile Shops. The restaurant will send you a text when your table is ready. You will soon find out that this is one restaurant that it is most definitely worth the wait. Freshness and quality ingredients are the key to this menu, and Gordon Ramsay Burger is not afraid to let you see the process. You can sit at a counter right at the kitchen, allowing you to watch the food being prepared in front of you.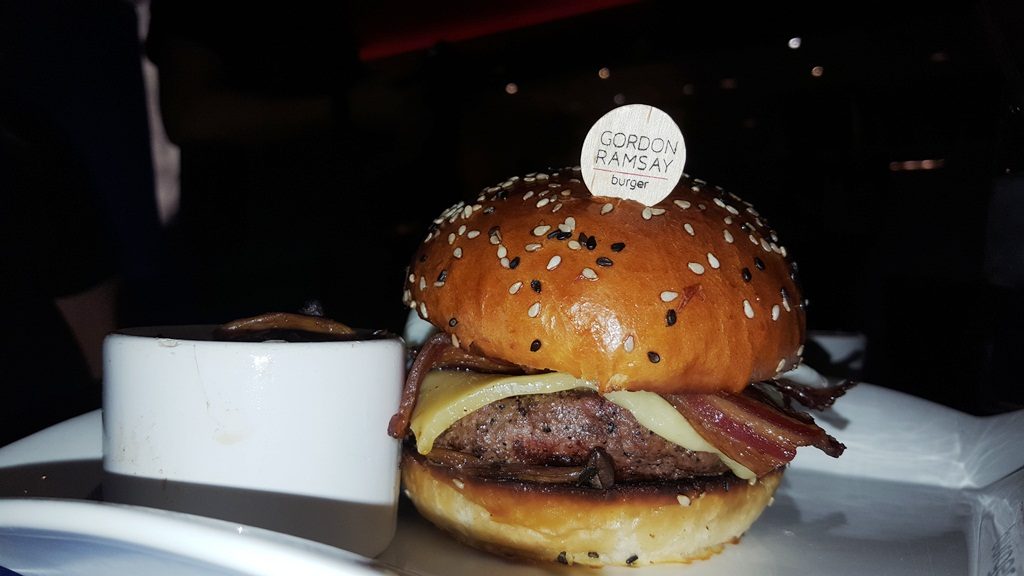 Gordon Ramsay Burger has a menu of anything but your usual hamburger. The "Hells' Kitchen" Burger is made with asadero cheese, roasted jalapeños, avocado, roasted tomatoes and jalapeño aïoli. As with many of the burgers on the menu, the "Hell's Kitchen" burger uses a unique cheese you won't find on most burgers. The asadero cheese is creamier and lighter than most cheeses which works well with all of the fresh ingredients on this specific burger. The Farmhouse Burger is a protein lover's dream, as the hamburger patty is topped with thick mangalitsa bacon, a perfect fried egg and then is finished off with dublinar cheese. If you really want to go over-the-top with your burger, you can choose from the Hog Burger or the Lobster and Shrimp Burger. The hog is exactly what you would expect with a name like that, mangalitsa pork, mangalitsa bacon, bbq pork all topped off with white cheddar, crispy onions and coleslaw. The lobster and shrimp burger pairs a pan seared lobster with a rock shrimp patty. You can also choose from a veggie burger or a foie gras jam topped hamburger.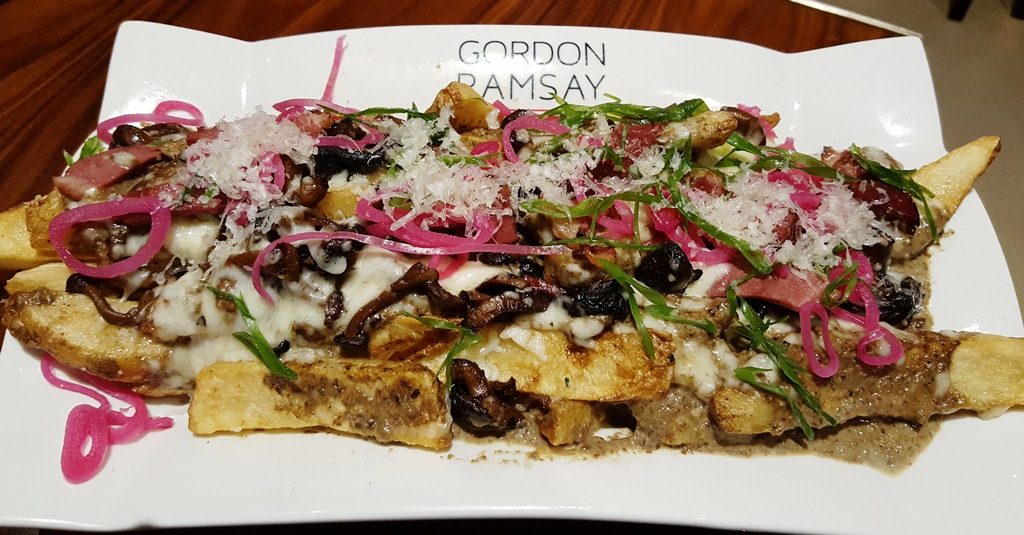 There are plenty of great options to start off your meal, but nothing quite compares to the mushroom poutine. This take on the classic poutine begins with crispy thick and long fries, which are perfect to hold up underneath the gravy, cheese curds, duck bacon and more wild mushrooms than I have seen on one single dish. This is an explosion of flavors, just be careful as this might turn into the only thing you eat all night if you don't share with friends. It is that good and that filling. If you enjoy wings, try the Hellfire Chicken Wings. Not your typical wing, they are not greasy at all and the very lean chicken comes lightly battered. While the name says hellfire, don't worry, they are far more flavorful than hot. If you don't want a hamburger, the ahi tuna or chicken saltimbocca sliders make for a great alternative and they also work equally well as an appetizer.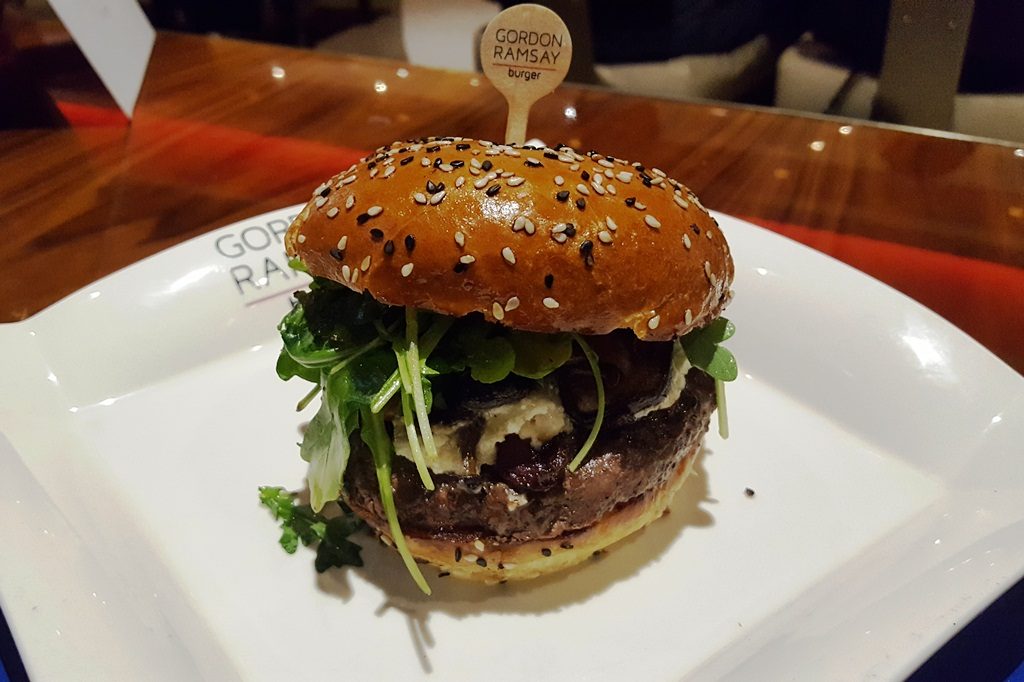 If you have a sweet tooth or if you have any possible room left after one of the gigantic burgers, the dessert menu is a must even if just for a bite or a sip. If you have come to know a milkshake as simply ice cream and milk, you will be pleasantly surprised as the milkshakes here are more creations than desserts. You can choose from Brown Butter Caramel Pecan, Crème Brûlée or the classic Oreo Milkshake, that Gordon Ramsay Burger simply does better than anyone else. These are the thickest and most flavorful milkshakes you are likely to find on the Las Vegas strip. If you want to relive a little of your childhood, try the blood orange creamsicle. The blood orange gives you a little more tartness than sweet flavor, but the fresh cream filling more than makes up for it and there is no wrapper on this creamsicle, it beautifully plated.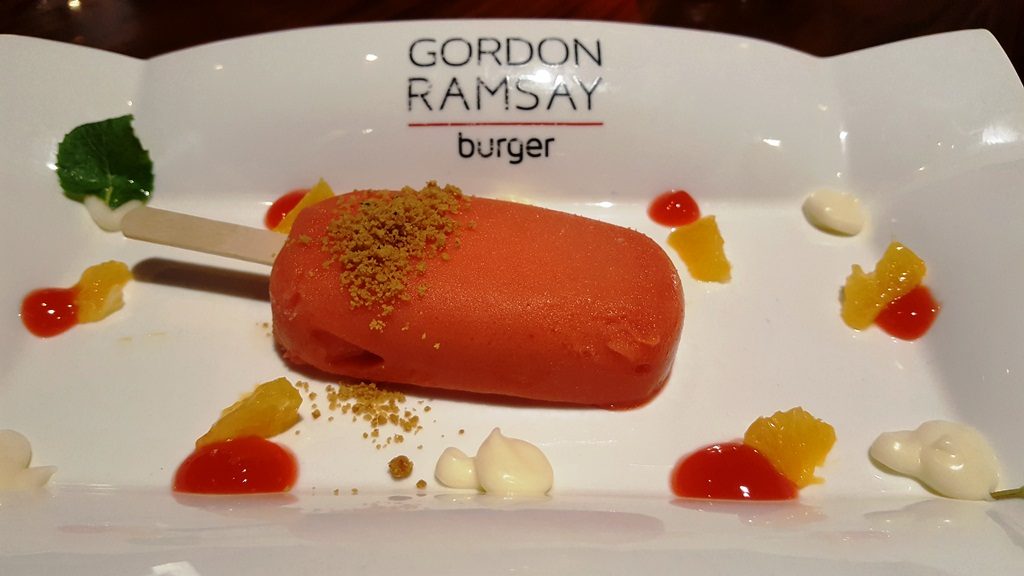 You can't leave Gordon Ramsay Burger without trying one of their creative cocktails or grabbing a beer from a lineup that ranges from local to the far ends of the earth. On draft you are going to find Jospeh James from Nevada, Samuel Smith's Oatmeal Stout all the way from Great Britain and in cans you will find such rarities as Hitachino Nest Red Rice from Japan. You will also find plenty of beers that you are more familiar with and you can also choose to do a beer flight to allow yourself to experience an assortment of new beers.
When Gordon Ramsey puts his name on a restaurant you can always expect fantastic food, but Gordon Ramsay Burger at Planet Hollywood Resort & Casino is much more than great food. From the moment you walk in you will feel an electric atmosphere to go along with impeccable service and if it is your birthday you might just get an opera-esque performance to celebrate your big day. Just another memorable day at Gordon Ramsay Burger.
For more information, visit: Gordon Ramsay Burger
(Photos Courtesy Stephan Martin)