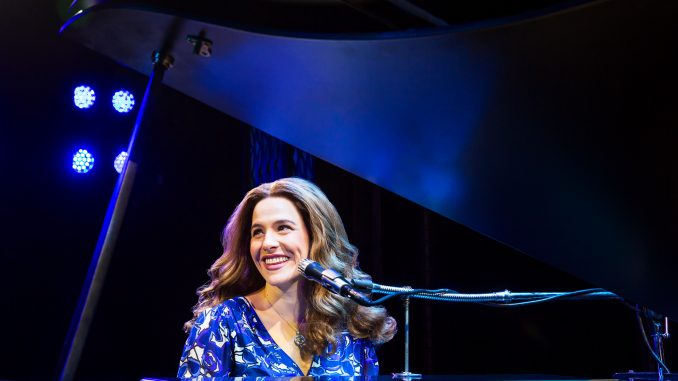 Legendary singer-songwriter Carole King's early career, as profiled in the biographical jukebox musical Beautiful, isn't exactly high stakes drama. It's true that Ms. King overcame a cheating husband in her first marriage and struggled with raising a child at a young age. But King never had to endure the intense hardships that other artists, such as Tina Turner, Ray Charles, or Rihanna, had to surmount like violent physical abuse, hindering disabilities, bleak poverty, or debilitating drug addictions. By comparison, Ms. King's rise to fame as a Grammy-winning recording artist came relatively easily. Her early life also hues a tale of humbleness, perseverance, and female empowerment. These themes are, in their own "beautiful" way, worth telling (and it's why this show is worth seeing).
Although Beautiful is a jukebox musical, you don't need to be a Carole King fan to enjoy it. In fact, much of the delight comes mostly from discovering how King, along with her former husband Gerry Goffin, were the songwriters responsible for many classic '60s hits such as, "The Loco-Motion," "One Fine Day," and "(You Make Me Feel Like) A Natural Woman." The list of hits is enlarged by the addition of the couple's friendship with their dueling songwriting coequals, Barry Mann and Cynthia Weil, whose inventory of music include "Uptown," "He's Sure the Boy I Love," and "You've Lost That Lovin' Feeling."Even a fleeting familiarity of just a couple of these songs should suffice to get that "aha" factor that the show is going for.
It was a smart decision on the part of librettist Douglas McGrath to focus squarely on the early works of these writers. After all, most people attending this musical would expect to hear songs from King's solo career, and instead, they're handed a playlist of '60s tunes performed by other artists such as The Drifters, Little Eva, and The Chiffons. That skillful crafting makes Beautiful one of the more intriguing and admirable jukebox musicals that I've seen.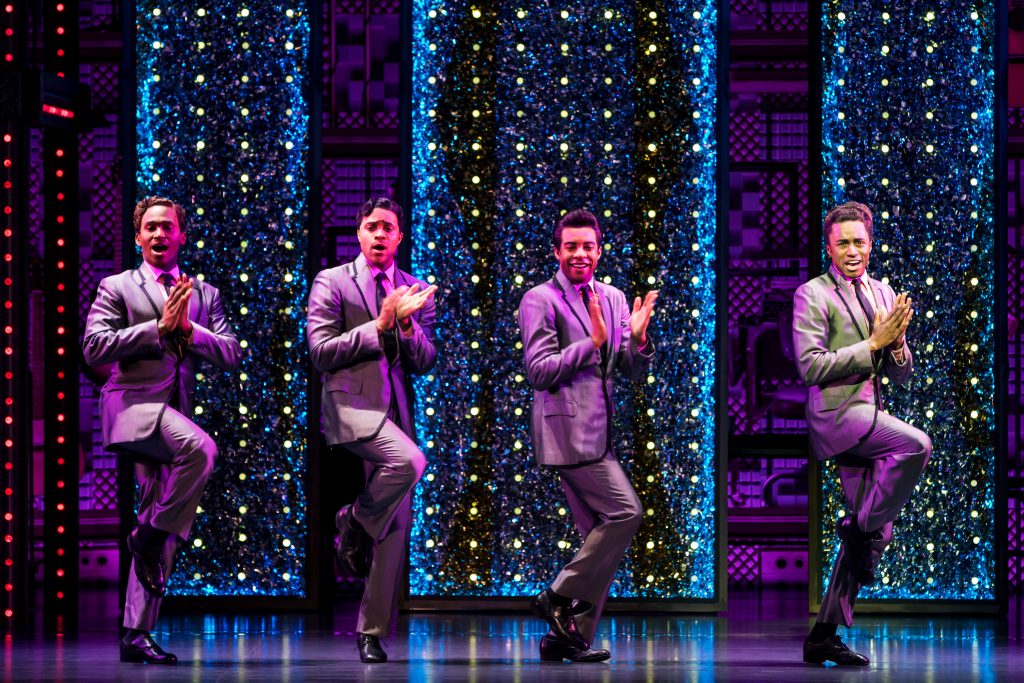 While I admired the focus on their early songs, I didn't necessarily agree with the formatting of them within the story. The overall effect of these numbers would've been far more pleasing had McGrath not felt the need to have nearly every song performed in its entirety. A brief touch on some of the numbers would've kept the momentum of the story going. For instance, seeing a full-fledged number of "On Broadway" in the middle of Act One felt a bit too pandering. It took precious time off the simmering conflicts that were building up.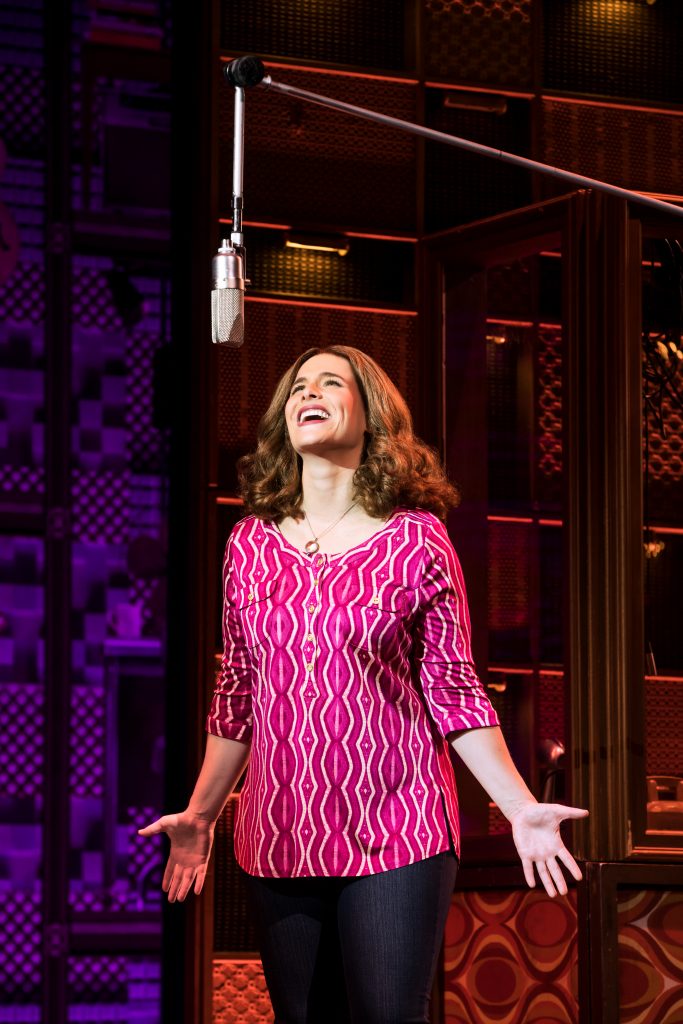 Those familiar with this musical, or with Chicago theatre in general, may already be aware that Beautiful famously starred the local Jeff Award-winning talent Jessie Mueller as Carole King in the original 2014 Broadway production. Ms. Mueller went on to win the coveted Tony Award for her performance. Her sister, Abby Mueller, starred as King in the first national tour that last came through the city in 2015 (Abby now plays King in the Broadway production).
With the current touring cast, headed by the immensely likable Sarah Bockel, the lead role is no longer solely tied-in by the Mueller sisters. Instead, it's become deeply rooted as a symbol of the quality of Chicago talent (major kudos to casting director Stephen Kopel, for looking outside the New York bubble for undiscovered talent).
Bockel, as you may have already guessed, is another local gem with a long history of performing at various venues throughout the city from small storefront non-equity companies like BoHo Theatre (Parade) to the larger houses of the Mercury Theatre (Million Dollar Quartet) and Paramount (Fiddler on the Roof). While Bockel received a Jeff nomination, she unfortunately never reached the same recognition that either Muellers later received.
Bockel, who already spent a year in the first national tour in the ensemble, gives one of the more touching and well-rounded performances I've seen from any performer on tour this year. Those lucky enough to sit within the first few rows are treated with a huge array of emotional depth from the powerhouse talent – I even saw tears fall from her eyes in one scene. Also, the actress has Carole King's recognizable sounds down perfectly, yet there's no hint of mimicking involved. It's a performance that's as true to Bockel's own energy and personality as it is infused with King's humbling spirit.
It helps that Bockel is supported by a fine cast. Andrew Brewer, as Goffin, aptly gives King's former husband a sense that he's both a deeply-troubled adulterer and a gentle soul. It's a performance that makes you understand why King would stay with him so long and why other times you'd wish she'd leave sooner.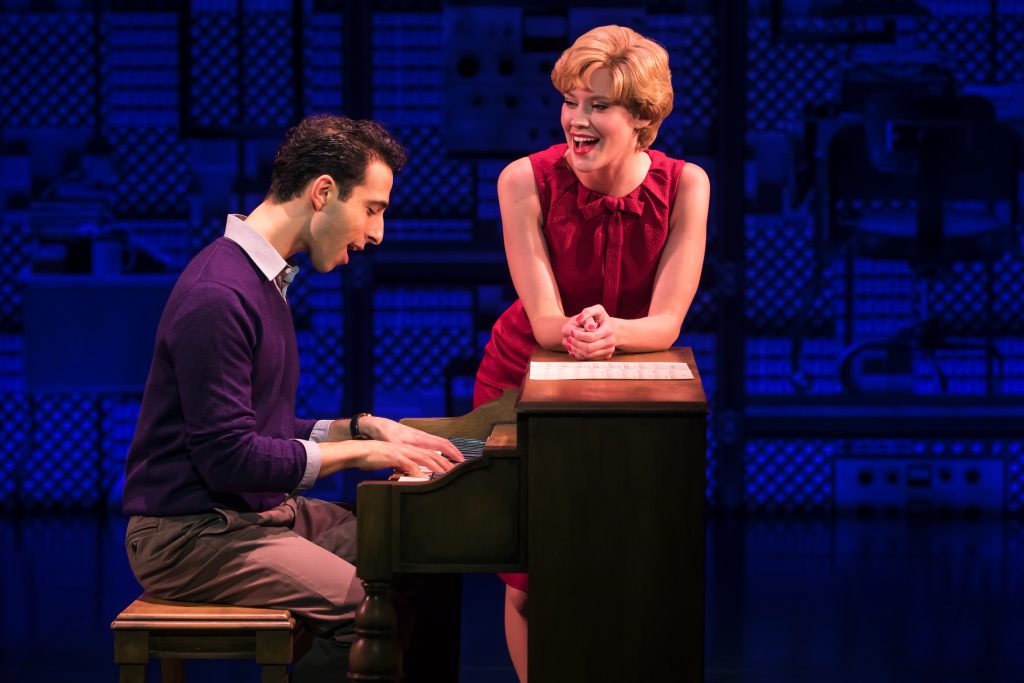 Sarah Goeke, with her deadpan style of humor, as King's songwriting friend Cynthia Weil, plays nicely off of the comical performance of Jacob Heimer, as Cynthia's writing partner-turned-lover, Barry Mann. Their nerdy-cute relationship provides the show a nice counterpoint to the often more serious tension between Bockel's King and Brewer's Goffin – this was especially notable in the winter retreat scene in the cabin.
There are also some lovely performances all-around by the supporting players. This includes a very fine performance by Suzanne Grodner, as Genie Klein, the advice-giving single Jewish Brooklyn mother to King; a quirky performance by James Clow, as Don Kirshner, the agent responsible for starting their careers; an energetic wide-eyed portrayal of King's high-school friend Betty by Elena Ricardo; and, some very charming production numbers from the ensemble portraying an array of star-powered groups of the age.
Despite a running length of two and a half hours, this tour hardly ever slags outside of a couple song numbers in Act One. The momentum is partly due to the strong cast and also in part due to the commendable directing by the proficient Marc Bruni who keeps the pace of this piece going even in its more intimate moments where the emotional intensity takes over (King's visit to Goffin in the hospital was especially moving).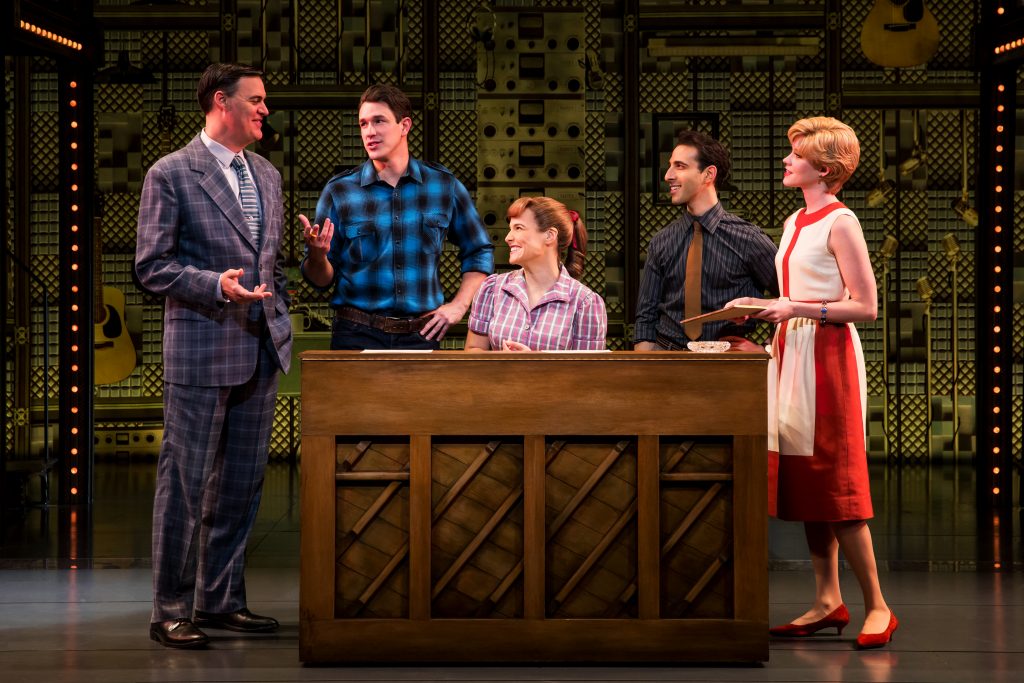 Though this is an enjoyable musical, it's not perfect (to be fair, not many are). Some corny jokes fell on deaf ears. Diction got lost on a few of the group numbers. And there's an issue with originality too – the way King's story is chronicled makes the show feel like a carbon-copy of Jersey Boys while some of the production numbers feel like they were pulled straight out of Dreamgirls. And despite the fine performances, the supporting cast members are mostly stereotypical stage types rather than fully realized people.
Still, all in all, there is far more to like than to dislike in this exceptional tour, especially given its timeliness. With the current climate of women finding freedom in their independence, pushing back against the patriarchy that allowed abuse to go on for so long, it's noteworthy that one of the evening's biggest applause came not after one of the songs, but when King finally leaves Gerry for good.
For all of Carole King's recognition and accomplishments, the one thing I've truly admired about her is how she's never let fame change who she is as a person. Indeed, she's filled with doubts throughout her journey. It's those same conflicts that all of us inhabit, and when those anxieties are given full display in Bockel's complex performance this tour truly lives up to it's title.
Bottom Line: Beautiful: The Carole King Musical is Recommended
Beautiful: The Carole King Musical – Broadway In Chicago
Running Time: 2 hours and 30 minutes, including a 15-minute intermission
Location: Cadillac Palace Theatre, 151 W Randolph St, Chicago, IL 60601
Runs through: Sun. January 28, 2018
Curtain Times: Tuesday, Thursday, and Friday at 7:30 PM, Wednesdays at 2 PM and 7:30 PM, Saturdays at 2 PM and 8 PM, **Sundays at 2 PM.
* There will be no matinee performance on Wednesday, Dec 6
** There is an additional 7:30 PM performance on Sunday, December 10
Tickets and Reservations: $30 – $115. Tickets are available at all Broadway In Chicago Box Offices including 24 W. Randolph St., 151 W. Randolph St., 18 W. Monroe St. and 175 E. Chestnut. Tickets can also be purchased by calling the Broadway In Chicago Ticket Line at (800) 775-2000. They can also be purchased at all Ticketmaster retail locations. As well as online.
Group and Premium Tickets: A select number of premium seats are also available for many performances. Tickets for groups of 10 or more can be reserved by calling Broadway In Chicago Group Sales at (312) 977-1710.
Photo Credits: Matthew Murphy