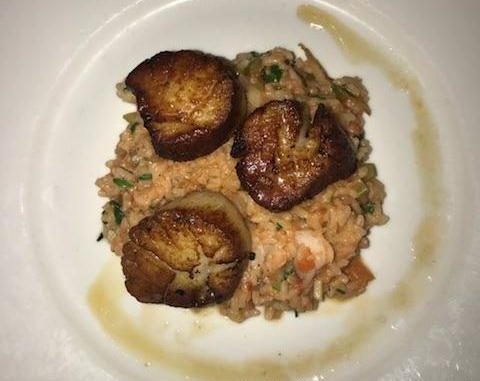 Before you even enter, South Main Kitchen exudes a farm/homey feel, with blazing flames and cozy outdoor seating, and welcoming large wooden doors. But once you've eaten there, you might agree that this restaurant alone makes Alpharetta a go-to for a perfect culinary experience.
Located in the heart of Alpharetta's Historic Downtown District, this unique restaurant offers a farm-to-table approach that shines through in every dish. There is a strong emphasis on quality ingredients, which truly makes South Main Kitchen stand out. Their menu is constantly changing because they strive to have the freshest and highest quality ingredients to create their stand-out dishes.
Looking at the menu, you will want to try just about everything. And, no matter what your diet is, there is something for everyone. The flatbread starter is a memorable standout, and may be one of the most delicious flatbreads you've ever tried. This flatbread is topped with butternut squash, garlic confit, swiss chard, whipped ricotta, baby arugala, Calabrian chili, parmesan and lemon agrumato ($15). The flatbread alone is worth a trip to this beautiful restaurant.
A popular trend nowadays is Brussel sprouts, and of course the Brussel sprouts here are absolutely delightful($9). The Brussel sprouts are prepared with comeback sauce, lunchbox pepper, scallions and benne seed. Noteworthy is the fact that we had to order this dish "special" without seeds, and without hesitation, we were told the special order was absolutely not a problem.
Another starter hit was the celery root soup. If you have not tried celery root soup before (or even heard of it), South Main Kitchen is definitely the place to try it ($8). This fresh and creamy soup is more flavorful than celery, and is served with crushed pecans, which adds a nice texture balance, along with croutons and lemon agrumato.
While it is of course possible to fill up on the awesome starters, the entrees really are just as delicious as the starters. The Scottish salmon is, of course fresh, and on the night we were there, was perfectly prepared, and extremely tasty ($26). It's served with refreshing mint tahini yogurt that compliments the salmon perfectly, along with fennel confit, cipollini onion, baby carrot, sumac and chive oil.
Other entrees we sampled included the scallops, which, at South Main Kitchen were fabulous ($32). These perfectly cooked scallops are served over savannah red rice and gulf shrimp. Additionally, the trout could not have been any better. What a special treat!
In addition to South Main Kitchen's incredible starters and delicious entrees, let's face it, not everyone is looking only for a great dinner place. The drinks at South Main Kitchen also feel farm-to-table (even if they're not). With great drinks names like "Folk Medicine," which truly might just cure anything that ails you, and Oaxocan Osakan, among others, this is a great place to try out some drinks you may not have even thought you might like.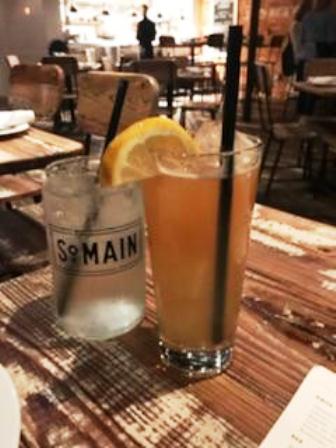 Lastly, of course, is dessert, which, wouldn't it be disappointing to ruin all that fabulous other stuff if you didn't have decadent, delicious desserts? So, of course, South Main Kitchen again did not disappoint. While we only tried one dessert, the Brown Sugar Doberge Cake was a most satisfying end to a very delightful meal.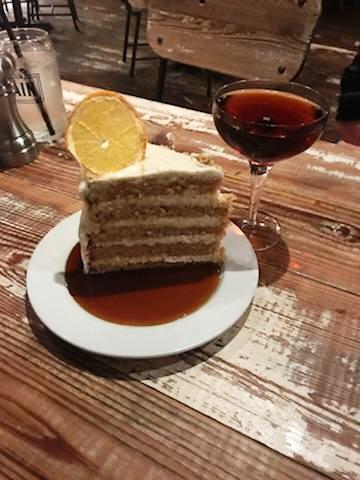 The great downtown location, familiar feeling of home and wonderful food and drinks truly makes South Main Kitchen a place you will want to return to again and again.
For more information, visit: South Main Kitchen