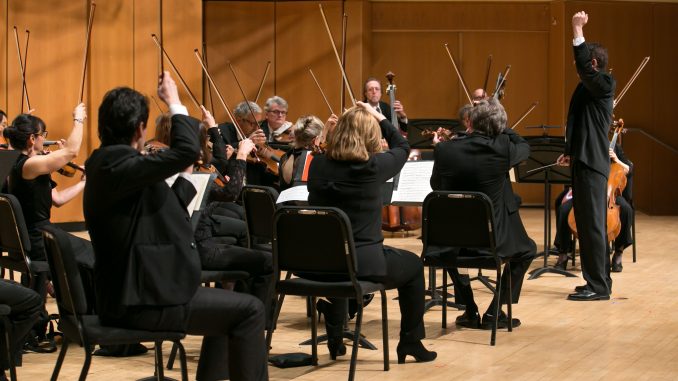 The Chicago Philharmonic presented Bows and Beasts at Pick-Staiger concert hall, 50 Arts Circle Drive, Evanston, on March 4, 2018 as part of their Glorious Earth season. Scott Speck Conductor led special guests Per Tengstrand Piano, Shan-shan Sun Piano, Jory Vinikour Harpsichord, and soloists David Perry Violin, Robert Hanford, Violin, Kathleen Brauer Violin, Jennifer Cappelli Violin in a concert filled with joy and whimsy. Before the concert and during the intermission, the Youth Choral Theater of Chicago performed as NEXT! Music in the Foyer; this reviewer arrived in time to see and hear a heartfelt rendition of a light-hearted song likewise comprised of several young soloists.
 The program consisted of:
– Pyotr Ilych Tchaikovsky Serenade for Strings in C major, Op. 48, 1880
Tchaikovsky noted that this Serenade was composed "from inner conviction." It has a strong sense of Mozart about it: multi-movement, melody-rich: "special occasion" music with which to celebrate! The ensemble is confined to strings, with 4 movements that seem a cross "between a symphony and a string quartet."
Under the deft baton of Scott Speck, the lyrical piece came across with a semi- relaxed feeling, never heavy-handed, fresh and inspiring. Speck and the Philharmonic are experts at the music of Russian composers, and particularly of Tchaikovsky, whom Speck described as "beloved…wearing his heart on his sleeve, and an unending fountain of melody from beginning to end".
– Antonio Vivaldi Concerto for Four Violins in B minor, RV 580, 1711
Standing before Speck on the stage were the four fine solo violinists, David Perry, Robert Hanford, Jennifer Cappelli and Kathleen Brauer, who poured forth a remarkably lustrous- actually sparkling- torrent of sound, drenching the auditorium with sonority.
This is a spirited three-movement work for four solo violins plus orchestral grouping of violins, violas, cello, and basso continuo by a composer who was a violin virtuoso. The outer movements unfold as a series of alternating orchestral and solo episodes. The highly original, even experimental piece opens with a scintillating dialogue among the soloists and- as does the finale- features wonderfully unpredictable solo episodes. The soloists here outdid themselves in rhythmic drive and extraordinary intensity of expression. The "grave, mysterious" slow movement was passionate and powerful and the fiery, driven finale even more so.
– Walter Leigh Concertino for Harpsichord and Strings, 1934
Jory Vinakour is a harpsichordist of great grace and technical prowess. He engaged in a lively dialogue with the Orchestra in the first movement, culminating in a beautiful barred cadenza followed by a repeat of the opening statement. In the sarabande-like Andante, lively figures were announced by Vinakour and nimbly repeated by the Philharmonic. The last movement is rapid and tricky, abounding in cross-rhythms and numerous shorter successive themes; finally, a short cadenza brings in a harmonious reprise that incorporates themes from all three of the movements.
This piece is one that will be included in a CD of harpsichord music that the Chicago Philharmonic and Jory Vinakour are working on to be released by Cedille Records– watch for it!
– Camille Saint-Saëns The Carnival of the Animals, 1886
Natural History fascinated Saint Saens, who, it is said, vastly enjoyed a day at the zoo. He composed The Carnival of Animals to play with his friends at a Mardi Gras/ Shrove Tuesday celebration. The musical sketches of animals are a way to poke fun at such composers as Rossini, Mendelssohn, or even himself! He described the work as "a grand zoological fantasy", conveying the message that people – including musicians- shouldn't take themselves quite seriously. The Philharmonic and Special Guest Pianists Per Tengstrand and Shan-shan Sun, who flew in from Sweden to perform this work for the 5th time with Speck, put a deal of whimsy into the lilting performance of this wonderful piece.
From the very first notes of the Introduction and Royal March of the Lion, this was a lot of fun, not at all campy or exaggerated. Perhaps most impressive was the realism of the impressions; you can see the dour tortoise can-can; the aquarium teems with life; all in all, a well balanced respectful presentation.
– Ogden Nash Verses for Camille Saint-Saëns' The Carnival of the Animals
 In the late 1940's, Columbia Record executive Goddard Lieberman and conductor Andre Kostelanetz conceived the notion of adding poetry to Saint-Saën's score. Who else would they choose but Ogden Nash, the beloved American poet well known for his prolific outpouring of fanciful light verse? With his unconventional rhyming schemes, he had been declared the country's best-known producer of humorous poetry. Noël Coward was chosen to read the poetry for the recording, ultimately made in 1950. Today the poems are often included when this work is performed, usually recited before each piece; here they were pronounced with obvious relish by Speck.
Note the conclusion of the verse for the "Fossils", which "fits perfectly with the punchline-like first bar of the music":
At midnight in the museum hall
The fossils gathered for a ball
There were no drums or saxophones,
But just the clatter of their bones,
A rolling, rattling, carefree circus
Of mammoth polkas and mazurkas.
Pterodactyls and brontosauruses
Sang ghostly prehistoric choruses.
Amid the mastodontic wassail
I caught the eye of one small fossil.
"Cheer up, sad world," he said, and winked-
"It's kind of fun to be extinct."
As can be seen, the resulting poetry was witty and fanciful, a perfect fit for the music, and a fine addition to the evening's concert.
For information and tickets to all the great programs of The Chicago Philharmonic, go to www.chicagophilharmonic.org
All photos by Elliot Mandel