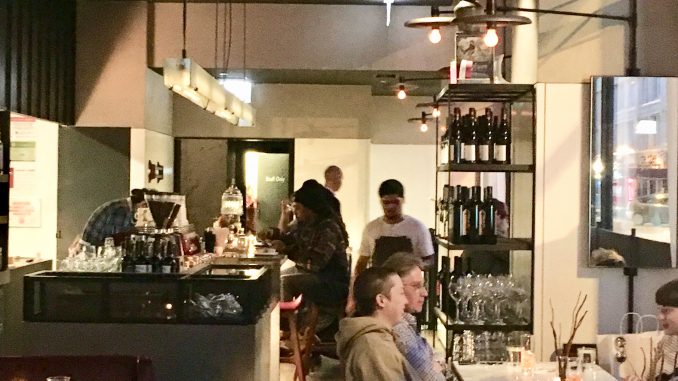 Perched high above the big intersection of Damen, Milwaukee and North Avenues in an Art Deco masterpiece formerly known as the Northwest Tower—stretching 203-feet tall and the only skyscraper for miles—The Robey captures the storied spirit of Chicago: a bustling, ever-changing, big-shouldered town. Taking its name from Robey Street – the north-south artery that would become Damen Avenue – the skyscraper's renowned past is honored while bringing a fresh, new perspective to the 89 room hotel.
With 180-degree views of the city skyline, including tree-lined streets and the steel girders of L train stops, guests can experience Chicago in a completely new context: where today's design meets yesterday's daring, with a little something always happening at night. Nestled in the corner of the The Robey is its signature neighborhood café, Café Robey, which serves up Chef Kevin McAllister's Modern American fare – against the backdrop of Wicker Park and Bucktown's bustling six-corner intersection. It serves brunch and dinner every day of the week. With an open kitchen and double height ceilings, every seat in Café Robey gives way to the streetscape of Milwaukee and North Avenues.
Café Robey recently debuted its new winter 2018 menu under the direction of newly appointed Executive Chef Kevin McAllister. Savory, expertly prepared spotlights off the new menu include house made Pastrami Style Duck, Country Pork and Pistachio Pâté, and Basted Black Bass. Vegetarian options pose a major draw as well, with a colorful Farro presentation and a Carrot plate showcasing both roasted and puréed forms. The menu focuses on fresh, locally sourced ingredients transformed into approachable, colorful and flavorful plates. Additionally, the beverage team behind Up & Up and Cabana Club are curating an assortment of irresistible, flavor forward craft cocktails as well as regional wine and craft beer selections.
I was very excited to experience the winter dinner menu at Café Robey. The menu itself was intriguing as it showcases each of its dishes with categories that focus on everything from Greens to Soup to Shrimp to Chicken to Gnocchi to Carrots. The menu offered specialized delicacies for all kinds of diets: vegan, vegetarian, pescatarian, gluten-free, meat eaters.
The drinks and cocktails list were impressive. My meal began with warming, inviting candle light, along with a sweet and sour craft cocktail titled Le Dame Blanc (lavender infused aquavit, crème de Mare, orange shrub and lime). I sipped my cocktail while people-watching out the corner window. My guest and I were then served freshly baked bread with creamy chive and sea salt butter. The two of us also shared the light Winter Greens salad (winter greens, poached and fresh pears, crumbled blue cheese, thyme cracker, cassis vinaigrette). The flavors were perfect for winter with the fresh greens, salty blue cheese and savory pear slices.
Entrees consisted of the Soup option from the menu (beer cheese rutabaga soup, poached potatoes, hot chicken nuggets, dill, stout reduction), which my guest ordered, while I had an irresistible, smoky saffron-spiced risotto and a Carrots side dish consisting of roasted carrots, Ras el Hanout yogurt, red pepper harissa, garlic chips and mustard greens. The red pepper harissa gave the dish a subtle, spicy kick taste and effect. My guest raved over the beer cheese rutabaga soup with the hot chicken nuggets. It was quite entertaining and satisfying as well to watch our server bring the bowl with the solid parts of the soup, and then watch as he poured the liquid part into the bowl! Part of me regretted not ordering the soup, as it could have been prepared vegetarian.
We then concluded our meal with absolutely sinful desserts. The first two were dark chocolate mousse and a bourbon spiked crème brulee. The dark chocolate was perfectly chocolately in every way: I just wished there had been a bigger portion of it! As for the crème brulee, the dark, oaky bourbon was a wonderful addition to the delicious dessert, complete with Angosturo, mint and luxardo cherries. We were also served Café Robey's traditional late night guest dessert of milk and cookies. Freshly baked and warm out of the oven, you cannot go wrong with chocolate chip.
After the meal was over, my guest and I were given a tour of the Robey Hotel, the upstairs bars and lounges, and its rooftop. The jaw dropping view of the Chicago skyline from the rooftop bar was worth the cold wind that evening. I'll make sure to visit once it gets warm this summer. And do not forget to visit Café Robey, whether or not you stay at the hotel!
Photos: Jennifer Lunz
Hours:
Brunch 7am to 2pm

Dinner 5pm to 10pm (Friday & Saturday until 11pm)
Café Robey
1600 N Milwaukee Avenue
Chicago, IL 60647
To make a reservation, please call 872-315-3060, or visit the website.