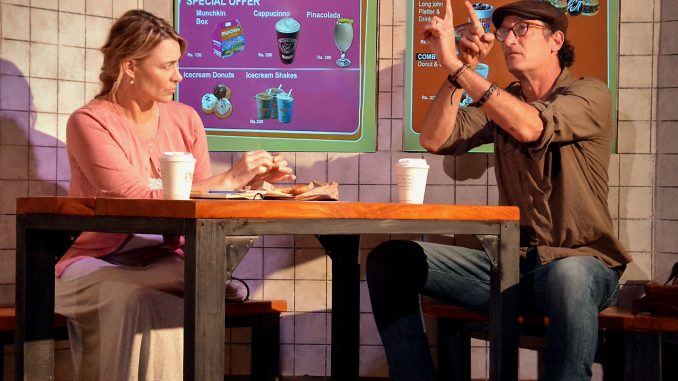 Inspired by the screenplay for Noel Coward's "Brief Encounter," ARRIVAL AND DEPARTURE takes the audience on an intimate journey through love and loss. But the stage version is in some very important ways strikingly different from Coward's focus. Playwright (and director) Stephen Sachs takes the 1945 film into a new arena, the world of people with hearing loss. Reportedly written with the current principals in mind, Sachs explores love which develops through the couple's shared understanding of American Sign Language (ASL). They are both different, and yet alike.
When Sam (Troy Kotsur), a deaf man with remarkable signing skills, meets Emily (Deanne Bray), a woman who is hard of hearing but able to communicate verbally with the assistance of hearing aids, they know almost immediately that they have found their soul mates. For they share the ability to speak without words and understand without voices. But their meeting has come too late; both are married with children they love dearly. Captions here and there and their "voices" (Adam Burch and Stasha Surdyke) notwithstanding, this is a love which cannot be.
In fact, Emily is married to Doug (Brian Robert Burns), a man with perfect hearing who has been less than enthusiastic about learning ASL. Neither has their daughter Jule (Aurelia Myers) learned ASL, leaving Emily feeling a poignant separateness from her family. To add to the family stresses, Jule is going through a painful transition from childhood into her teen years, underscored by her reliance on social media and her godlike cell phone.
Sam and Emily's ill-fated love is in stark contrast to Mya (Jessica Jade Andres) and Russell (Shon Fuller), who have to weather some tough history but may just make it. Everyone meets in the New York subway, beautifully suggested by Matthew G. Hill's scenic design, Nicholas E. Santiago's video design, and Gary Franco's cast movement. Donny Jackson's lighting and Peter Bayne's sound also deserve kudos. In fact, the entire production team does an excellent job of keeping the stage flexible, lively, and fascinating.
Director Stephen Sachs helms the cast with compassion and keen attention to detail. But it is the lovers who carry the show. Troy Kotsur's use of his facial expressions and graceful hands make mere words fade into unimportance. He is an ASL genius who can express every emotional nuance in a new, powerful, and spine-tingling way. There is clearly a profound connection between his hands and his heart. As the other of the doomed pair, Deanne Bray manages to make her divisive "half and half" status – not quite belonging in either the deaf or normal hearing groups – become a painful reminder that loneliness plagues each of us, especially when we don't "fit in." Even though she has a daughter who needs her and a husband trying his best, she still feels like an outsider. ARRIVAL AND DEPARTURE is a brilliant study of belonging, as well as an entertaining and fascinating look at being separate and together.
SPLASH SELECTION
ARRIVAL AND DEPARTURE runs through September 30, 2018, with performances at 8 p.m. on Fridays, Saturdays, and Mondays and at 2 p.m. on Sundays. The Fountain Theatre is located at 5060 Fountain Ave., Los Angeles, CA 90029. Tickets are $35 and $40 ($30 seniors, $20 students, $20 rush, and Monday's Pay-What-You-Can when available). For information and reservations, call 323-663-1525 or go online.