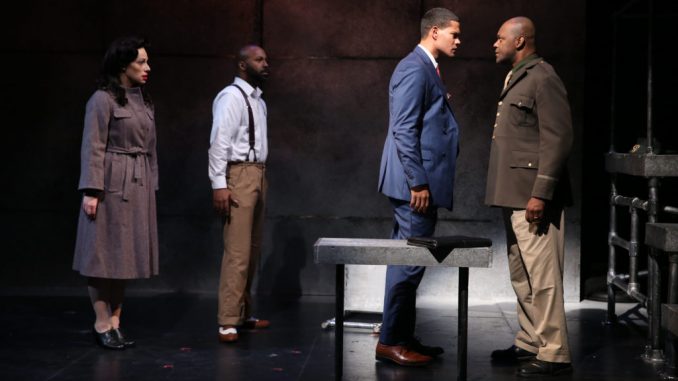 A SERIOUS WIN for "THE WINNING SIDE", a World Premiere Play by JAMES WALLERT, presented by EPIC THEATRE ENSEMBLE, featuring MELISSA FRIEDMAN, DEVIN E. HAQQ, SULLIVAN JONES, and GODFREY L. SIMMONS, Jr., directed by RON RUSSELL at THE ACORN THEATRE.
When I first heard about this play's coming to Theatre Row from the distinguished EPIC THEATRE ENSEMBLE, being about the life of seminal rocket scientist, Wernher von Braun (1912-1977), I could not help but immediately think on that great satirist songwriter, Tom Lehrer's 1965 ditty about him from the album" That Was The Year That Was"(Reprise '65). Regarding the V2 rockets that bombed London from the fall of 1944 to almost the end of the war, the lyric suggests:"Vunce a Rrrocket goes up, who CARES where it comes down?  That's not my department' says, Wernher von Braun."
Consequently, I was greatly relieved that in James Wallert's remarkable first play, the sentiment expressed by Lehrer, albeit with his Tomfoolery wit is far from avoided in this bio-play that the author exhaustively researched over a period of four years. Along with the published biographies and even a 1962 Columbia feature, "I AIM AT THE STARS", NASA opened it's archives to the playwright in order to glean the most elusive of details. The results is a fascinating tale, mostly fact based, but like Shakespeare with whom Wallert is more than familiar, courageously charts out a highly credible, though partially fictional account of the scientist who, in all probability, leads the pack of those most responsible for Neil Armstrong's ",One small step for man, one giant leap for mankind." This is a play of serious substance, asking serious questions, and unafraid to employ copious biting humor.
The format of non-linear story telling, covering the years 1943 through that historic night in July, 1969 is supported by a multi-media presentation of a large projection screen indicating the year and place where each scene unfolds. Each particular piece in the jigsaw which we in the audience receives needs to be put together as a whole. I, for one, embraced this activity especially with the spur of such crackling direction from Ron Russell. His authority of stagecraft, including as that of sound designer (which features at the beginning of the second act the Lehrer song), as well as eliciting from the four very fine actors creating an ensemble that you'd swear was at least twice that number, a finely etched portrait of this elusive icon of German and American history surrounded by captivating characters all nimbly portrayed.
Sullivan Jones is assigned the task of making this Prussian born gentleman who was ,"always pretty good at math, "a subject worthy of our assiduous attention.. He positively reeks of self-confidence, which is wholly warranted when it comes to math and all related rocket engineering challenges, be it for his first official employer, Adolf Hitler before and during the course of the war, and then, of course, for the United States Army after the surrender of May, '45, and through the creation of NASA and the realization of von Braun's childhood dream: man walking on the moon. The added factor of him being played with Sullivan's matinee idol looks does not interfere with his demeanor, nor with the his multilingual charms and seeming musical ability to knock off a Chopin Etude in professional manner when called upon to impress a beautiful and cultivated woman.
That woman, is a French actress of the classical Parisian stages and chanteuse of the city's cabarets named Margot Moreau. Her considerable talents become self evident from the moment she appears singing ala Piaf. It is her character which breathes the most life into Wallert's narrative. She's brilliantly realized every precious moment she inhabits the stage by Melissa Friedman. Whether singing in French, or upon being intruded in her dressing room by the charming Prussian, she embarks on a Gallic tirade at such a velocity the likes of which I've not heard since Liliane Montevecchi as a French waif of the occupied Paris laid into Nazi, Lt. Marlon Brando in "THE YOUNG LIONS". The fluent exchange of her attack and his defense in the same language as though writ by Jean Renoir, drew applause from the first nighters, including moi. But that merely is her intro into this story of ambiguous agendas and even more opaque morals in a time of war, and crumbling civilizations. It is through her, and the incredibly detailed and nuanced characterization of Ms. Friedman, that we see a side that comes closest to being human from the man of math, science, and obsession to propel mankind's evolution towards the stars. In the latter part of the second act, Friedman delivers a letter to the increasingly renown, now American rocket scientist, that rivals Roxanne's missive to Christian in Cyrano; yet I've never heard such read with greater poignancy. Friedman's is a performance that warrants serious scrutiny from any and all committees of appropriate theater awards here in town for Off Broadway. Please take note.
There are two other gentlemen who most ably inhabit the stage: Godfrey L. Simmons Jr. has effortless authority as U.S. Army Major Taggert, who becomes von Braun's American mentor as it were. The extraordinary Devin E. Haqq, plays no less than fifteen characters, including those of Lyndon B. Johnson, John F. Kennedy, and Walt Disney and serves them up with their individual seasonings of voice, accent, and demeanor to the delight of all auditors in the house. He is truly Proteus in this production, and has an actor's holiday while wholly committed, as all the players are, in this just over two hour journey into the hard questions of what indeed are the values we assume are American, what makes us "exceptional", and indeed, are we even remotely close to any of what we profess to be toward those ideals? Were we then? Are we now? It's worth noting, in this post Hamilton theater world, that all of the roles portrayed in this production, with the sole exception of Ms. Friedman, are African American. That it all works so well, in this day and age, gives this reviewer further reasons for hope at this trying time in our republic.
The fact that Wallert has fashioned these hard questions in a more than moderately amusing play at times, intertwined with the tragic consequences of willful ignorance, and blinders on single-minded focus, is reason enough for you, dear reader, to make your way to Theatre Row and attend The Acorn Theatre, where a nascent mighty oak may just be growing there. You have just under four weeks to do so.
Just extended to NOVEMBER 4, 2018 
For more information, check the Epic Theatre Ensemble website
THEATRE ROW-410 W. 42ND ST. NYC. (limited four week run). Call 212-239-1770