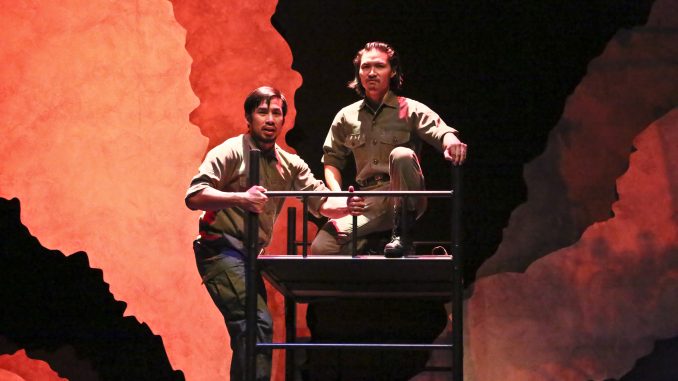 Written by talented Qui Nguyen and skillfully directed by Jennifer Chang, VIETGONE tells the tale of Vietnamese who fled the Vietnam War, only to find themselves stateless and in a strange new culture with different ways of looking at things. But this is also the story of Everyman when he is forced by circumstances beyond his control to change his life from the ground up. Playwright Nguyen slyly presents these serious issues with tongue-in-cheek, mixing humor with pain in a playful and poignant approach to the unexpected in life.
Quang (Paul Yen) was a hero of sorts in Vietnam, an Air Force pilot who stood up against the Vietcong for eight years, even when it meant losing touch with his wife and two young children. And then the impossible happened! Vietnam fell, leaving Quang forever separated from his family and forced to make a new life in America – even as he longed to return to his homeland. At the same time, Tong (Sylvia Kwan), an employee in the American embassy, has escaped to America with her reluctant mother, leaving Tong's brother behind. It is fate that the two meet, with both their lives forever changed. Jane Lui, Scott Ly, and Albert Park – each donning multiple characters in the epic – added immeasurably to the production.
For amidst war, conflict, and painful memories, life must go on – a message which clearly has resonated with every immigrant population from time immemorial. Added to the stresses inherent in uprooting a life, author Nguyen inserts clever touches of humor – humor which reverberated throughout the audience, many of whom likely remembered similar experiences or shared their parents' and relatives' wartime and postwar recollections. Playwright Nguyen suggested that – just maybe – this might be a story similar to his parents' reports.
Kaitlyn Pietras' and Jason H. Thompson's scenic and projection design deserve special kudos, as do Stephanie A. Nguyen's costumes, Tom Ontiveros' lighting, and John Zalewski's sound. And let's not forget composer and music director Shammy Dee, responsible for the rap which marked essential spots in the narrative. Especially amusing and fun was the terrific fight scene by fight choreographers Thomas Isao Morinaka and Aaron Aoki: you have to see it to believe it! Actors and production staff clearly worked as a team, with each offering his best to make the resulting whole highly dramatic, theatrical, and entertaining. As producing artistic director Snehal Desai opined about VIETGONE: "It's brash, sexy, and bold with immigrants falling in love, breaking up, and clashing with their parents amid a backdrop of countries torn apart by war." Even though the production is uneven in places, the overall effect is strong.
VIETGONE runs through November 18, 2018, with performances at 8 p.m. on Fridays and Saturdays and at 2 p.m. on Sundays. The David Henry Hwang Theater at the Union Center of the Arts is located at 120 Judge John Aiso Street, Los Angeles, CA 90012. Tickets range from $40 to $60 (student, senior, and group discounts available). For information and reservations, call 213-625-7000 or go online.