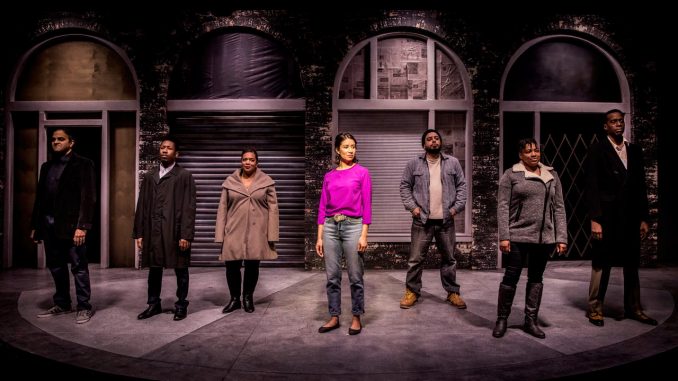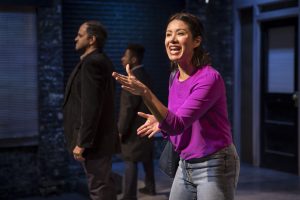 Spoken word poetry. Street slang. Song and dance numbers. Magical realism. Naturalism. Hilarious jokes moments before and moments after an unthinkable tragedy. If all this doesn't sound like it could possibly fit into a coherent ninety-minute play, then you've never seen a play by Ike Holter. Whip-smart and fall-out-of-your-seat funny, Holter's writing is also moving, provocative, and empathetic. It's been said he has a unique voice, and he does, but what struck me most of all was his masterful command of a broad range of voices, all blended together seamlessly in a way that's almost magical.
Rightlynd is the first in Holter's seven-part Rightlynd Saga, a play cycle you'll likely hear about again in the next few months, as the sixth play, Red Rex, is being produced at Steep Theatre in January and the seventh, Lottery Day, is going up at The Goodman in Spring 2019, after being part of its annual New Stages festival in 2017. While each play stands on its own, it was fascinating to see the first play in the cycle, especially since the only other one I've seen is the staged reading of Lottery Day, the final installment, at the Goodman.
The saga starts with a woman with a vision. Nina Esposito, who begins the show as an unemployed but passionate resident of the fictional 51st Ward, aka Rightlynd, is inspired to run for alderman and, against all odds, wins. It's impossible not to see the parallels between her and several recently-elected progressive members of Congress, most notably Alexandria Ocasio-Cortez, who is young and driven and Latina and represents everything the political establishment is afraid of. Nina immediately gets to work improving her neighborhood, most notably shutting down Applewood, a fictional corporate conglomerate that seeks to "improve" (read: gentrify) the neighborhood. But every choice Nina made to get elected and every choice she makes once in office have consequences, and before long she is asked to choose between her principles and maintaining her power.
Honestly, I'm incredibly tired of timely political plays. If a show describes itself as "more relevant now than ever," I'm likely to take a hard pass. I get enough horrifying political drama just watching the news, thank you very much. Let me have theatre as an escape. But what Holter does with Rightlynd is so fresh, so new, it doesn't feel like art grasping at political relevance. It strides into contemporary Chicago politics without apology, without navel-gazing, and frankly without a filter. I particularly enjoyed small business owner Robinson's description of the mayor as a "slotty thot," which has officially become my shorthand for outgoing mayor Rahm Emanuel. The play is rife with curse words and contemporary references, yet it also addresses modes of corruption in Chicago politics that date back decades, if not centuries.
Every part of this production is breathtaking, from Monica Orozco's stellar performance as Nina to the lively and gorgeous choreography of Breon Arzell to the gritty and effective scenic design of Collette Pollard. Jerome Beck is terrifying as the personification of Applewood, and Robert Cornelius kept me laughing all night as Robinson. Go see this play, not because you want more political analysis in your life, but because you're sick of it, too, and because all of us need to think long and hard about what changing our current system looks like, what it means, and how (and if) it can be done.
Ticket Information
Location: Victory Gardens Theater is located at 2433 N. Lincoln Avenue, in the heart of Chicago's Lincoln Park neighborhood
Dates: November 20 – December 23, 2018
Times: Tuesdays – Fridays, 7:30pm; Saturdays, 3:00pm and 7:30pm; Sundays, 3:00pm
Accessible Performances: Word for Word (open captioning): Friday, November 23 at 7:30pm, Saturday, November 24 at 3:00pm and Wednesday, November 28 at 2:00pm                     
ASL Interpreted: Friday, November 23 at 7:30pm
Audio Description/Touch Tour: Friday, November 23 at 7:30pm (Touch tour at 6:00pm), Sunday, December 2 at 3:00pm (Touch tour at 1:30pm)
Tickets: $27 – $55. The Box Office is located at 2433 N. Lincoln Avenue, Chicago. Call 773.871.3000  or visit the Victory Gardens website.
All photos by Liz Lauren.