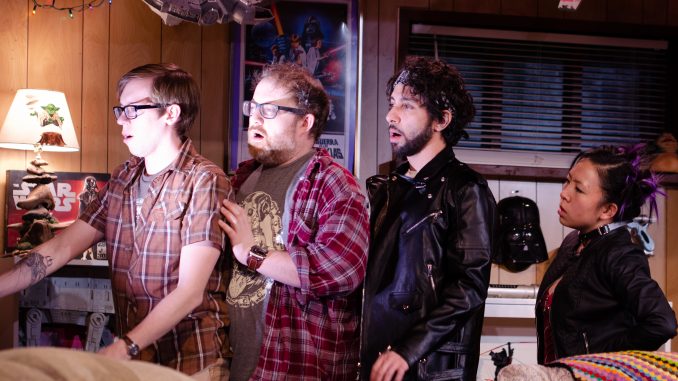 The character I find myself coming back to in First Folio's sometimes funny, sometimes heartfelt production of All Childish Things is the basement. During the act break, I marveled over each detail provided by eight-time Jeff Nominee scenic designer Angela Weber Miller: the wood paneling, the circa 1989 battered Crock Pot packaging nestled in a corner along with a Raggedy Ann doll; cat toys batted under a coffee table; the era-appropriate desktop computer including several external hard drives.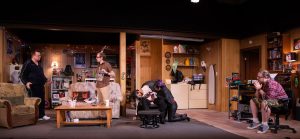 And I haven't even gotten to the yards and yards and yards of Star Wars memorabilia. Having seen the Mayslake Peabody Estate most recently transformed into an eerie backdrop to Edgar Allen Poe's life and works back in October, it was a trip to return and find it decked with Han in Carbonite stickers and a Darth Vader collector case. The R2D2 cooler alone is worth the price of admission.
All Childish Things is set 10+ years ago, just after the last of the prequels left theaters. The sense of disappointment left by the films is mirrored in the four protagonists as they face their 30s having never reached the dizzying heights of heroism and adventure exhibited by their childhood icons: Dave, occupant of the flawlessly appointed basement, lives with his mother and works an entry-level IT job to feed his memorabilia habit; Max drives a moving van and has a 4-year-old daughter to support; and stock-boy/bass player Carter and movie theater employee/film student Kendra are in love and believe they are destined for bigger and better things with their art.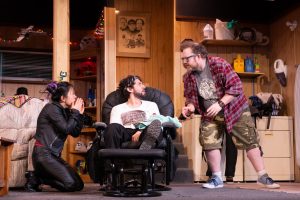 Much as Luke, Leia, Han, and Chewbacca had their heroes' journeys, Dave, Max, Carter, and Kendra too have their plan to make their worlds better, albeit less altruistically than their Star Wars counterparts. Together, they plan a heist of a Kenner/Hasbro warehouse to load up on mint condition Star Wars figurines (not toys, as Dave is quick to point out), which they will then sell for a bounty to a mysterious connection of Kendra's. Best laid plans go awry, and from there, friendships are tested, dangers are faced, and, of course, someone makes the terrible mistake of enjoying Jar Jar Binks.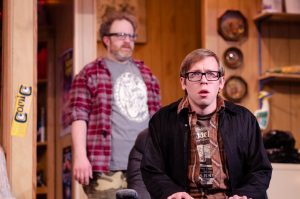 First Folio Associate Artist Joseph Zettelmaier's script is charming, balancing kind and thoughtful reflections about the tensions adult relationships go through as adulthood fully sets in and dreams of glory (or even of making it out of your childhood bedroom) begin to fade away with goofy caper drama and overt and covert nods to the George Lucas franchise (there's a slurping scene reminiscent of Jabba's horrifying frog consumption in Act II that cracked me up). The performances by the cast are well-matched to the material–Bobby Richards as Max is a particular standout–but the direction seems to encourage them all to an excess of shouting, which left me feeling worn out by the peak of Act II. A little more restraint and nuance would be helpful to sell the stakes as they intensify. That minor gripe aside, it's a fine way to spend an evening, particularly if you are steeped in fan culture or have a fondness for Gen X nostalgia and comic heists.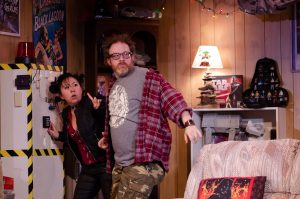 First Folio's production of All Childish Things plays at Mayslake Peabody estate from now through February 24, 2019. Performances are Wednesdays at 8 p.m., Thursdays at 3 p.m., Fridays at 8 p.m., Saturdays at 4 p.m. and 8 p.m., and Sundays at 3 p.m. Season subscriptions and individual tickets may be purchased by calling the box office at 630-986-8067 or online at www.firstfolio.org.