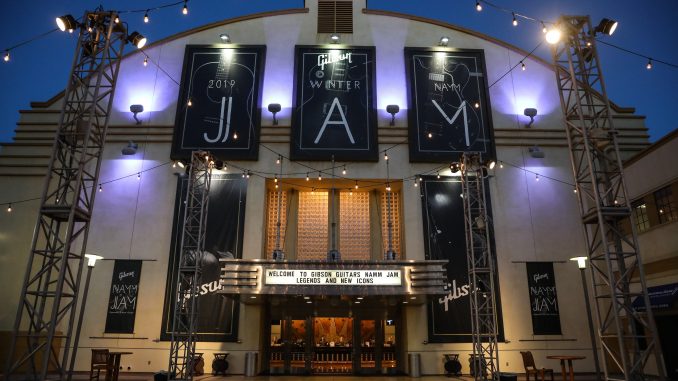 Gibson Guitar took a year off from attending NAMM and when they decided to make their presence felt in 2019 and they did it in a way only Gibson could. A night full of one amazing guitar performance after another was what the Gibson NAMM Jam kick-off opening party at City National Grove of Anaheim was all about.
The night featured live performances from: Billy Gibbons, Nancy Wilson, Peter Frampton, Robby Krieger, Emily Wolfe, Black Pistol Fire, Cam, Jared James Nichols and more. The guitarists were backed up all night by Jimmy Vivino, Kenny Arnoff, Daryl Jones and Jeff Young and actor/comedian Jeff Garlin kept guests entertained between each performance.
The highlight of the night was all of the incredible guitar performances, guests also got to hear from the new president and CEO of Gibson Guitar James "JC" Curleigh. JC gave a wonderful speech to kickoff the night, talking about the direction of Gibson Guitar moving forward and how important it was for Gibson to be back at NAMM.
The GIBSON space at NAMM featured daily events from artist performances, Q&A's and new product debuts from GIBSON icons and upstarts. In 2019, after more than a century, GIBSON artists, players and enthusiasts will experience the all American-made instrument brand rejuvenated. The guitar of choice for artists in rock, pop, country, blues, folk, jazz and beyond, the new GIBSON era celebrates iconic models while looking to the future with instruments that will nurture new players across generations, genders and genres of music.
About Gibson:
Gibson Brands , the world's most iconic guitar brand, has shaped the sounds of generations of musicians and music lovers across genres for more than 100 years. Founded in 1894 and headquartered in Nashville, TN , Gibson Brands has a legacy of world-class craftsmanship, legendary music partnerships and progressive product evolution that is unrivaled among musical instrument companies. The Gibson Brands portfolio includes Gibson , the number one guitar brand , as well as many of the most beloved and recognizable music brands, including Epiphone, Kramer, Steinberger and Gibson Pro Audio division brands Cerwin Vega, KRK Systems and Stanton . Gibson Brands is dedicated to quality, innovation and sound excellence so that music lovers for generations to come will continue to experience music shaped by Gibson Brands . Learn more at http://www.gibson.com