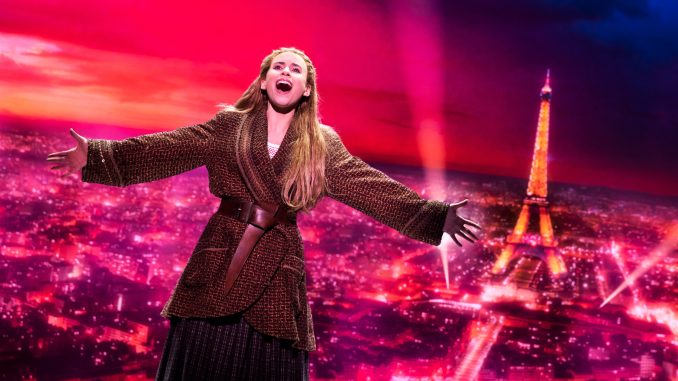 Broadway in Chicago announces a limited two-week engagement of Anastasia the Musical, which runs at the James M. Nederlander Theatre (formally the Oriental Theater) through April 7, 2019. From the Tony Award®-winning creators of the Broadway classic Ragtime, Anastasia is a dazzling new show that transports us from the twilight of the Russian Empire to the euphoria of Paris in the 1920s, as a brave young woman sets out to discover the mystery of her past. Pursued by a ruthless Soviet officer determined to silence her, Anya enlists the aid of a dashing conman and a lovable ex-aristocrat. Together, they embark on an epic adventure to help her find home, love, and family.
The 2017 Broadway hit features the book by celebrated playwright Terrence McNally, a wonderful, memorable new score by Stephen Flaherty (music) and Lynn Ahrens (lyrics), that features favorites "Journey to the Past" and "Once Upon a December," and direction by Tony Award® winner Darko Tresnjak.

Anastasia began performances on March 23, 2017 at the Broadhurst Theatre (235 West 44th Street) with critics exclaiming "Ahrens and Flaherty have chosen the right moments to musicalize, and their score here sounds complete and full – one of the season's strongest! (NBC)" and "Smartly adapted by Terrence McNally, Anastasia is a sweeping adventure, romance and historical epic whose fine craftsmanship will satisfy musical-theater fans (Time Out)". The new musical has played to sold out crowds on Broadway since opening in April 2017, in addition to garnering multiple Tony, Drama Desk, and Outer Critics Circle awards and nominations.

You can purchase the original Broadway cast recording, available at BroadwayRecords.com, Amazon.com and iTunes. The 75-minute album includes the Academy Award-nominated favorite "Journey to the Past," alongside new numbers from the show such as Christy Altomare's haunting "In My Dreams," Ramin Karimloo's passionate "Still," and Derek Klena's heart-racing "My Petersburg."
Anastasia was a theatrical and musical treat on the stage for my friend and me. As avid fans of the 1997 animated musical film version from our childhood, witnessing the story and beautiful songs and lyrics come to life, was an out of this world experience. The audience not only was able to quietly sing along to the film's original beloved songs, but also was introduced to brand new hits, which breathed new life into the story. There were also a number of changes that contrasted with the 1997 animated film version, such as the complete removal of villain Rasputin (and his sidekick bat, Bartok), the evil monk who puts a curse on the royal family, and does not give up until the entire Romanov family is wiped out forever (a real controversial figure during the Romanov reign). My friend and I were shocked at first over Rasputin's omission, but as we watched the show, we came to accept that it was a better fit for the stage version.

The new musical featured a stunning and talented cast with the original and lovable characters from the animated film, including an amazing principle cast. Lila Coogan was the driving force and soul as Anya, a young woman, who may or may not be the long-lost daughter of the last Russian czar, who is determined to discover her past. Stephen Brower convincingly plays the conman, Dmitry, who helps Anya discover her past, while also falling in love with her. Rasputin  is replaced by a new enemy with Jason Michael Evans as Gleb, a Russian Soviet Union leader, who find himself strangely drawn to Anya, whose inner demons make him struggle with whether or not finish his father's work (a Bolshevik), and finish off the last living member of the Romanov dynasty. His villain persona fit the stage version, as well being much more historically accurate.
Other believable additions included Joy Franz, as the Dowager Empress, who longs to find and reunite with her granddaughter, Anastasia, Tari Kelly as her hilarious lady in waiting, Countess Lily, and Dmitry's comical sidekick and partner in crime, Edward Staudenmayer, as Vlad (my favorite character from the film), who reminisces about old Russia, and reunites with his old flame, Countess Lily, in Paris.
The supporting ensemble brought the show to life with the talents of Brianna Abruzzo, Ronnie S. Bowman, Jr., Alison Ewing, Peter Garza, Brett-Marco Glauser, Lucy Horton, Mary Illes, Fred Inkley, Beth Stafford Laird, Mark MacKillop, Kenneth Michael Murray, Taylor Quick, Claire Rathbun, Michael McCorry Rose, Matt Rosell, Sareen Tchekmedyian, and Addison Mackynzie Valentino.

In addition to the beautiful music which was nostalgic for me, the set/stage design, and special effects were outstanding. A huge screen was placed behind the stage which depicted 3D experiences of cherry blossom trees in France, the breathtaking Romanov royal palace and ballroom (with phantom dancers swirling in the background), the city of Paris with its lights and the Eiffel Tower, and the characters zooming through the Russian countryside on a train.
Whether or not you are a fan of the animated film and its beautiful music, then let Broadway in Chicago wow you with the national touring production of Anastasia the Musical-only in Chicago through April 7, 2019!
Photos by Evan Zimmerman, MurphyMade.
For more information, visit the Anastasia tour website.

Tuesdays at 7:30PM
Wednesdays at 2:00PM & 7:30PM (no matinee performance on Wednesday, March 27) Thursdays at 7:30PM
Fridays at 7:30PM
Saturdays at 2:00PM & 8PM
Sundays at 2:00PM & 7:30PM (no evening performance on Sunday, April 7)

TICKET INFORMATION
Individual tickets are currently on sale and range in price from $27-$123 with a select number of premium tickets available.

Tickets are available now for groups of 10 or more by calling Broadway In Chicago Group Sales at (312) 977- 1710 or emailing Gr********@Br***************.com.

For more information, visit the Broadwayinchicago website