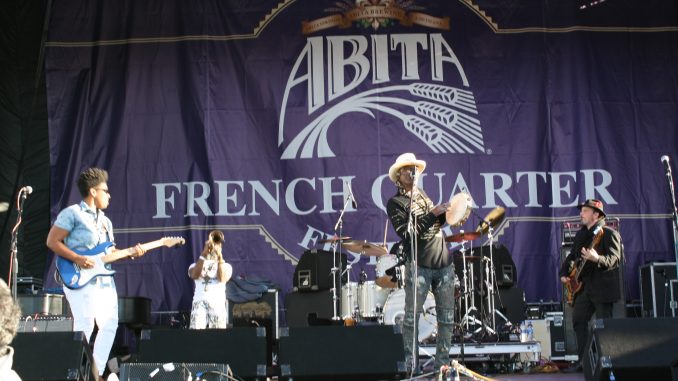 New Orleans is home to many incredible festivals throughout the year, but only one stands out as the biggest free, four-day festival of Louisiana music, food, and culture, spanning from Bourbon Street to the riverfront. 2018 marked the 35th Annual French Quarter Festival, held April 12-15. French Quarter Fest is well known among locals and visitors, offering something for everyone, including foodies and musicians, kids and adults.
This year's Festival begins Thursday, April 11, with a Second-Line Kickoff Parade at 10 am. And, the food, Louisiana music and festivities continue throughout the French Quarter through Sunday April 14.
To celebrate the 35th year of French Quarter Festival, a new VIP experience was offered in 2018, called the "Family Fest Experience." The VIP Experience included access to an elevated viewing and covered seating area at the Abita Beer Stage, access to private bars with free beer and cocktails (three per person per day), as well as private air-conditioned restrooms. Passes run $375 per person, but are good for all four days of the fest. The seating area features plush couches under shade, snacks, and New Orleans flare, such as Mardi Gras beads hanging from the light fixtures. Laissez les bons temps rouler in comfort and style while enjoying the fest from above!
The view from these areas spans from the Abita stage to the Tropical Isle stage near the river. Though VIP pass holders still must venture out to purchase food from the over 60 vendors and restaurants, mapping a route to weave through the crowds is made easier using the view from above. Many of those trying the first year of the VIP experience in 2018 were visitors, and some were there courtesy of corporate sponsors. Most locals, when asked about the new Family Fest Experience, seemed perfectly happy enjoying the free fest experience of wandering through the crowds from stage to stage, tasting different seafood dishes and waiting in line for refills of ice cold Abita. But those that did try the new passes enjoyed the shade, bathrooms and comfort offered, especially for families with small children.
Over 60 food vendors participated in the culinary lineup last year, including old favorites from New Orleans Original Po Boy, Tujague's and Cafe Dauphine. This year, fest organizers are emphasizing more health conscious options, and have added the free Eat Fit Smartphone App to help you get nutritional information on Eat Fit NOLA foods such as the Brisket Taco from The Rum House, or the Crab and Artichoke Citrus Salad from Jacques-Imo's. Don't worry though, there are still plenty of crowd favorites, like fried softshell crab, the cochon de lait po boy, and all things crawfish: crawfish nachos, crawfish pasta, crawfish boil french fries, creole crawfish pie, and of course, hot boiled crawfish with fixin's, just to name a few.
The music, showcasing every genre you can think of, can be found on a whopping 23 different stages throughout the French Quarter. With 250 musical acts, there truly is something for everyone. Appearing again this year, some of the talent includes Lost Bayou Ramblers, Irma Thomas, Partners N Crime, Sweet Crude, Fredy Omar con su Banda, Amanda Shaw, Cyril Neville's Swamp Funk, and Little Freddie King.
You can opt to continue enjoying the Festival the free way, as so many have for the past 35 years. Or maybe this year you might want to rise above the crowds and try the Fest Family VIP pass. If you want to give it a try, you can get a one-day pass for $99 (and get all the amenities (insert link: http://frenchquarterfest.org/fest-family/). Or, if you're worried about the crowds and know you want to see and taste everything, go for the $375 pass for all four days. Kids 12 and under are free with a paid adult pass. Just know there are no refunds; the French Quarter Festival is rain or shine.
Last year, organizers were forced to cancel Saturday's events due to severe weather, however Sunday's perfect sunny skies and breezy winds more than made up for it. Unpredictable weather is one thing locals know all too well, and most won't let weather stand in the way of one of the best festivals New Orleans has to offer!
For more information, visit: French Quarter Festival