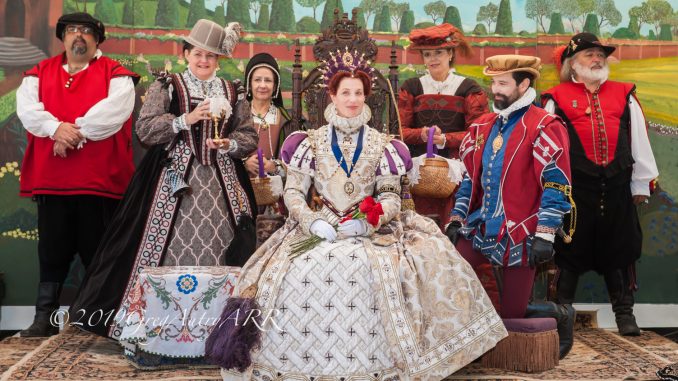 Now celebrating the 57th Anniversary season, The Original Renaissance Pleasure Faire, or "Renn Faire" as the `regulars' call it, is set in the royal shipyard city, or "Shire," of Port Deptford England of the 1580's. The Elizabethan era Faire runs annually, in Irwindale, California, from the first weekend of April through Memorial Day weekend, this year May 19th.
April 6 was a glorious opening day with fluffy white clouds, lots of blue sky, and a perfect 72 degrees. My first 'Renn Faire" was in the early 70's in Agoura Hills, created originally by Ron and Phyllis Patterson in 1963. I've been a 'regular' since the days in Devore.
Today's merchants, participants, and fairgoers alike, enjoy dressing in period costumes and are immersed in the music, language, merchant scene, and entertainment of the era. Thousands of performers roam the 23-acre lakeside shire, including Her Majesty, `Queen Elizabeth,' as well as a bevy of knights, ladies, peasants, and more colorful characters than one could count! Photo opportunities are everywhere. Over the years I've made many friends at the Faire and enjoy catching up each year. Everyone is always abuzz with new costumes and characters and for this article I want to pay tribute to those "Fairgoers" who keep coming back year after year, and enjoy the feast of friendship and costumes and The Renn Faire.
There are thirteen stages of nonstop entertainment everyday of Faire! The entertainment lineup features a wide variety of acts; from Amazing feats of jousting, to aerial silk dancers, jugglers, and musicians. Three of my favorite acts are Moonie, and Broon, performing separately, and together at the last show of the day, and also The Merry Wives of Windsor. No matter how many times I see their shows, I totally crack up! They can be a bit naughty, but hey, that's why I love them. New this year, Story Pirates celebrates the words and ideas of children by presenting them live on stage. Kathleen Finnegan brings the magic of the Irish Harp to the Faire, and Tea & Strumpets presents the rowdiest village tea band in the land.
Welcomed back this year are Aaron Bonk Whip Artist, The Lynx Show, and The Jackdaws, along with special guest appearances from Bob Barker Marionettes, The Magikhana Show, and the Tortuga Twins. Faire favorites with the likes of The Clan Tynker Family Circus, and Brandon Scott: The Wizard of Wonder. Sing along with the beloved The Poxy Boggards and do not miss the Belly Dancers, with Seraphim Arabesque. Feel the thunder of The Jousters and the gust of wind ruffle your hair as the Birds of Prey fly just inches above you. You are sure to find something and someone new to enjoy with each visit to Faire.
The Merchants at the Faire are truly Artist's, plying their craft with unique artistic creativity in over 125 booths set along the walkways as you meander the Shire during the day. Nowhere else can you find the combinations of artists who will demonstrate their skill at blowing glass or forging iron, create a perfectly authentic article of renaissance clothing, or fashion a one of a kind piece out of exotic leathers. Whether you fancy delicately formed gold jewelry or prefer to sport a drinking horn about your neck, there are crafts to outfit yourself and your home. Some of my favorites are The Big Hat Pirates, where you can find a new leather chapeau, and Fellowship Foundry for a collection of pewter goblets, great for carrying my wine at the Faire. Other Merchants my frau and I personally recommend are; The Shirtmaker, Pendragon Costumes, Opal Moon Designs, and Hearts Delight. We are still trying new merchants on every visit and always making new exciting finds.
Children delight in having their face painted, their hair braided or finding a new puppet friend. You can even have a pair of shoes, or boots, custom made at the Faire. Arts and crafts workshops such as Celtic drawing, beadwork and basket weaving are offered for all ages at Queen's College for those that crave a do-it-yourself souvenir.
Theme Weekends include those for the kids as well as those just for the adult folk. The Gnome Hunt goes all season long, the Time Traveler Weekend is April 13 & 14, Pirate Weekend is perhaps the most popular and is held this season on April 20 & 21. Scouts Weekend is May 4 & 5, and May 11 & 12 is Military Appreciation weekend. Closing Day, May 19 features the always spectacular Closing Day Parade. Check the website for more details including contest.
The Renaissance Pleasure Faire is proud to present some of the finest festival food. Boasting local and internationally trained chefs, twenty-three food vendors offer an array of foods from fish and chips and sausages to salads and sorbets. Vegetarian and Vegan entrees and desserts are available. Our Pub Crawl is offered twice each day where you'll visit six of our village pubs for drinks, games, toasts, and jokes to make everyone blush accompanied by the most boisterous characters in town! Pub Crawl will sell out, so stop by the Guest Services Gazebo inside the front gate to sign up early! Just for the heck of it, you gotta' try a good ole Turkey Leg to gnaw on!
Parking is an additional ten-dollars or twenty-dollars for preferred. While parking is plentiful it is best when you arrive early. Be prepared for a day of walking, realizing you will be on uneven ground most of the time. This year there has been a change in the "walking" layout, which I've heard grumblings about from fairgoers. I'm sure it will get worked out.
The Faire remains a wonderful event for family and friends, and beware some content is a bit Bawdy, perhaps harkening back to days-of-yore. You will find yourself immersed in the town experience as a pageant unfolds all around you all day long. Costumes are not required but really, I find that it is a lot more fun, getting into the character of it all. Of course you can rent a costume for the day, at the Faire.
There are other Faires throughout the Country, more info can be found on the website, along with ticket pricing and details specific to each. Let me know about your visits, and what you liked most. I will be posting Albums of photos from the Faire on Social Media as well.
Connect with me, Greg Autry, on Instagram @gregautry.cga, on Facebook Facebook.com/GregAutryPhoto, and on Twitter @CGAGreg
*All Photos ©2019GregAutry ALL RIGHTS RESERVED