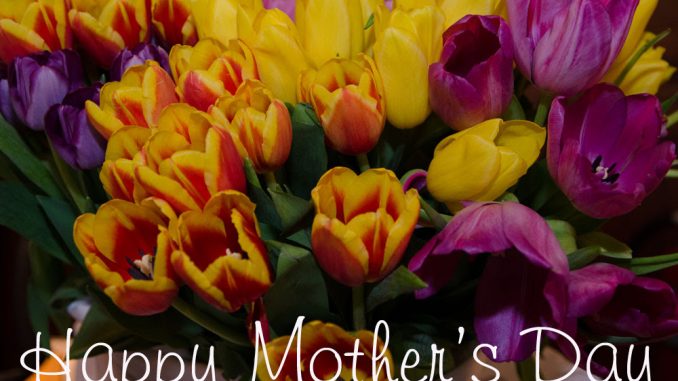 Are you still looking for a way to let Mom know she is special? Here are some very last minute suggestions. Wishing all our Moms a lovely, Happy Mother's Day.
Mom will be delighted to enjoy brunch with you while indulging in the extravagant and delicious buffet that Prairie Grass Cafe (601 Skokie Blvd, Northbrook, IL 60062; 847-205-4433) has in store. Mother's Day Brunch will be served from 9:30 a.m. to 1:30 p.m., Sunday, May 12. The price is $53 for adults and $18 for children 10 and under (tax, gratuity and beverages are not included). View the full Mother's Day Brunch menu online. Reservations are strongly recommended.
Every guest starts the meal with the delicious Prairie Grass Cafe Signature "PGC Benedict," Poached Egg with Spinach and Roasted Tomato Hollandaise followed by the buffet, with something for everyone. "it's an honor that so many of our regular customers love celebrating Mother's Day with us," say chef/owners Sarah Stegner and George Bumbaris. "We pay tribute to our Moms with a delicious and varied brunch buffet that has something for everyone, all made with fresh seasonal ingredients, including healthy options for children and a great dessert selection."
Following the Signature "PGC Benedict" starter, choose from the abundant buffet including:
Platter of Grilled Asparagus, Creamy Lemon Vinaigrette
Mixed Green Salad, Fresh Peas, Endive, Radicchio, Pea Shoots, Arugula, Turnips,
Cider Vinaigrette
Chopped Vegetable Salad, Carrots, Turnips, Radishes, Creamy Dressing
Baked Feta, Honey, Pecans, Dates Chopped
Sliced Smoked Salmon, Whipped Cream Cheese, Mini Bagels, Limes
Platter of "Mighty Vine" Tomatoes, Cucumber, Onion, Citrus Vinaigrette
Roasted Chicken Breast (Skin On/Bone-In), Rice Pilaf
Parmesan Crusted Tilapia, Creamed Spinach
Chicken Wings, Ranch Dressing
Quinoa Cakes, Spicy Salsa, Basil Remoulade
Roasted Potatoes
Crusty Multi-Grain Artisan Breads, Mini Chocolate Croissants, Cheese Danish, Raspberry Jam Danish, Sticky Pecan Rolls
Applewood Smoked "Maple Creek Farm" Bacon
Leg of Spring Colorado Lamb, Mint jelly
Homemade Maple Breakfast Sausage
Roasted All-Natural New York Loin, Mushroom Sauce – Carved to Order
Hot Fresh Waffle Station, Maple Syrup
"Made to order" Omelet Station: "River Valley Ranch" Mushrooms, Onions, Peppers, Ham, Spinach, Cheddar, Tomatoes
Guests will be delighted with the luscious dessert buffet, too:
Crêpe Station: Chocolate, Raspberry Jam, Whipped Cream
Fresh Sliced Ripe Fruit
Platter of Berries
Strawberry-Rhubarb Crumble
Mini Cream-Filled Eclairs
Cake Station: Carrot Cake, Chocolate Mint Cake, Baked Goat Cheese Cake with Berry Sauce, Triple Layer Coconut Cream Cake
Mother's Day Continues with Fabulous Dinner Specials

For those wishing to celebrate Mother's Day dinner, you will enjoy terrific specials along with the regular menu from which to choose. Selections include All-Natural Prime Filet Mignon with Amish Blue Cheese Topping, Grilled Ellis Farm Asparagus and Mushroom Sauce ($45) and Brioche-crusted wild Alaskan Halibut, Three Sister's Garden Green Garlic Mashed Potatoes and Sautéed Asparagus ($34).
Prairie Grass Cafe Mother's Day Brunch & Dinner: May 12, 2019
9:30am – 1:30pm
$53 Adults/$18 Children 10 and under
Dinner is served from 5 pm to 9 pm
(Tax, Gratuity and Beverages not included)
Spice Up This Mother's Day with Delicious Modern Indian Fare at Mango Pickle

Red Fish Bleu Fish and Porkchop Celebrate Mother's Day
and offer guests some great May Deals
This May, two terrific casual restaurants, Red Fish Bleu Fish and Porkchop, are offering guests some enticing specials to honor Moms and welcome the springtime. For Mother's Day, Red Fish Bleu Fish will offer a half-priced entrée for Mom (one per table) and celebrate Mom with a Bloody Mary Bar for $12 or Mimosa flights for $10. Call: 773-952-4744 for information and reservations.
Teatime is a special delight for moms, and so what better way to celebrate the holiday than with a unique High Chai Tea? For this occasion, Mango Pickle will serve a Bun Maska and Chai combo for $9 which includes house made buns served with sweetened whipped butter and hibiscus jam along with a steaming hot cup of masala chai. The High Chai Tea also will feature Mango Pickle's other takes on chai, like Holi Chai and Messed-Up Chai, as well as additional teas like the Elephant Corridor Oolong and Nilgiris Black.

Paolillo prides herself on serving modern Indian cuisine prepared with the freshest ingredients. Her adept use of spices, coupled with fresh, locally sourced ingredients, offers guests a delicious and unique dining experience.

Mango Pickle's modern Indian Mother's Day dinner menu offers a range of vegetarian options as well as fresh meats and seafood, so there is something for everyone. Enjoy appetizers and entrees like the Paneer Pops, made with ginger, green chilis and cilantro chutney, and the Keema Joe which includes fresh minced lamb butchered in-house.

For the vegetarian option, Mango Pickle will serve Unwrapped Samosa paired with micro greens and cilantro chutney for a spicy take on this traditional Indian comfort food. For meat lovers, dinner options include Sesame Grilled Pork Belly and Fried Chicken coated in a chili batter with garlic and ginger.

Enjoy Mother's Day this year with a celebration that will have your taste buds tingling and your heart warmed by a piping cup of chai. To make reservations, visit mango pickle or call 773-944-5555.
This Mother's Day, Michelin-praised restaurant Mango Pickle, located in Chicago's Edgewater neighborhood (5842 N Broadway, Chicago, IL 60660) is serving up an a truly enticing menu accentuated by some of the world's greatest spices. Chef Marisa Paolillo will present a special Mother's Day a la carte menu featuring some of Mango Pickle's most beloved dishes, and a special holiday High Chai Tea beginning at 3 p.m. Dinner service begins at 5 p.m.
Red Fish Bleu Fish and Porkchop Celebrate Mother's Day
and offer guests some great May Deals
Porkchop's Mother's Day celebration is also heartwarming. Moms will enjoy a complimentary Mimosa and a complimentary entrée (one per table).
The afternoon sunshine while enjoying Happy Hour at Red Fish Bleu Fish, Monday through Friday from 4-6 p.m. May's Happy Hour special is a half dozen oysters on the half shell with a glass of rum punch for only $10. Outdoor tables will appear as soon as the weather is warm, making your happy hour get togethers very pleasant, indeed.
Porkchop's Happy Hour, also from 4-6 p.m. on weekdays, features two tacos and a margarita for only $10.
Other suggestions are:
Enjoy the Chicago Botanic Garden
A free concert at Indian Boundary Park-Indian Boundary Park– 2500 W. Lunt Ave., Chicago, IL 60645
See West Side Story
All photos: Courtesy of Kurman Communications