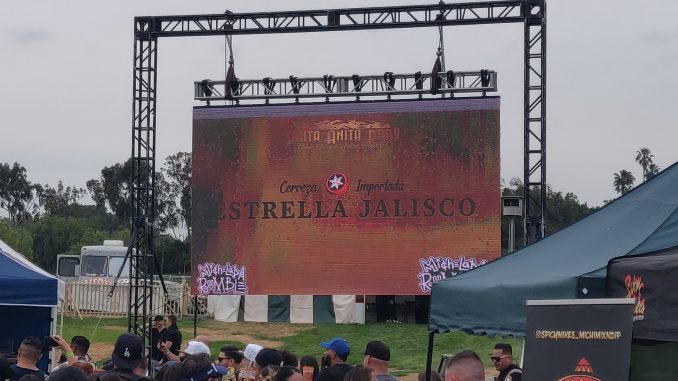 The Preakness took center stage in the racing world on Saturday, May 18th. While Santa Anita fans got to enjoy that race on the big screen, they were also treated to live horse racing as well as the Michelada Rumble with Estrella Jalisco with Estrella Jalisco on the infield.
It is simply difficult not to just take in the day at the Santa Anita Race Track and enjoy the beauty that surrounds it as well as the incredible races that take place all day long.
This past weekend the race track experience was elevated to a whole new level with all that the Michelada Rumble. Guests were not only treated to live music all day from Tha Dogg Pound and A Lighter Shade of Brown, but there was also a wrestling ring that was home to Luchadore Wrestlers putting on an incredible show. If you love cars this was also the event for you as their was beautiful classic car after beautiful classic car with a low-rider exhibition.
There was plenty of great beer such as the Estrella Jalisco/Golden Road Brewing Spicy Piña Michelada as well as over-the-top food from restaurants such as Michelada mix1, who was serving their Cevichelada.
For more information, visit: Michelada Rumble