A jukebox musical based on songs by the Swedish pop/dance band ABBA (active between 1972 and 1982), MAMMA MIA has been seen by over 60 million people and grossed over $2 billion worldwide since its 1999 debut. It was made into a motion picture in 2008 starring Meryl Streep, with a sequel filmed in 2016. MAMMA MIA won the Laurence Olivier Award in 2000 for best musical (London) and the Theatre World Award in 2002 for outstanding debut stage performance by Louise Pitre (New York). As of 2018, MAMMA MIA represents the seventh longest running show in London's West End history. The production ran from 2001 to 2015 in New York, amassing 5,773 performances and falling into the Top 10 longest-running shows in Broadway history.
If you're ready for the liveliest and most energetic show around, you'll really fall in love with MAMMA MIA. From thrumming beats that recall disco in its heyday – to splashy sequined costumes – to dancing that will set your toes to tapping – MAMMA MIA has it all. This musical is an audience pleaser par excellence. When the audience starts clapping and cheering, it's clear that this spirited show has infected everyone around with vigorous enthusiasm, camaraderie, and pure love for the melodious, bouncy musical. The years fall away as everyone gets to share an era that's past – but still able to live again through Bjorn Ulvaeus and Benny Anderson's music and lyrics. From the book by Catherine Johnson, MAMMA MIA clearly has staying power to charm and entertain.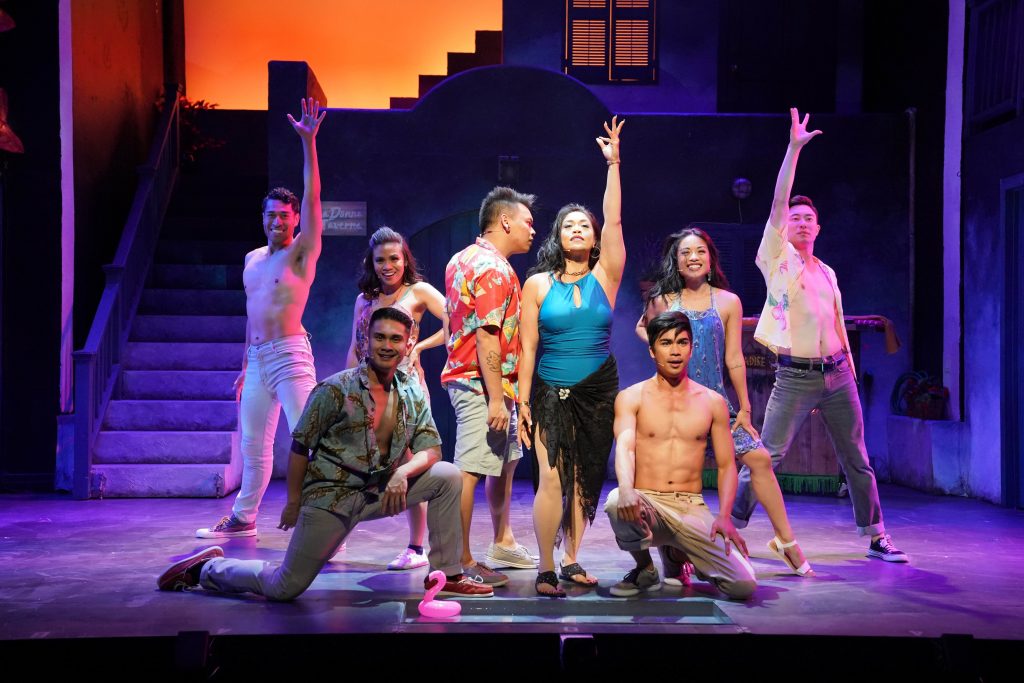 Single parent Donna Sheridan (Joan Almedilla) owns and operates the La Donna Taverna on the remote Greek island of Kalokairi (a clone of the real isle of Skopelos). She's busy planning a memorable wedding for her 20-year-old daughter Sophie (Grace Yoo). But Sophie has a dream that Donna doesn't know anything about. Sophie wants her father to walk her down the aisle. There's only one problem. Sophie doesn't know who her father is, and Donna isn't telling. She's managed to narrow the search down to three possibilities based on entries from a 20-year-old diary which she pilfered from her unwitting mother. Sophie's solution to the conundrum? She's invited all three men to her wedding, an invitation ostensibly from her unaware mother.
When her three potential sires arrive – Sam Carmichael (Alan Ariano), Barry Bright (Danny Bernardo), and Bill Austin (Michael Palma) – the fur is sure to fly. Especially when Donna sets her eyes on the trio. Directed with verve by Snehal Desai, coupled with Marc Macalintal's brilliant musical direction and Preston Mui's fast-paced choreography, MAMMA MIA brings back the 70's with a vengeance. Anna Robinson's scenic design is both striking and fluid; Stephanie Nguyen's costumes are dazzling; Karyn Lawrence's lighting is on point; and Christian Lee's sound fills the theater with joy. This is definitely a must-see show for all musical theater buffs and will bring a smile (and lots of laughs) to the avid theater-goer.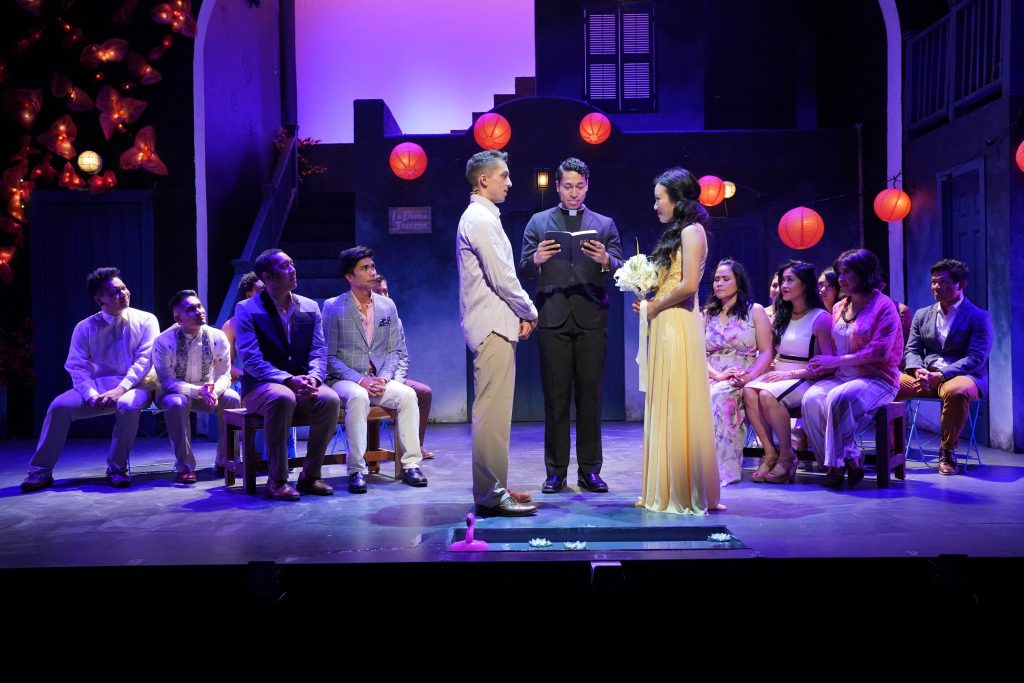 SPLASH SELECTION
MAMMA MIA! runs through June 16, 2019, with performances at 8 p.m. on Thursdays and Fridays, at 2 p.m. and 8 p.m. on Saturdays, and at 2 p.m. on Sundays. The East West Players perform at the David Henry Hwang Theater, located at 120 Judge John Aiso Street, Los Angeles, CA 90012. Tickets range from $15 to $75. For information and reservations, call 213-625-7000 or go online.