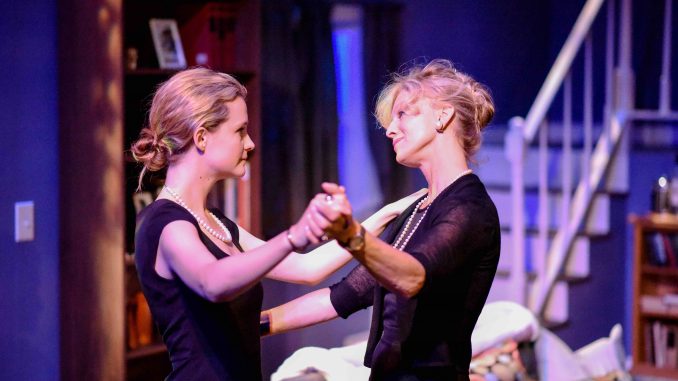 Playwright Rebecca Brunstetter clearly has a knack for telling stories about people who quietly sneak up on you and become real. An American author, Bekah is probably best known for the popular television show, "This is Us," which she both writes and produces and for which she was nominated twice for an Emmy for outstanding drama series. With a gentle sensitivity to the dynamics which play on our emotions, Bekah has penned numerous plays and is a founding member of The Kilroys, which produces Kilroys' List every year. First produced in New York in 2011, BE A GOOD LITTLE WIDOW tells a tale which will touch your heart – a story you'll be sure must be about you or someone you know and love.
Melody (Adrienne Visnic) is a happy newlywed who is deeply in love with husband Craig (Sterling Knight). As they settle into their new life together far from her parents' digs, Melody's only real concern is Craig's mother, Hope (Sandy Bainum), who doesn't seem to like her and probably wouldn't have chosen her as a daughter-in-law. A widow herself, Hope keeps busy keeping an eye on her son.
And then the unthinkable happens. Craig, who frequently travels for his job, is involved in an airline crash. Everyone on board is killed, and Melody must make sense of a different life, a life she wasn't planning on. This stunning event will have repercussions on Melody and everyone close to her. Where can Melody turn to voice her pain? Her parents live at the other end of the country, and her relationship with Craig's mother has been rocky at best. Only Brad (Khylin Rhambo), an employee of her husband's, seems to be accessible. And even their chats must be limited, given issues of propriety and Hope's keen eye.
Director Brandon Baer keep close watch on the multiple levels of emotion inherent in this situation. Sensitivity is the word of the day as he helms the talented cast in their journey back to "normality." Kudos to the ladies in the production – Adrienne Visnic and Sandy Bainum – who do a splendid and heart-felt job of walking through the minefield that is death, pain, mourning, and adjustment. In the wrong hands, this could be a maudlin journey – and yet the talented cast offers just the right touch to very heavy, demanding experiences.
Pete Hickok's scenic design provides an appropriate backdrop to the tale, and the entire production team does an effective job of treading the maze. BE A GOOD LITTLE WIDOW is an intense and powerful tale which may bring both a smile and a tear to the eye. It feels genuine – which is Brunstetter's strength as a writer. Whatever else audience members experience, the play will remain an emotional roller-coaster about a challenging topic.
BE A GOOD LITTLE WIDOW runs through June 9, 2019, with performances at 8 p.m. on Thursdays through Saturdays and at 2 p.m. on Sundays. The Odyssey Theatre is located at 2055 S. Sepulveda Blvd., Los Angeles, CA. Tickets range from $35 to $45. For information and reservations, call 310-477-2055 X 2 or go online.