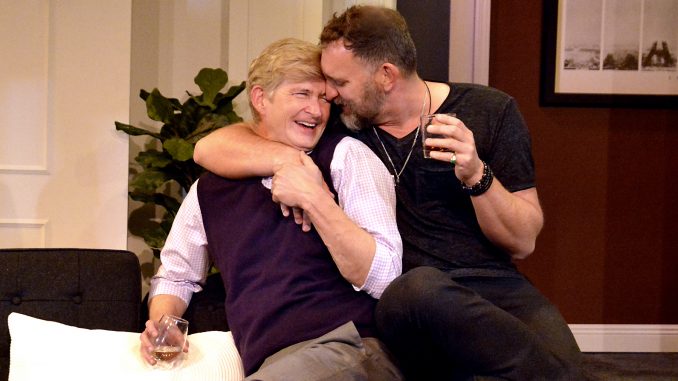 Daniel Bixby (Bill Brochtrup) and Mitchell Howard (Tim Cummings) have a harmonious relationship except for one bone of contention – marriage. Now that same sex marriage has been legalized, shouldn't they make a beeline to the preacher? Therein lies the tale. Daniel desperately wants to marry his one true love, but Mitchell finds marriage "outdated, musty, and fundamentally wrong…an archaic institution…I love being unique in a world that's full of 'normal.'" While Mitchell supports the concept of gay marriage, he refuses to be forced to marry just because it's the acceptable thing to do in a conforming society. After all, he is in a committed relationship with Daniel and doesn't need a piece of paper to prove it.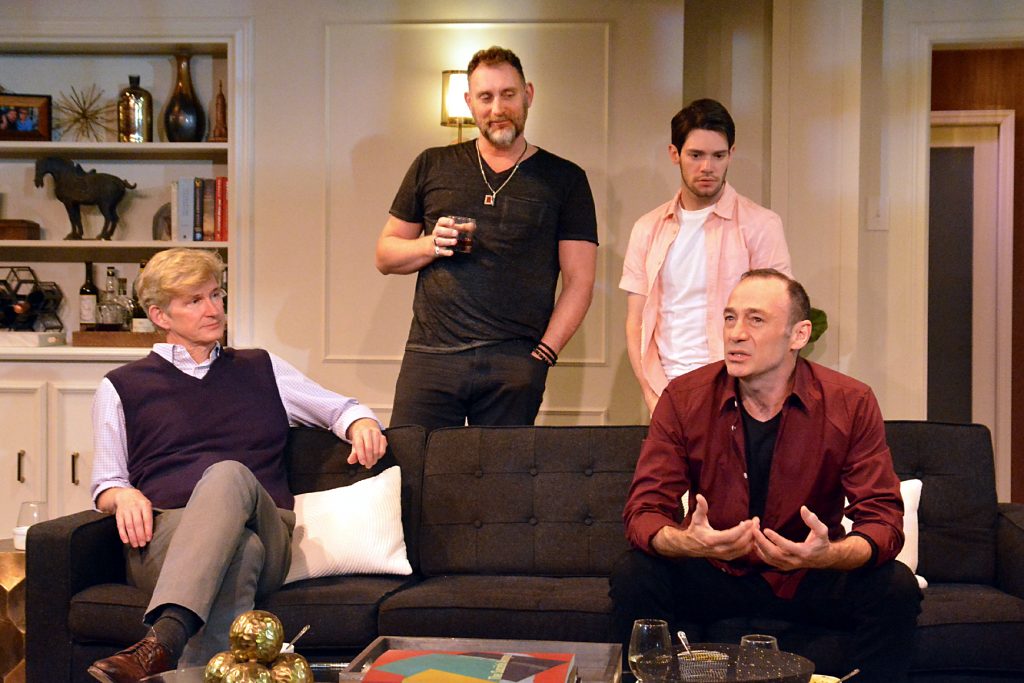 And so the couple live together for years in architect Daniel's "perfect" home that belongs in Architectural Digest; and Mitchell continues to pen wildly popular romantic potboilers for the gay community. The two have the perfect life in their well-appointed digs eating gourmet dishes, sipping fine wines, enjoying their artful surroundings, and engaging in witty repartee with gay friends like Barry Dylon (Ed F. Martin), Mitchell's literary agent, and Trip (Jose Fernando), his current barely legal squeeze. The only blight on their sunshiny day is the upcoming week-long visit by Daniel's mother, Lydia (Jenny O'Hara), a woman who doesn't seem to have a censor between her thoughts and her words. In fact, within minutes of her arrival, she has already invited Daniel's lesbian neighbors for dinner: "Make that chicken…the one with sauce…lesbians love chicken."
Unbeknownst to Lydia, Daniel harbors many unspoken issues with her – especially her inability to nurture his father's dreams of becoming an artist. But he has learned self-control in their relationship – and so he remains attentive and quiet. After all, it's only a week out of his happy, fulfilled life. And then the unthinkable happens – an event which will change all their lives forever. From an upbeat, clever drawing-room comedy cum satire, DANIEL'S HUSBAND shifts gears into a poignant drama of tragic proportions.
Playwright Michael McKeever manages to strike just the right notes in DANIEL'S HUSBAND, notes which he attributes to his own life, experiences, and evolving views. Each cast member does a superb job of portraying life in all its vivid and unexpected moments. Kudos to Bill Brochtrup and Tim Cummings, who breathe life into their characters, characters who become all too real as the play progresses. Jenny O'Hara is letter perfect as oblivious mom who tries her best in her self-involved way but misses lots of relevant cues around her. As a middle-aged man who has a penchant for young partners, Ed F. Martin surprises with occasional doses of depth; and Jose Fernando, a young kid who may be the most mature of the lot, brings generational considerations into the mix.
DeAnne Mallais's scenic design fills the bill, with Jennifer Edwards' lighting and Peter Bayne's sound completing the picture of an involved and creative production team. Last but not least, let's not forget talented director Simon Levy, who does a terrific job of helming the production with sensitivity, humor, and pathos. DANIEL'S HUSBAND is an audience pleaser and will appeal to audiences who enjoy a poignant tale well told.
SPLASH SELECTION
DANIEL'S HUSBAND runs through June 23, 2019, with performances at 8 p.m. on Fridays and Mondays, at 2 p.m. and 8 p.m. on Saturdays, and at 2 p.m. on Sundays. The Fountain Theatre is located at 5060 Fountain Avenue, Los Angeles, CA 90029. Tickets range from $40 to $45 (seniors, $35; students, $25; Monday pay-what-you-can). For information and reservations, call 323-663-1525 or go online.