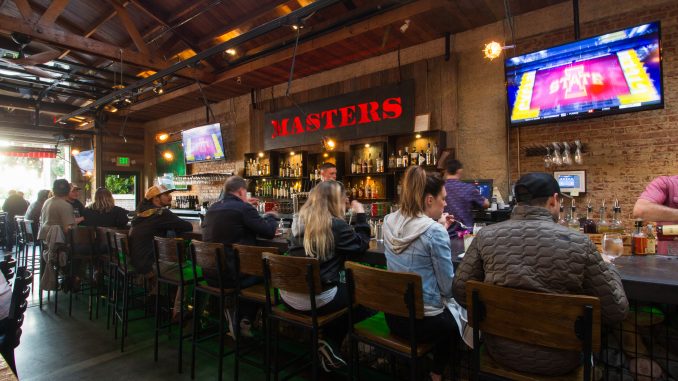 If there ever was a restaurant that was made for brunch, Masters Kitchen and Cocktail in Oceanside could certainly be considered just that. The combination of a beautifully designed restaurant, a picturesque view that allows to enjoy the ocean breeze paired with a creative cocktail and food menu makes this an addicting brunch venue.
Walking into Masters you will be amazed by the woodwork and craftsmanship that turned this one-time drag car shop into a gorgeous restaurant. The bar itself is not only stunning, but creates cocktails as beautiful and creative as the restaurant itself. They also created an opening in the front for you to dine and look down to the ocean and enjoy the breeze off the water to create a wonderful Oceanside setting.
One thing about brunch at Masters, is you are never going to leave hungry. The dishes, while very much on the affordable side, are enough to make you want to go back home for an afternoon nap. If you are looking for a dish that seems to have it all one plate, the chilaquiles verde is just that. You have to begin with the tender and flavorful slow cooked pork, which there is so much of it is nearly impossible to take a bite without getting some of it on your fork. The pork is layered throughout a plate of tortilla chips that are smothered in a slightly spicy and very fresh roasted tomatillo salsa along with cotija cheese and it is all topped of with two eggs. They also serve vegetarian chilaquiles that are made with charred local organic veggies. The chicken & waffles is another must try dish when it comes to brunch. It has everything that you would want in this dish, executed to perfection all finished with a smoked bacon & sausage gravy that will keep you coming back for more.
Masters is definitely a restaurant you want to experience if you love seafood, they have a wide variety and they always have it fresh. Kung pao calamari, mussels that feature chorizo, spicy tomato, fennel and jalapeño and ahi poke. They use Norway lobster for their lobster roll and lobster mac & cheese. A great way to begin any Masters experience is with the fish tacos, which you can choose them to be made with any of the fresh catch of the day and are brought to life with the flavorful tropical salsa and lime crème, simply as good as it gets.
The cocktail list is truly amazing and I don't think you would be disappointed with anything but there are two that really must experienced. All About the Bees, a cocktail that has a great classic bourbon centric taste, but brings a great flavor profile and to it with addition of honey, lemon and firewater. The Cherry Wood Mai Tai is reason enough to come to Masters. This is as much of a show as it is a cocktail, but all of the rum flavor and curaco make sure you know you are getting a classic Mai Tai. The experience and the extra flavor comes from the glass being placed on a plate of smoky cherry wood and all of that flavor goes into the glass and then the cocktail itself. If you see one being made you will not be able to control self from ordering one and you will not be disappointed.
Whether you are in Oceanside for just the day or if you are making your way up or down the coast, Masters Kitchen and Cocktail is one of those gems that makes it well worth the stop. Masters has every detail down to perfection from the setting to the dining experience as well as cocktail list as creative as any in Southern California.
For more information, visit: Masters