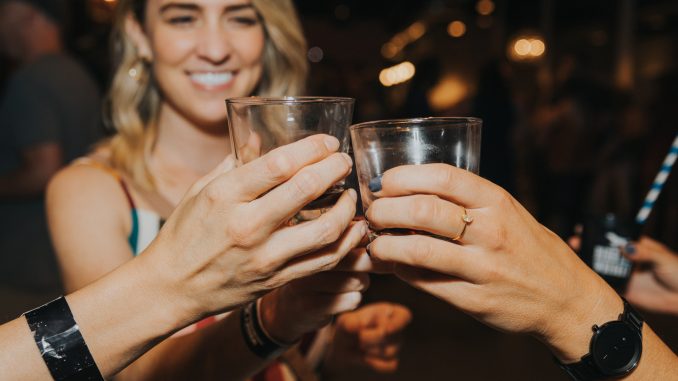 Whiskey is having a particularly celebrated moment in the zeitgeist right now, and brands were out in full force at The Whisky X Chicago, a boisterous affair in Fulton Market's Revel event space. Newer labels like Bird Dog and Bob Dylan-collaboration Heaven's Door shouldered up to industry mainstays like Glenlivet, Wild Turkey and Maker's Mark. Finished whiskies, with wine or other influences, made a big show, while pungent, polarizing peated whiskies were scarce. It seems that producers are doubling down on sweet and fruit to appeal to young whiskey drinkers, while avoiding the brine and smoke of some orthodox Scotches.
Whiskey (or whisky, depending on one's tradition) is a remarkably simple spirit for its complexity of flavors. The ingredients are just grain and water, kickstarted with a pinch of yeast. The barrel wood and air heavily influence the end product, but the delicate balance of flavors like vanilla, butterscotch, honey, plum, bacon, iodine or citrus ultimately comes down to the expertise of the distillers and blenders.

As for the spirits on tap, there were more samples on offer than could reasonably be consumed in 2 or 3 hours. However, there were some definite standouts.

Westland Whiskey, an American single malt distillery from the Pacific Northwest, flexed their terroir with Garryana. This new limited expression uses barrels made from Garry Oak, simultaneously embracing their Scottish inspiration with local identity. Any Scotch-loyal skeptic should challenge their conceptions of American whiskey with an expression from Westland.
Four Roses, a criminally overlooked distiller which has mastered the science of production, shown brightly with an outstanding cask strength single barrel. This particular bottle was OBSV — their higher-rye mashbill using their "V" strain of proprietary yeast — making for a spicy, delicate fruit flavor that packed a punch at 113.8 proof. If you're a bourbon drinker unfamiliar with the brand, pick up a Four Roses Small Batch at around $33 to see what this distiller can do. Keep your eyes peeled for their latest release, the Small Batch Select, coming to Chicago next year.
Scotland's iconoclast whiskymaker, Compass Box, continues to excel as a renegade blender. The Story of The Spaniard is new to their line-up, a blend of whiskies aged in used sherry and red wine barrels. If you haven't tried it, their 25thanniversary tribute to Chicago whisky staple Delilah's is still available, although it should be enjoyed at Delilah's, the storied punk bar namesake in Lakeview, for the full experience.
New charred American oak is required of any whiskey bearing the Bourbon or Rye moniker, but previously used barrels are common in Scotch whisky — Aberlour packs a punch of sherry, for instance, and Glenmorangie is renowned for using a variety of casks: Sauternes wine, ruby port and many others. The trend is popular amongst American single malt distillers as well, like Stranahan's and Westland Whiskey.
A similar method was used to make Blackened, a collaboration with Metallica, aged in black brandy casks and agitated with low-frequency Metallica music to increase interaction between the whiskey and wood. Blackened was one of the last expressions by the late Master Distiller Dave Pickerall, who passed away late last year. The effect of the brandy, however, makes the finish a bit too sticky to enjoy straight, but the branding and story behind the label may appeal to Metallica fans.
A major development is taking place at Midwest Grain Products. MGP has been quietly providing whiskies (especially ryes) to hundreds of brands for decades, even for big names like Bulliet and Angel's Envy. The industry giant has happily remained behind the curtain for years but is now entering the consumer market with George Remus and Rossville Union Rye, which had a dedicated table at the event. While these whiskeys aren't particularly overwhelming, MGP moving into space is a tectonic shift in the market, and it will be very exciting to see exactly what they're capable of in the next few years.
Big Wang's Chinese Street Food, Soul Kantina and Da Pizza Dude circled the block like a wagon train, offering a variety of food truck options. A quick bite was a welcome respite from the parade of straight liquor (although, with ticket prices between $75 – $125, the food perhaps should have been included). The Blind Barbor offered complimentary trims, and Q Drinks showcased signature mixers.
Birmingham-based soul band St. Paul and the Broken Bones electrified the tipsy crowd, sending whiskey fans to the dance floor with a boost of confidence. Frontman Paul Janeway underwent an emergency appendectomy just days before headlining the event, but his fiery performance showed no indication. There was a southern fortitude to the music the reflected the warm audacity of bourbon. St. Paul and the Broken Bones's lively stage presence truly was an expert pairing that completed the experience.
Photo credit: Joe U Photo