By Kathy Carpenter
Patio Plays in the Park – Patio Playhouse presents the first of their two outdoor plays for 2019 – L. Frank Baum's "The Wizard of Oz." Who doesn't love this 1939 classic? Family entertainment that entertains.
After seventy years the Wizard of Oz is still magic. Dorothy from Kansas discovers she had what she needed inside of her the whole time. But she also invited others along on her journey and each in turn also discover that they have what they desired within them. Sometimes we need to step out of our comfort zone to find an unrecognized strength. To disregard pre-conceived notions of others and often ourselves.
Dorothy feeling unloved and misunderstood gets caught in a tornado transplanting her over the rainbow, supposedly to a beautiful perfect land. She meets The Scarecrow, The Tin Man, and Cowardly Lion, who travels the yellow brick road with Dorothy, each with hopes The Wizard help them. The Scarecrow for a brain, the Tin Man for a heart, the Lion for courage, and Dorothy to return to Kansas. The conflict The Wicked Witch of the West Sister to the Wicked Witch of the East that Dorothy accidentally killed when her house landed on her, upon arrival in Oz
Becky Brooks director brought the principals together in the show and they worked extremely well together. The acting is superb. Arleth Ruvalcaba, as Dorothy made her as a principal character. She nailed it, The main thing Dorothy needs is a strong singing voice. Arleth had a beautiful voice. Erik Mayueirs, Elias Questenberg, and Ryan Fagan were the perfect trio of Scarecrow, Tin Man, and Lion. Becca Pilcher did an outstanding acting job as Almira Gulch and the Wicked Witch. Naomi Berg did a great job as the guard. The other name characters of course with the ensemble brings the show together for quality family entertainment.
Caper plays Toto. He is one of many adorable animals up for adoption Check out Furry Friends Rescue in Poway.
The live orchestra conducted by Christoph Rayburn captures the mystic mood. The costumes and set leave no doubt where we are.
This summer Patio is partnering with Words Alive for both of their outdoor plays this summer. Words Alive serves over 5,500 hundred local students to empower those who have trouble with reading. Please help by donating after-show money or appropriate reading material for all ages. You can also volunteer, Check out the Words Alive website.
What better way to beat the heat this week than an evening under the stars enjoying outdoor theater with your family. The youngsters are so cute, and everyone needs an audience. The principals are not youngsters. Come fill the seats, be entertained, while you introduce your child to a classic. Win-win!!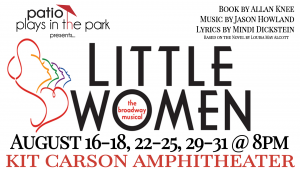 The second show Patio Presents at Kit Carson Park Escondido this summer is "Little Women." August 16 -31, 2019.