Quirky Portland. Creative Portland. Yummy Portland. All are very apt descriptions at this young-spirited, upstart of a city. Perhaps it's the mist that swathes the city three-quarters of the year which motivates contemplation or focus, or perhaps it's just the city's pervasive welcoming attitude that encourages a spirit of creativity that shines through in personality and product. But no matter what, Portland is a city with a resulting culture of innovation that appeals to anyone with an entrepreneurial bent. Or, as they call it, a city of weird.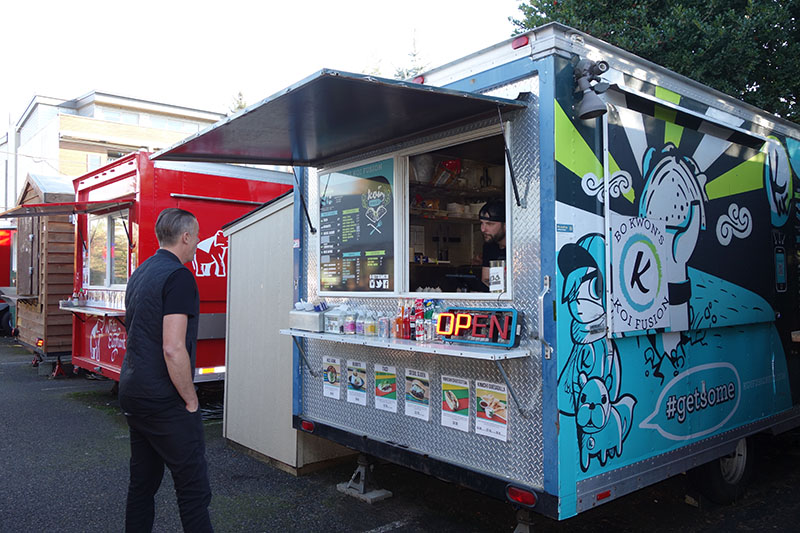 Restaurants, jewelry makers, and even potmakers have all found a home here.
I made it a point to visit the original Pok Pok, a frantically popular Northern Thai restaurant that had evolved from a humble food truck to constant adulation by foodies everywhere (note that Chef Andy Ricker had opened one in Brooklyn, now shuttered). There I found a staff, every one of whom decorated with creative tattoos and piercings, knowledgeable to the nth degree about the fire level of each dish and able to recommend the correct beer or sipping vinegar to accompany. My expectations were met and I was beginning to get a sense of what Portland was about. My Uber driver, returning me to the hip, luxurious Nines Hotel for an inventive cocktail at Urban Farmer, shared that Portland was a comfortable, oddball kind of place to live and work in. She liked it a lot, and I did, too
Over the next days, I visited a number of makers, a term that I hadn't had much exposure to prior. I learned that a maker was essentially an entrepreneur who had a vision of producing something with passion, something that meant a lot to him or her and would have purpose to the ultimate end-user. At FINEX Cast Iron Cookware Co., I saw the production of cast-iron pans with their distinctive coiled handles, a hefty and solid production that was actually somewhat familiar to me by name (I believe they are sold in Williams Sonoma on the East Coast).
I also visited the fabulous whiskey bar, sidecar 11, and Irving Street Kitchen where the impossible burger was just gaining traction (it has since become a mainstay at high-end burger venues like Five Guys as well as chains like Burger King and even Dunkin). And, of course, there were a number of dispensaries sprinkled throughout the city, where education about the differences between head and body versions could be had along with a variety of choice CBD or THC items (marijuana is legal in Portland). A good choice for beginners is Serra Dispensary Downtown but be sure you have a picture ID or you won't be allowed in. If you happen to be in Portland on the weekend, the Saturday Market by the nearby waterfront is a walkable choice for crafts and food alike. You can try some of the city's hand-roasted coffees there from artisanal coffee makers like Spella Caffé.
Foodie creativity reached a new sugary height at Voodoo Doughnut in Old Town where the artistic and varied nature of the oversized donuts made for a visit to remember. Although I was told that other donut shops had a tastier product, Voodoo's donuts were the epitome of color and imagination for me.
Plus, Voodoo was a quick walk away from one of Portland's most notable landmarks, Powell's City of Books, the largest independent new and used bookstore in the world, and what has to be the mecca of inspiration for any aspiring maker, foodie makers included. After wandering the many aisles and enjoying the witty sayings on the shelf labels in the various color-coded rooms, you'll want to don a Sherlock Holmes type hat to search out the corner of the second floor where the rare and unusual books are stored. Request the key because the Rare Book Room's door is always locked: that's where you'll find gems like the Complete Works of Goethe (illustrated) for $800 and The Red Book by C. G. Jung.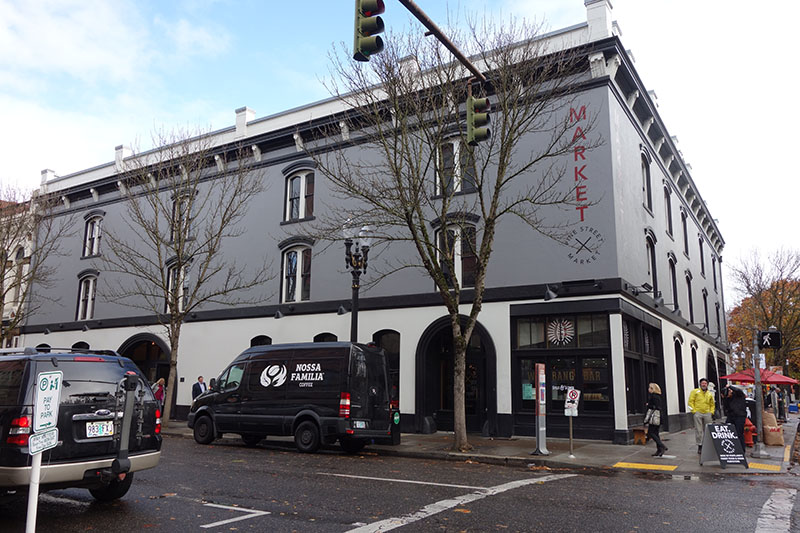 In addition to high-cuisine restaurants with creative menus like the Spanish tapas at Toro Bravo with its molecularly melting olives, or the medley of Asian fusion bites from Departure at the Nines atop the former Meier and Frank building, the food scene in Portland is peppered with a mix of stationary food trucks clustered in pods and food halls like the Pine Street Market in the Carriage and Baggage Building touting bites from pretty much every culture. I particularly loved Pollo Bravo for their hot-as-heck fermented hot sauce, the fiery fare at Mee Sen Thai and the sugary treats from Hungry Heart Cupcakes and Ruby Jewel Scoops.
Even the desserts were easy to pair with a top Oregon Pinot Noir like the super-juicy 2015 Estate vintage from Elk Cove Vineyards from the Willamette Valley or another 2015 vintage (obviously, a good year) from Ponzi Vineyards. Hint: pack some bubble wrap so you can bring home a few bottles in your suitcase). For a more interactive dining/cooking experience, visit the Country Cat where Chef Adam Sappington, assisted by his wife Jackie, will demonstrate whatever's most seasonally significant for your table.
The music scene in Portland has something for everyone, too. I enjoyed the rooftop bar at the Nines, where live music, outdoor views, and a great menu gave a glimpse into a dressier part of Portland life. Up the street and down a rabbit hole-like staircase, the underground bar, Al's Den, accessed through Ringler's Annex next to the Crystal Hotel, felt more consistent with what I'd seen among the maker set with live music ranging from grunge to punk to rock on most nights.
Is it something in the water? Or perhaps, as I suggested earlier, it's the mist that enshrouds the city much of the year that adds a different layer of water that spurs creativity. I'm not sure. But whatever it is, Portland's one really cool city. Or, as they say, "keepin' it weird in Portland." Yup, it's a pretty weird city.
All photos by Meryl Pearlstein