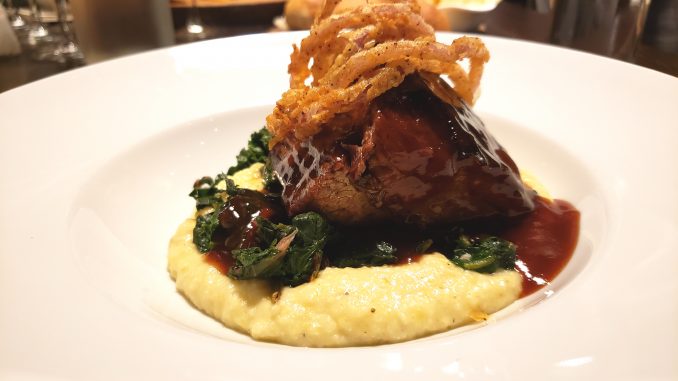 By Suzanne Magnuson and Judith Singer
On a lovely Tuesday evening, Judith Singer and I were invited to sample the new prix fixe offering at the Three Embers Restaurant at the Marriott Lincolnshire. And the title, Viva La Honey is not a misnomer.  There was honey incorporated in each dish, adding subtle flavor and not too much sweetness wherever it was used. It seemed like a clever idea when we were invited, but we found out just how clever it was once we arrived.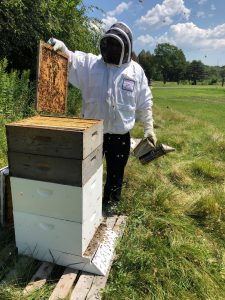 It's quite an inspired idea to highlight honey right now.  With the concern over colony collapse disorder and the large quantities of bees dying off due to various man-made impacts, a menu featuring honey to show off its importance in cuisine is nothing short of a brilliant idea. For anyone who cares about the environmental impact of their meal, doing something that supports sustainable beekeeping and bee populations is wonderful. We were excited to see honey highlighted, but when we arrived to discover that the honey used in all the recipes was produced on site in the Marriott's own apiary (shown here with Chef Pierre), we began to realize how brilliant the chefs actually were. The honey on its own reflects the environs; carefully cultivated produce gardens surrounded by wild prairie and wetlands. It's complex, floral, and deeply fruity without a harsh acidic bite.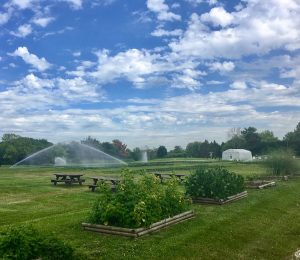 See, it's not just the honey that is being produced on site.  The Marriott resort owns a great deal of land along the Des Plaines River. And they're using it to grow much of the food they serve at Three Embers. If you care at all about sustainable, farm-to-table, and local food, that's what you're getting when possible.  This year there were bumper crops of tomatoes, zucchini, Swiss chard, and many other greens, and the chefs are using them whenever they can.  It doesn't get more local than in the restaurant's private garden.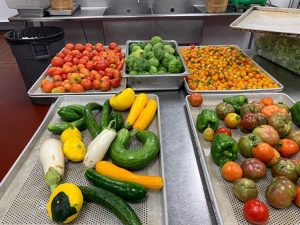 The bees are part of this whole arrangement of hyper-local, perfectly fresh, in-season produce.  And this is as much the story of Three Embers as the chef's newest menu offerings. (There's also a new seasonal fall menu debuting as well.)
On to the menu we tasted. Designed by Chef de Cuisine Jesus Medina, the Viva La Honey menu starts with soft, fragrantly yeasty rolls that are baked on site and butter subtly flavored with honey.
It is very shortly followed by the First Course Mixed Greens Salad featuring honey roasted walnuts that you just want to eat by the handful, sliced red grapes, red wine braised apples (that you will want an entire dish of), honey-infused goat cheese mousse on the bottom, all topped by a honey basil vinaigrette.
I know, it already sounds like honey overload or that it would be cloyingly sweet, but Chef has got this. The honey in the roasty, toasty walnuts is just enough to back off walnuts' natural bitterness. It's subtle and balanced and oh, so good.  The greens are dark and robustly flavored and pair very well with the fruit elements.  Sweetness is not the first flavor here.  The basil vinaigrette, which can be overpowering in the wrong hands, was perfectly balanced and complemented and enhanced all the flavors of the salad instead of burying them.  The only fault was the goat cheese used in the mousse.  It was overpowering in comparison to the subtlety employed in the rest of this dish's balance and threw that balance off. Fortunately, its placement on the bottom allows you to eat around it and enjoy the perfection of the rest of it.  Goat cheese is a great choice here, but this one is so strongly flavored that it's all you can taste if you get it mixed in with the rest of it.  A more subtle one would serve the dish better.
The Salad was paired with Brassfield's Serenity Reserve California white blend.  This wine was very sharp and acidic and neither of us detected much beyond that. It was harsh up front and there was just not a lot on the backend. Its aggregated critical rating is an 87 out of 100, but it is not as beloved by people actually drinking it.
Your Second Course is a choice.
I ordered the Honey Barbecue Brisket (featured image) with smoked grits, Swiss chard (straight from the garden) and crispy onions.  Chef does a terrific sweet barbecue sauce here and makes an incredibly tender brisket.  The flavors work together well, but I would have enjoyed him to be a bit less subtle here.  It wasn't as wow as it could have been, though it's all very nice. The grits, which can be flavorless mush, were wonderfully done and buttery and a lovely complement to the brisket. The chard added zing. But the standout here were the onions.  Red onions, sliced thin and perfectly battered. They were crispy, fabulous perfection and adding them to any bite elevated it completely.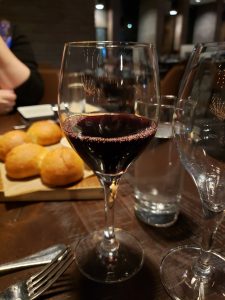 My wine pairing was the best of the lot, Castle Rock Winery's Columbia Valley Syrah 2011.  It's an ok Syrah, but again with a lot of acid on the front.  This one mellowed out on the tongue, though, with decent berry notes and some depth of flavor.  But it was only ok.  Aggregated critical rating is 86, again much less beloved by drinkers.
Judith had the Fish and Chips, Five Eyes honey ale-battered fish, honey mustard slaw, house chips (hand-cut fries), honey-lime aioli. The aioli was the best thing here, although the cilantro-averse might want to take a hard pass. Although the batter was crisp and subtly sweet, the fish was sodden – almost mushy– and bland, the carrot-fennel slaw tasted undressed and under-seasoned, the oddly short, nubby fries were crispy, but tough inside.  I would say choose the brisket.
Her wine was the Landmark Vineyards Overlook Chardonnay from Sonoma 2018.  Aggregated critical score 89, less beloved by drinkers. This was overly tannic at first taste and none of the described flavors materialized on the back end, except for oak.
The Third Course – available at all times and separate from this special menu, was Honey Pecan Cake.
This is just so, so good.  It is described as a honey financier (though the cake is dense for a financier), pecan cremeux (imagine dulce de leche made of toasted pecans; I could eat this alone again and again), honey plumped cranberries. The description leaves out the wonderful frosting and the dark chocolate garnish that are perfect complements to the cake.  It comes on a plate drizzled with the ultra-local homecrafted honey and pecan pieces.  You will want to eat every crumb of this and then want more.  This dessert is absolutely magical.
Unfortunately, it came with the Conundrum Rosé from California. It was presented as featuring fruit and rose notes, but we found it – like the other wines in the lineup for this featured menu – overly acidic if less so than the others. It is subtly better if you take a bite of dessert and then a sip, but why?  Just get a cup of coffee and be happier.
I love so much what Chef Medina and his team are doing here with hyper-local and utilizing the bounty they are creating on site.  Go for the food, but you can really skip these wines, or just order a bottle of something you know you enjoy.  Something crisp and not overly-sweet will complement these flavors well.
And the new Autumn Menu which includes the items we sampled and so much more, (I can bet the vegetable risotto, roasted tomato soup, and parmesan zucchini will be fresh from the farm) looks exciting as well.
The three courses are being offered at $36 per person.  If you add the three-course wine pairing it is $54 per person.
You can make reservations here.
Photos by Suzanne Magnuson and the staff of Three Embers Restaurant.