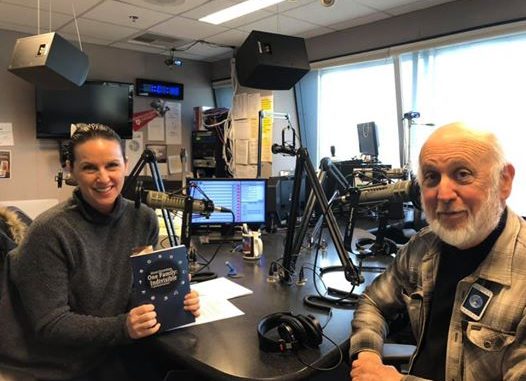 One Family: Indivisible, by Reverend Steven Greenebaum, the founder of the Living Interfaith Church, is the latest of his three books. As a child growing up as a Reform Jew in Suburban Los Angeles, he was impacted by the unfairness of what he observed in his world, the Holocaust, the treatment of the African American Community, for a start and set about making the world a better place. Along the way he earned Master's Degrees in Mythology, Music, and Pastoral Studies. His experiences, which include directing Jewish, Methodist, Presbyterian, and Interfaith choirs, have helped him to understand the profound wisdom of many spiritual traditions leading him to found the Living Interfaith Church. His mission has extended to work in social and environmental justice, and as a teacher, choral director, Hollywood screenwriter and Interfaith minister. Expressing his dedication to the oneness of humanity Steven marched at Standing Rock, has worked with Common Cause, and was the Founder/Executive Director of Citizens for Environmental Responsibility.
Steven generously agreed to answer some questions regarding his new book, his goals and more.
You have shared that learning about the Holocaust as a young child had a profound impact on you. Can you share a bit more about this experience?
When I first understood the magnitude of the Holocaust (Shoah) I was roughly seven. Six millions Jews exterminated like so many ants was horrifying. But what truly terrorized me was when my father explained that this was one out of every three Jews on the planet. This was when I understood that people I had never met hated me because I was Jewish (though I really had very little idea of what being Jewish was, other than the fact that I was Jewish). It was my mom who made this into a powerful and positive experience. She asked me if I liked being hated. "No", I whispered. Did I like what it felt like to be hated. "No." Then mom looked straight at me – and when mom looked at me eyeball to eyeball, I knew what she was about to say was important. "Then don't ever hate." This turned the experience from a personal fear into a universal way of approaching life. "Don't ever hate" became a crucial part of who I am."
You hold three Master's Degrees, in Mythology, Music, and Pastoral Studies. Can you share where and when you received these degrees?
My first MA was from UCLA. It was in Folklore and Mythology – though folklore didn't interest me much and I spent most of my time studying the myths of the world. This was roughly 1972. My second MA was in Choral Music from Occidental College. This was roughly 1980. My last MA was in Pastoral Studies from Seattle University's School of Theology and Ministry. This was roughly 2006.
Did you start out with these degrees as a goal or did they evolve?
It definitely evolved. I learned how much I appreciated the myths of the world when I was an undergrad at Occidental College. But it was when I was ejected from the History department (I had been a history major) at the beginning of my senior year and became an Anthropology major that I had the opportunity to throw myself into the study of myth. That's when I decided to study this even further and seek an MA in myth at UCLA. My MA in Choral Music was the result of two events. First, my life had pretty much imploded in the mid-1970's. My lifeline and my way to claw myself back into the land of the functioning was singing. But then I developed a jaw problem and singing was taken off the table. The only way I could continue pursuing the lifeline of choral music was as a choral conductor. So, I pursued an MA in choral conducting. After than I had a wonderful career conducting sacred music: in a Methodist church, in a Jewish temple, in a choral group I founded called the Choral Consort, and at a Unitarian Universalist fellowship. It was when I realized that I wanted to be a minister that I went back to school in about 2000 and sought my MA in Pastoral Studies.
Founding the Living Interfaith Church seems to me to be a very bold and brave approach. Can you share a bit about what led you to take this action?
Over my lifetime I had come to appreciate first the various myths of humanity and then, particularly by being a choir director in a Christian church, a Jewish temple, and a Unitarian Universalist fellowship, the various ways our religions tried to teach us to be loving and compassionate. In my life I had five pivotal spiritual experiences, the first of which was mentioned earlier – understanding the shattering reality of the Shoah (the Holocaust) and the injunction that my mom gave me: "Then don't ever hate." Another was the death in a meaningless traffic accident of the woman I had intended to spend my life with. This began the implosion of my life mentioned above. The fifth of theses experiences came as the result of my angry demand of God, "You're there? Really? I need some answers!" And to my complete surprise I got them! I took dictation and the first thing out of the box was "Religion is but a language for speaking to me. Is arbol better than tree? Is Old English a false language because you no longer speak it?" The dictation at last put me irrevocably on the path of Interfaith. It took me nearly ten years of living with the dictation to feel I truly understood it. But by then I was already on the path to ministry – even if I was unsure where that path was taking me. Then, once I understood Interfaith as a faith – that I now took as an article of faith that all of our spiritual paths can, CAN lead us to the mountaintop of love, compassion, justice and community, I knew this was the faith I wanted to practice. I wanted to have a congregation that held Jews, Christians, Muslims, Buddhists, Baha'i, Humanists, and others, and that RESPECTED each of these traditions. I remained Jewish, but I wanted to be a part of a congregation that not only allowed me to continue to follow my spiritual path, but also respected and indeed celebrated other spiritual paths. Not finding such a congregation, a congregation founded upon Interfaith as a faith, I felt called to start one. I felt I had no choice. It was my calling.
I am aware of many interfaith events that take place in my community. Could you compare and contrast the difference between an interfaith activity that involves, for example, a Jewish Synagogue and a Baptist Church, and your Church?
This is important. There are indeed important interfaith events in our communities. For me one of the great frustrations of our culture is this is idea that if we compare two things we must find one right and the other wrong, or at the least one better and one worse. I reject that. Interfaith as a faith and interfaith as an approach to dialogue are different. But one is not right and the other wrong. One is not better and the other worse. They are just different. The interfaith events you reference are wonderful and important exercises in interfaith dialogue. It is CRUCIAL that we have interfaith dialogue. We need to be able to speak to each other calmly and with respect. What Interfaith as a faith involves is coming together as a congregation to celebrate each other's spiritual paths. At Living Interfaith, we observe (as example) Passover, Easter, Ramadan, and many other spiritual holy days. I don't cease to be Jewish when I celebrate Easter with my Christian brothers and sisters. I feel honored and indeed enriched by respecting and celebrating the beliefs of my friends.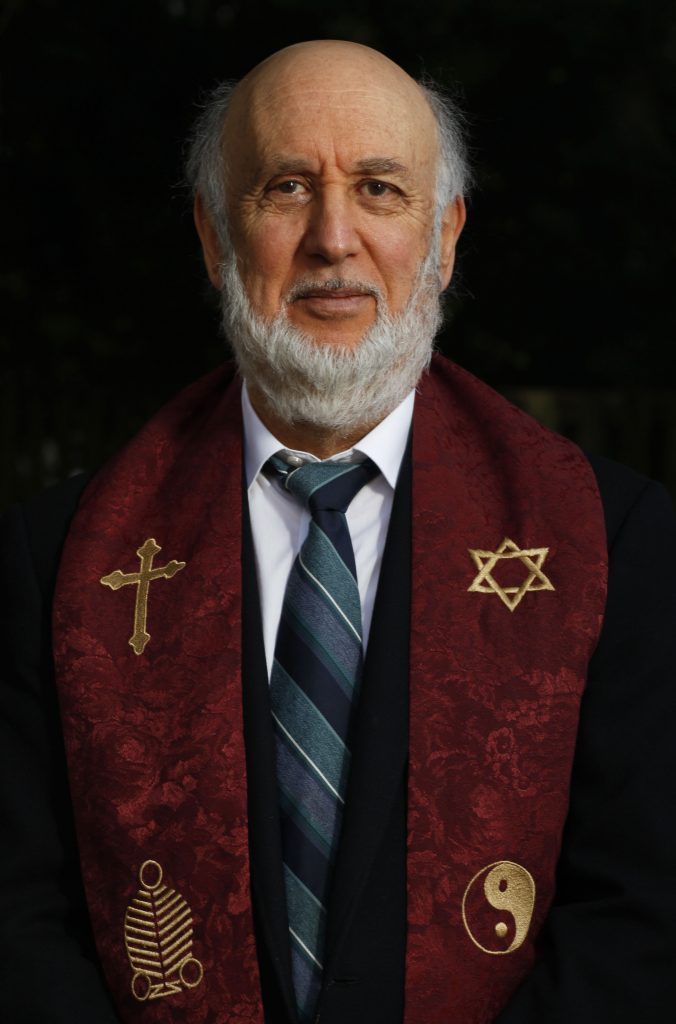 What are your goals for the future?
I'm 71. My goal for the future is to hand off the work of spreading the word that humanity can heal, and that Interfaith, as a faith, can help us learn to respect one another, and celebrate rather than fear our diversity. My intent behind all three of my books and most especially "One Family: Indivisible" was, and is, to facilitate that. We can do this. I can't, but WE can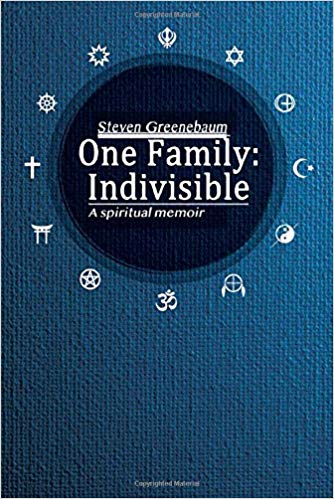 One Family: Indivisible, by Reverend Steven Greenebaum is on sale at amazon.com or order direct from MSI Press:or****@ms******.com and it makes a lovely holiday gift
Photos: Courtesy of Reverend Steven Greenebaum