My guest and I were excited anticipating our visit to Second City's re-opening after a very long time. The Second City 's 109th original revue, Together at Last is a delight. It has been two years since the opening of Do You Believe in Madness? in 2019. This brand-new show is performed and written by returning ensemble members Mary Catherine Curran, Sarah Dell'Amico, Asia Martin, Jordan Savusa, Adam Schreck and new cast member Evan Mills. The show is directed byAnneliese Toft with musical director Jeff Bouthiette and associate director Erica Elam. Jaci Entwisle returns as stage manager. 
"707 days is the longest Second City has ever gone between Mainstage openings. We're so thankful to our incredibly supportive and patient audience, and we think the final product is more than worth the wait," says Jon Carr, Executive Producer.
The producing team includes Jon Carr (Executive Producer), Elizabeth Howard (VP of Production), Parisa Jalili (Chief Operating Officer), and Thomas J. Troup II (Production Manager). Tickets start at $29.00 and are available by phone at 312-337-3992 or online at secondcity.com. The show schedule is as follows: Wednesdays @ 7pm; Thursdays – Saturdays @ 7pm & 10pm; Sundays @ 7pm.
As we headed to the show we were a bit unsure about distancing and seating. Once we arrived it was reassuring that COVID_19 protective procedures were handled sensitively and carefully. Seating was carefully considered. Many wondered about the empty tables up near the stage, and we learned that this is a COVID-19 precaution that must be followed put in place by the actor's union. Venues must guarantee a 10-foot distance between artists and patrons, which is why Second City is not currently able to seat patrons at the tables up against and closest to the stage. (Most standard theater stages already have this distance between the stage and the first row of seats, which is why you likely haven't noticed it at other venues.)
We were impressed by the talent, energy and enthusiasm of the cast.  The audience was responsive and everyone seemed very happy to be "Together At Last". Having a reason to laugh and laugh with others felt very good. This was a long -awaited moment. This very talented group of performers frequently seemed to be enjoying the humor as much as the audience which was very endearing.
Whenever I am at Second City, my memory moves back many years to when they were the only game in town, when improve was new and remarkable.  It was always the must see with visitors from out of town, if we were lucky enough to get tickets.  I marvel at the influence Second City has had worldwide in the years the followed.( I have children in other parts of the country looking forward to the touring company.)  It is interesting that the setting remains the same.
The commitment to equity, diversity and inclusion is reflected in a cast that is anything but homogenous. The variety of sizes, shapes and colors bring a wonderful vitality to the show.  The group worked together seamlessly keeping the audience amused and laughing throughout.  It was fun.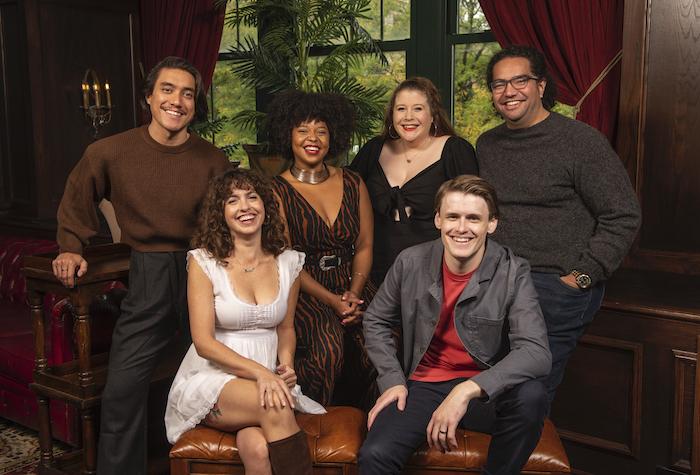 Second City has given people a reason to laugh for sixty years. They began in 1959 as a small comedy cabaret and have grown to become the first name in improv and comedy, with theaters and Training Centers in Chicago, Toronto, and Hollywood. Improv has been taken off the stage, expanding their reach to include creative collaborations with a wide range of creative and corporate partners, wellness and  education programs, and TV, film and digital productions. Their alumni list includes some of the funniest names on the planet… 
A  visit to Second City will lift your spirits.  Plan to visit soon.