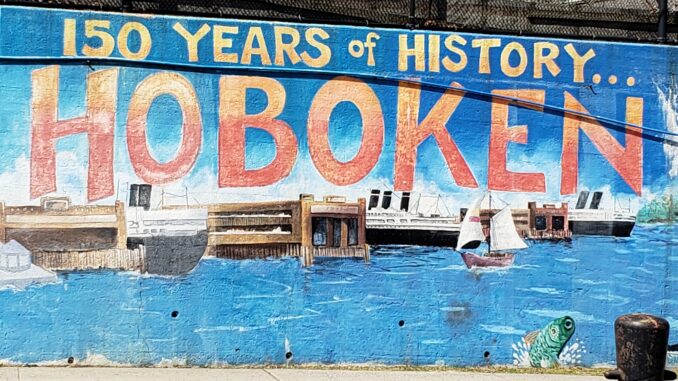 Hoboken, New Jersey is a great "alternative urban getaway" to New York City. That's right, Hoboken. And the place to stay? – W Hoboken. W Hotel is close to all that the Mile Square City has to offer, and it is situated directly on the Hudson River offering drop-dead views of the Manhattan skyline. Hoboken has great dining, exciting nightlife, noteworthy cultural attractions, and a rich history.
Did you know…?
Hoboken is known for a number of significant accomplishments. Old Blue Eyes, Frank Sinatra, was born in Hoboken and lived his first 12 years on Monroe Street before his family moved to Park Avenue and then Garden St. On June 19, 1846, The New York Nine defeated the Knickerbockers, 23 to 1, on the city's Elysian Fields, a game widely considered the birth of modern baseball. America's first yacht club was founded in Hoboken in 1844; the America's Cup is named after that club's racing yacht, America. Hoboken is the home of America's first brewery thanks to Nicholas Varlett and Peter Stuyvesant. The ever functional zipper was created in Hoboken and manufactured by Hoboken's Automatic Hook & Eye Co. In 1963 Buddy Valastro, Sr. bought Carlo's City Hall Bake Shop located on Adams Street in Hoboken. Today, Buddy, Jr., better known as The Cake Boss of TV fame, continues the success of Carlo's Bake Shop in its new location on Washington St.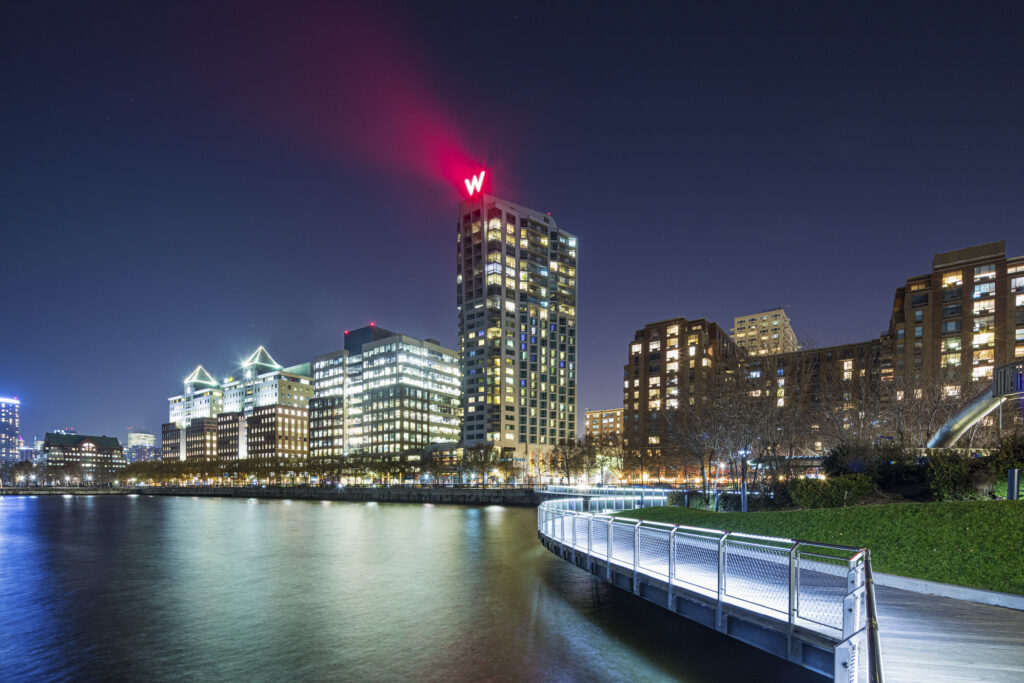 Hoboken's rich history
The name "Hoboken" has two possible origins. Original inhabitants, the Lenni Lenape Indians called the area "Hopoghan Hackingh," or "land of the Tobacco Pipe." The area was rich in the green rock that the Lenape used for their tobacco pipes. The Dutch, who later settled the area, called it "Hoebuck," meaning 'high bluff." This description is obvious as soon as one gazes at the high palisade that serves as the backdrop to the city. It was Colonel John Stevens, having purchased the island in 1784, who settled on the name Hoboken.
As early as 1820, Stevens began to transform the wild waterfront into a recreational area to attract New York City dwellers to come and visit. Soon as many as 20,000 New Yorkers would seek the enjoyment of a Sunday picnic along Hoboken's waterfront. With its waterfront location opposite New York, Hoboken established itself as a rail and water transportation center. In 1917 the federal government selected Hoboken as the primary port of embarkation for troops in World War I.
A city's resurgence
After falling on hard times following the demise of the city's thriving waterfront industry due to the containerization of ship cargo, Hoboken has experienced an ever-growing resurgence focusing on small businesses, particularly restaurants and retails stores. With a vibrant, eclectic dining scene; an energized nightlife of bars, restaurants and coffee shops with live music; and a variety cultural events, street fairs and art venues, Hoboken has become a uniquely delightful urban retreat. The newly formed Hoboken Business Alliance is dedicated to creating a beautiful, art filled, safe, accessible and prosperous business district to attract citizens and visitors to shop, eat, play and stay in Hoboken.
A great way to get to know all of the city's history and culture is by taking the self-guided Historic Walking Tour. Contact the Hoboken Historical Museum for more information.
A hotel with flair – and great views
And in the center of all that Hoboken has to offer is W Hoboken. Luxurious rooms with those awesome New York views are just a part of The W's attraction. (Although the rooms are exquisite, especially the various suites. Just check out the WOW and EWOW Suites online. They are amazing.)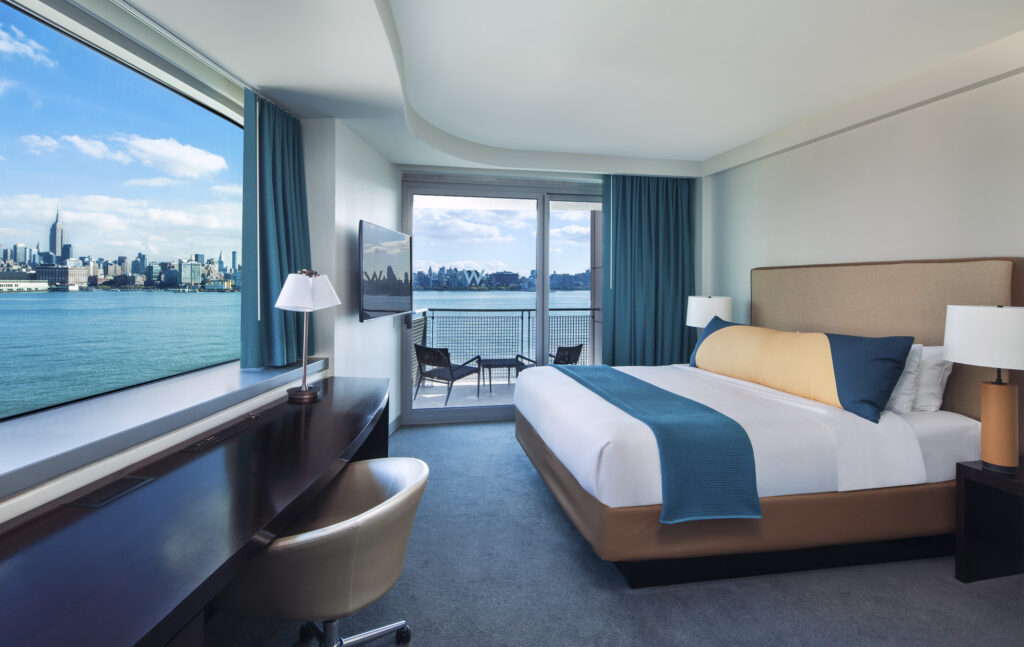 You don't have to venture very far to experience one of Hoboken's great restaurants. Actually just take the elevator to the lobby and walk into Halifax Restaurant, where you can delight in the culinary expressions of Chef Seadon Shouse, a native of Halifax, Nova Scotia. Halifax features North-Eastern farm and coastal cuisine, with an emphasis on local and sustainable ingredients. Most items, if not made in-house, come from farmers, fisherman, and artisans from Delaware north to the restaurant's namesake, Halifax – the capital of Nova Scotia. Chef Seadon further puts his personal touch on offerings by creating house-smoked meats and seafood, authentic vermouth, as well as his own sea salt, made from water straight out of Montauk. The beverage program includes a selection of local spirits, wines, and beers. A very popular Halifax experience is its Brunch, which is offered Saturdays and Sundays only. The Bubbles Brunch offers unlimited small plates and a bottle of sparkling wine.
A tantalizing dining choice at W Hoboken is Sushi By Bou. This 1-hour Omakase experience features a traditional Japanese Edomae-style Chef's Sushi Tasting using the finest quality Japanese fish and paired with craft cocktails, imported sake, and Japanese spirits.
W's Living Room is a hip, inviting lobby bar with live music and creative cocktails. You can stay fit while at W Hoboken at FIT – a state-of-the-art, fully-equipped gym offering awesome views of the Hudson River and the New York skyline. Enjoy a walk along the Hudson River Waterfront Walkway. Pamper yourself with a relaxing or invigorating treatment at The Woodhouse Day Spa, located just off the lobby of W Hoboken.
Explore nearby NJ attractions like Liberty State Park with stunning views of the Statue of Liberty, or Ellis Island. If you absolutely must get to NYC, The W is just steps from the PATH train and the NY Waterway ferry.
W Hoboken photos are courtesy of the hotel.