The wait is over! The new state-of-the-art day spa at Eagle Ridge Resort & Spa has more than doubled in size. It now provides enhanced services for individuals, couples, groups and bridal parties.
The new on-property spa is called Stonedrift Spa, and has been a beloved destination for signature spa treatments and therapies for nearly 20 years. It has now been reimagined and moved to a completely remodeled sandstone building on the Eagle Ridge property in The Galena Territory. The spa's size increased from 3,500 to more than 12,000 square feet, and is under the management of experienced and impassioned spa professional, Abbi Porter.
"Throughout the years the spa has built a base of loyal clientele, and we had come to the point where demand for our services outgrew our existing location," said Abbi Porter, spa manager at Stonedrift Spa. "The move and upgrading of the Stonedrift Spa are part of our multi-year plan to transform the resort into a true 21st century destination that is both luxurious and incredibly accommodating."
Stonedrift Spa is now located in the former location of Eagle Ridge's General Store at 425 Eagle Ridge Drive, which is now housed within the clubhouse complex, next to The General Golf Course. The new spa location is completely remodeled with a 6,000-square foot addition to accommodate the new relaxation spaces, wellness services and treatment rooms.
The spa has an entirely new look and aesthetic with high ceilings, tranquil environment, and a mix of state-of-the-art and earthy furnishings made from raw wood and natural stone. Stonedrift Spa has doubled the number of services it features, including:
A new hair salon, including cut, color, blowout style, and other services
All-natural nail-care (manicures and pedicures)
Dedicated loft space for groups, bridal parties on their special day, and more
Body treatments, as well as both dry and wet rooms featuring a Vichy shower
Unique wellness offerings including Reiki, Sound Healing and Forest Bathing to create a unique mind, body, and soul experience
Guided yoga and stretch classes on the weekends
Luxurious Breathe & Detox rooms, where guests can feel the deep penetrating heat from an infrared sauna, which has long been known to help eliminate toxins from the body, soothe aching muscles and reduce stress
Facial treatments including Platinum HydraFacials
State-of-the-art steam rooms
In addition to the new features and treatments offered at the spa, guests can take a piece of Stonedrift Spa with them as a wide variety of products used during services are available for purchase including:
Facials: Eminence Organic Skin Care, Circadia, OM4MEN, and HydraFacial
Body Treatments: Sothys and Phytomer
CBD: VitalBody and CBD
Salon: Hair Care: Davines and Male Depot Tools
Nail Care: SpaRitual and OrlyGel
Wellness: Pure Inventions, Therabody and Plantlife Aromatherapy
About Eagle Ridge Resort & Spa
Eagle Ridge Resort & Spa is located 150 miles west of Chicago within The Galena Territory, a 6,800-acre recreational, residential and resort community six miles southeast of the historic town of Galena, Ill. The resort's grounds include 63 holes on four award-winning golf courses, and accommodations that range from quaint Inn rooms to over 100 villas and distinctive homes. Eagle Ridge Resort & Spa has 15,000 square feet of state-of-the-art meeting space and beautiful conference homes, which regularly accommodate corporate groups, banquets, and weddings.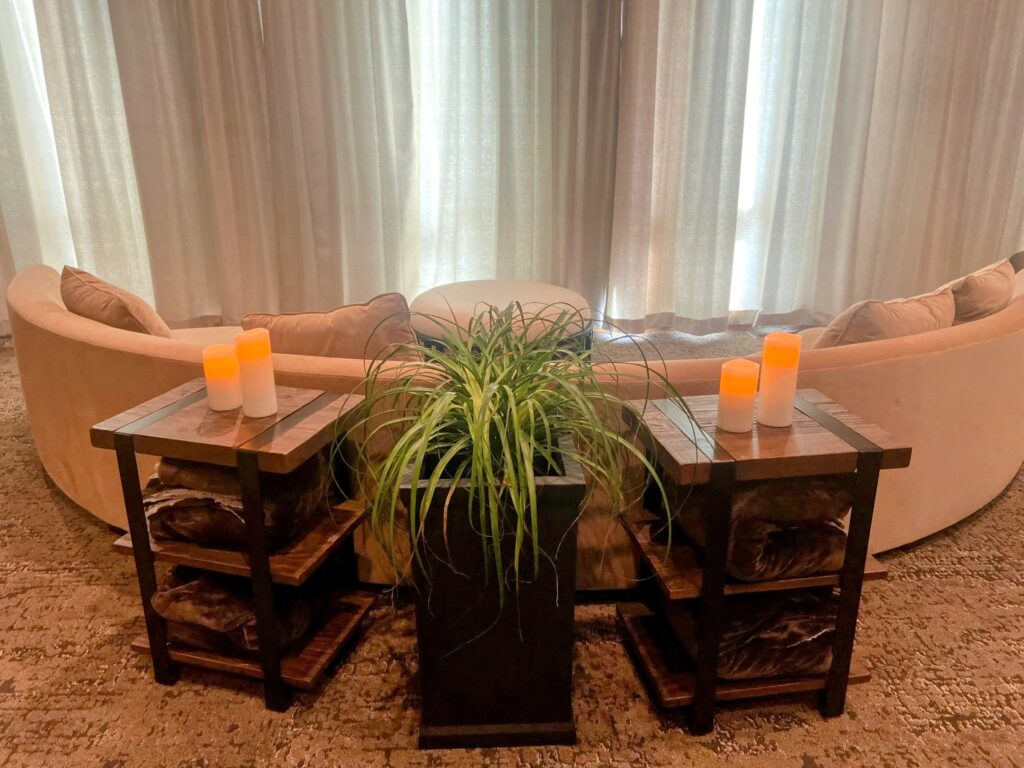 Other features include award-winning restaurants, the new golf complex with Highlands restaurant, Lounge 289, pro shop, Country Store and a gas station, the new tranquil Stonedrift Spa, and an incredible selection of outdoor seasonal activities including miles of biking, hiking and horseback riding trails, as well as tennis, hot air balloon rides, boating and fishing on the picturesque 225-acre Lake Galena.
Eagle Ridge Resort and Spa is a beautiful, down to earth lodging option when you're traveling in Galena, especially for a quick weekend trip with family, friends or significant others. It is surrounded by nature and the outdoor woods and lakes. In the wintertime, the area is extra quiet and serene.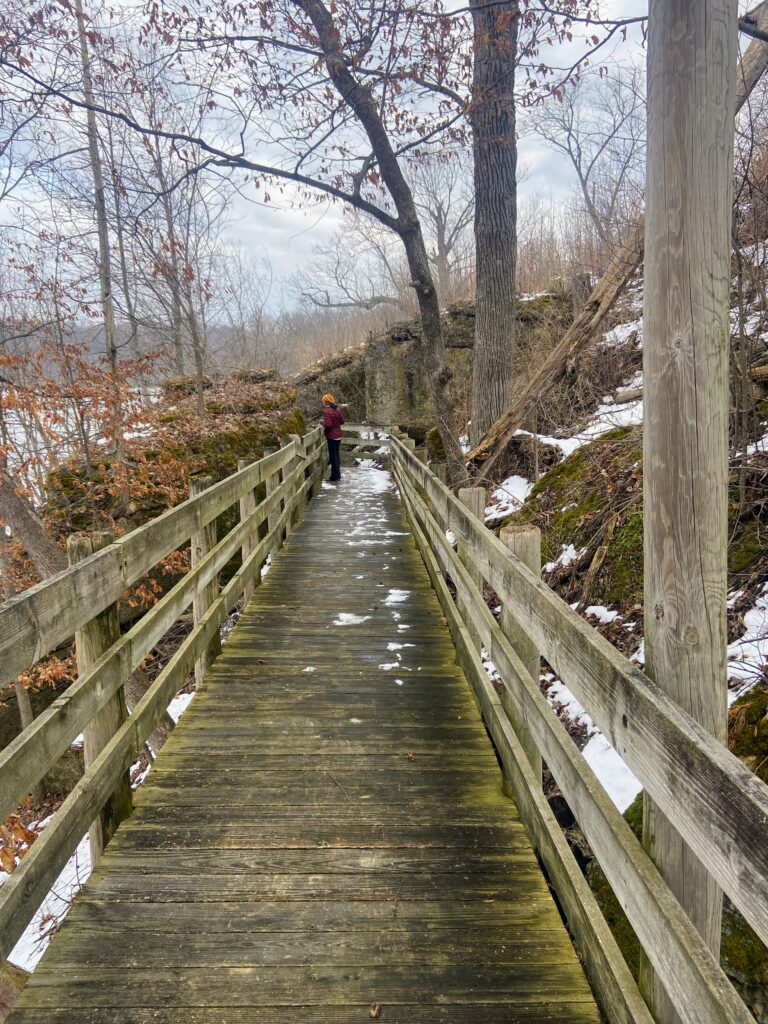 My friend and I traveled and stayed overnight at the resort during my birthday weekend this past February. It was lovely to get away for a weekend, and celebrate my birthday with good friends and spa time. We stayed in a comfortable and tranquil double queen bed room, complete with a small outdoor balcony, table and chairs. I especially loved the bedspreads which featured forest trees and shades of light greens and browns on them.
The indoor lobby was open, spacious and featured a large, cozy fireplace that was perfect for lounging by and getting warm on a cold winter evening. We also sipped wine and hung out in one of the resort's outdoor igloos, which was furnished with inviting chairs, lights, blankets to keep warm and a Bluetooth speaker to hook up music from your phone.
Afterwards, we enjoyed a delicious dinner at the resort's restaurant, Woodlands Restaurant. I had a succulent lobster tail with ravioli. My friend dined on filet mignon. The next morning before our spa services, we were equally impressed with Eagle Rdige's breakfast buffet, which offered everything you could imagine including an omelet station, fresh fruit, cereal, pastries, lox, bagels and much more.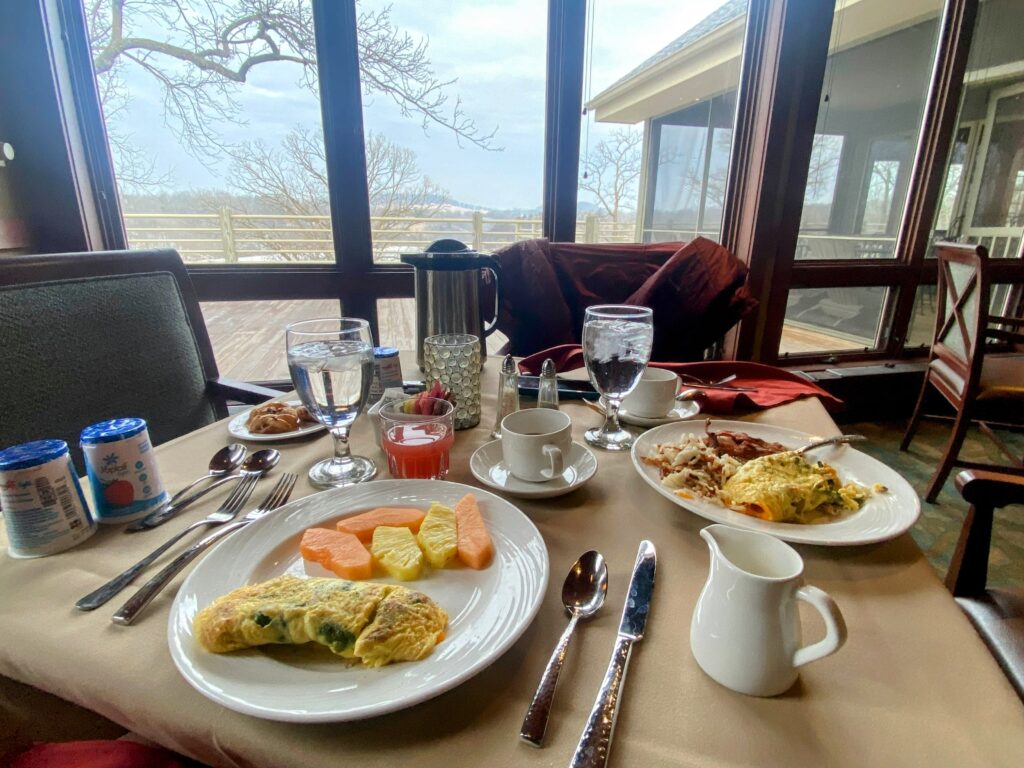 The main highlight of our trip was experiencing the brand new Stonedrift Spa. The spa's new location was less than a five minute walk from the hotel. When we walked inside, we were greeted by a sunlight drenched lobby and front desk with smiling, welcoming receptionists who checked us in for our massage appointments. The front area also offered spa products for sale.
We were then given a tour of the space and shown to the women's spacious locker room, complete with keypad security lockers, stream room, fresh towels, showers and a vanity with all necessary toiletries. Our lockers contained robes and sandals for use during our spa time. The robes were extra warm and soft.
While we waited to be called for our messages, we relaxed and enjoyed time in the relaxation room. There were plenty of comfortable lounge chairs to sit in or lay down on. We were free to help ourselves to snacks, water and Tazo Tea.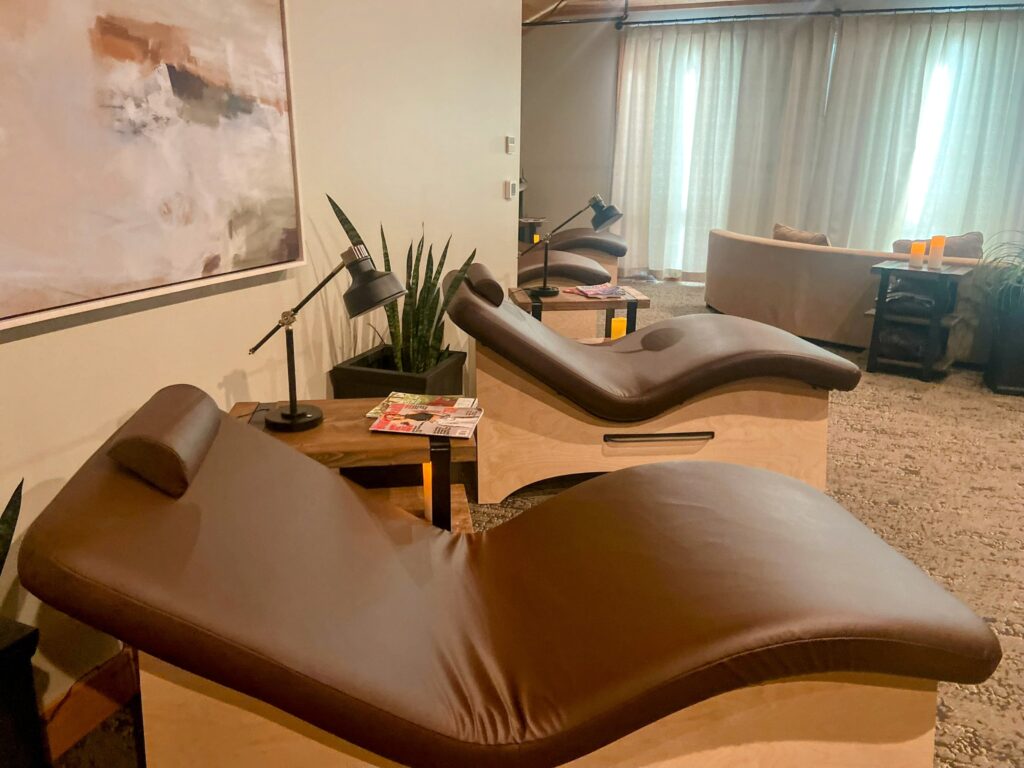 We experienced the brand new Stress Less CBD Massages (50 Minutes), which was the perfect service to unwind, unstress and completely relax tired and sore muscles. We had wonderful massage therapists. My therapist, Jennifer, has been working at the spa itself for over thirty years, overseeing how it has changed over the years. She was welcoming, accommodating and professional. The CBD in my massage completely melted away the stress and tension from every muscle in my body. I hope to return in the future and try the glow facial next time!
Stonedrift Spa at Eagle Ridge Resort and Spa is the perfect, local Midwest experience to unwind, relax and get away from it all. The spa exceeded my expectations and I could not have asked for a better experience there. If you ever see yourself traveling through Galena, Illinois, be sure to stop by the spa for an unforgettable experience!
Photos: Jennifer Lunz unless otherwise noted
Guests who would like to visit Stonedrift Spa or learn more about current services can visit the spa website or call 815-776-5772.
It is encouraged that those seeking to book spa appointments do so as soon as possible, as appointments are booking up quickly. Specials and packages are also available.
For reservations or additional information, call (800) 892-2269 or visit the resort website.
Eagle Ridge Resort & Spa
444 Eagle Ridge Drive
Galena, IL 61036
800-892-2269