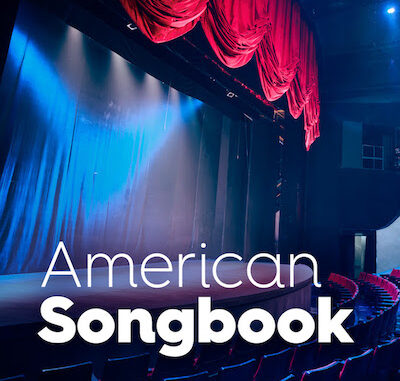 Chicago a cappella presents "American Songbook"
Four performances: April 22, April 23, April 28, and April 30
CHICAGO, March 2023 – Chicago a cappella, Chicago's unique vocal ensemble, concludes its 2022-2023 season this April with "American Songbook." The program is by Artistic Director John William Trotter with music direction by Paul Langford.
This is so much more than simply a nostalgic musical journey, as these songs continue to pass the test of time across the generations. The Great American Songbook, born in the age of classic musicals and interpreted by legendary vocalists like Frank Sinatra and Ella Fitzgerald, taps our romantic yearnings, experiences, and memories. Be swept off your feet by the witty tunes and ballads of Gershwin, Porter, Kern, and Rodgers & Hammerstein, and blissfully see why many call this "America's classical music."
"It has been 10 years since we did a full concert of American Songbook tunes," said Matt Greenberg, executive director of Chicago a cappella. "The first time it was performed, in Spring 2013, it was John William Trotter's first time working with the group as music director. So, this is the 10th anniversary of our collaboration with him. John, of course, became our Artistic Director in 2020, and he updated the program for this remounting. This current program is being prepared by guest music director Paul Langford."
April 22 will be Chicago a cappella's first concert appearance at Ganz Hall. "It's a true gem of the golden age of Chicago architecture," said Greenberg, "and, we're singing music from the golden age of American popular music. It's a perfect fit."
The ensemble performed a few songs for a live WFMT radio broadcast in Ganz Hall in 2001 and recorded a CD there in 2012 ("Bound for Glory"), but this is their first live concert performance there.
Four of the songs on the program were arranged specifically for Chicago a cappella by Patrick Sinozich.
Performances of "American Songbook" will be held on the following dates and locations:
The American Songbook Program will feature these song selections:
It's a Grand Night for Singing, Rodgers & Hammerstein, arr. Patrick Sinozich
Love Walked In, George and Ira Gershwin, arr. Ward Swingle
The Way You Look Tonight, Jerome Kern & Dorothy Fields, arr. Kirby Shaw
I Got Rhythm, George and Ira Gershwin, arr. Christopher Clapham
Summertime, George and Ira Gershwin, and DuBose Heyward, arr. Roderick Williams
If I Loved You, Rodgers & Hammerstein, arr. Kirby Shaw
Send in the Clowns, Stephen Sondheim arr. Robert Page
I've Got You Under My Skin, Cole Porter, arr. Patrick Sinozich
The Very Thought of You, Ray Noble, arr. Paris Rutherford
Come Fly with Me, Jimmy Van Heusen and Sammy Cahn, arr. Deke Sharon
Something's Gotta Give, Johnny Mercer, arr. Patrick Sinozich
All of Me, Gerald Marks and Seymour Simons, arr. Patrick Sinozich
I'll Be Seeing You, Sammy Fain and Irving Kahal, arr. Darmon Meader
Hello, Young Lovers, Rodgers & Hammerstein, arr. Paris Rutherford
Getting to Know You/Surry with the Fringe on Top, Rodgers & Hammerstein, arr. Patrick Sinozich
My Funny Valentine, Rodgers & Hart, arr. Bob Krogstad
Don't Get Around Much Anymore/Bei Mir Bistu Sheyn, Duke Ellington, Sholom Secunda Bob Russell, Sammy Cahn and Saul Chaplin, arr. Keene/Tavares
Love is Here to Stay, George & Ira Gershwin, arr. Darmon Meader
Blue Skies, Irving Berlin, arr. Joseph Jennigs
Individual tickets for the concert are now on sale ($35-$45) and can be purchased online at www.chicagoacappella.org/tickets. Information on student discounts can also be found there. For more information, please visit www.chicagoacappella.org or call (773) 281-7820.
Virtual Option: Full concert replay
Each of Chicago a cappella'slive concert programs is followed by a corresponding on-demand full concert replay, available within two weeks of the final performance. The full concert replay of "American Songbook" will be released during the week of May 7, 2023. Access to the on-demand full concert replay can be purchased for $35.
About Chicago a cappella
Chicago a cappella brings together a group of ten fiercely talented singers who celebrate every genre of music imaginable with equal passion and commitment. With amazing voices, magnetic personalities, and true love for ensemble singing, their creative concert experiences truly connect with audiences, inspiring both awe and laughter.
Since the birth of the ensemble back in the early '90s, they have traveled the country, worked with amazing guest artists, and won awards for their CDs. Chicago a cappella is more than an ensemble. It's an entire organization dedicated to furthering the art and appreciation of ensemble singing. The Youth Choral Festival has brought together high school kids from all over Chicago and the suburbs. ¡Cantaré! Chicago brings an artist from Mexico to be composer-in-residence in Chicago schools. HerVoice mentors and promotes emerging women composers in the art of a cappella choral music. The joy of ensemble singing is for everyone. They want everyone to be a part of it, too.
John William Trotter became the ensemble's second Artistic Director in July 2020, after having worked with the group as a guest music director since 2013. An acclaimed choral leader, he interacts with musicians and audiences to celebrate the gift of music and its powerful place in human identity. He has conducted more than a dozen professional choirs and orchestras on three continents, and studies and teaches widely in the areas of music, leadership, and the role of the arts in society. Trotter serves as Associate Professor at the Wheaton College Conservatory of Music, and is widely active as a guest conductor, composer/arranger, educator, and speaker. His performances of concert music have attracted special attention for their freshness and authenticity. Performances with Chicago a cappella (described by the Chicago Tribune as "The city's liveliest, most versatile vocal ensemble"), and the Vancouver Chamber Choir (where his Vivaldi Magnificat was hailed by the Vancouver Sun as "a radiant performance of this work that overstated nothing and brought out all of its freshness and charm.") have been broadcast throughout North America on APM and CBC.
Paul Langford, Guest Music Director
Chicago singer, composer, arranger, orchestrator, conductor, and keyboard player Paul Langford has been creating a more musical world for over 25 years. His published works (Hal Leonard, Shawnee Press, Oxford University Press, Alfred Music) have been performed by The Chicago Symphony Orchestra, Chicagoland Pops, West Michigan Symphony, San Antonio Symphony, Voices of Liberty, GLAD, Willow Creek, multiple Disney parks, and many orchestras around the nation including the San Antonio, Charleston (SC), West Michigan, Ashland (OH), Pensacola, Grand Rapids, La Crosse (WI), Anderson (IN), Dubuque, Las Cruces (NM), Mobile, and Southwest Michigan Symphonies. Paul has been a vocal and piano guest artist in studio and live performance with headline and Grammy Award-winning artists David Foster, Yolanda Adams, Kenny Rogers, Heather Headley, Abraham Laboriel, Michael Bublé, Josh Groban, and Celine Dion, and he's been honored to perform for Presidents Bush and Clinton and First Lady Michelle Obama. As owner and creative director of Paul Langford Studios, a state-of the-art Chicagoland recording facility, Paul produces, engineers, composes, and plays for a variety of leading artists, corporate clients, and television/film projects. On the road, Paul is an in-demand music educator, guest conductor, respected band and vocal ensemble leader, and invited singer with orchestras and a cappella groups across America and around the globe. For more information, visit https://paullangfordmusic.com and https://penningandlangford.com.
For more information about Chicago a cappella, please visit https://www.chicagoacappella.org or call (773) 281-7820.
Follow Chicago a cappella on social media:
# # #