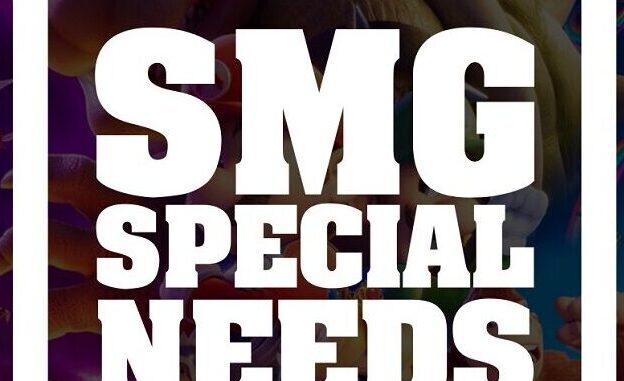 Since its inception in 2000, Studio Movie Grill ("SMG") has remained committed to community service and outreach in its cities and neighborhood. Theater teams have been encouraged to support local initiatives while the Home Office has created programs that impact millions of movie-goers, and locals, every year. It is SMG's intent to be a good neighbor both inside, and outside, the theater.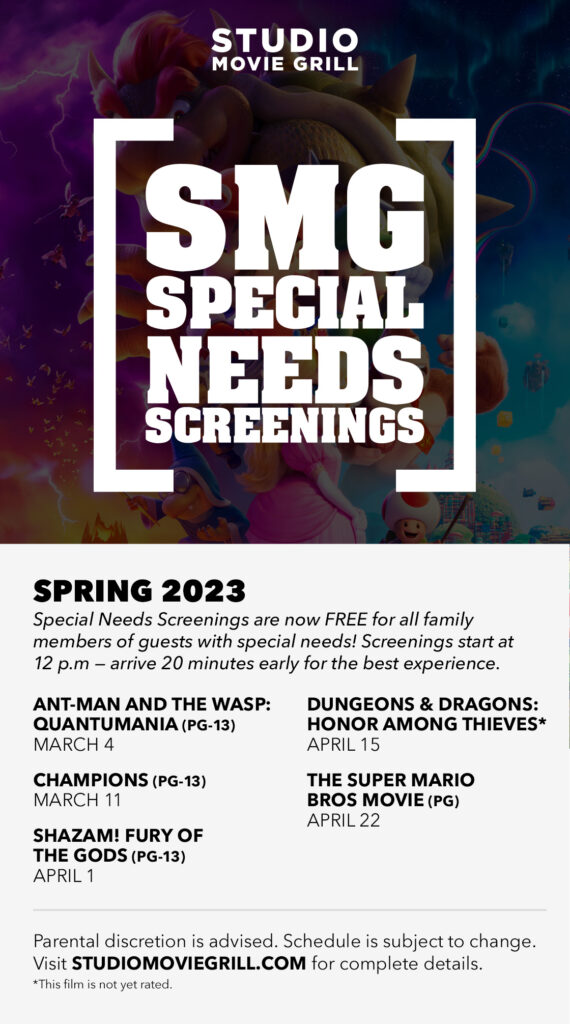 In 2003, an SMG General Manager, and the father of a child with special needs, expressed apprehension when attending a movie with his whole family. From that conversation an idea was born and SMG created its Special Needs Screenings Program. Since that time, SMG has shared the magic of the movies by hosting a Special Needs Screening featuring a new release title with unique screening considerations for thousands of Special Needs Guests and their families. Additionally, when opening a new location, SMG regularly partners with Variety, the Children's Charity to present an adaptive bicycle to a child in need. This past year, SMG Teams have presented adaptive bikes to children in California and Texas while welcoming the child's therapy center to a Special Needs Screening. Often, the children participating have never attended a movie or even been to a movie theater.
Beginning in 2023, SMG has made impactful changes to its loyalty program, SMG Access®. Along with the support of SMG Guests, SMG Access® now affords free tickets to all Special Needs Screening Guests, further setting the exhibitor apart from other such programs. "When we launched SMG Access in 2018, it was the only theater loyalty program that had a 'get-give' component. We remain true to that tenet and have now expanded the Special Needs Screenings Program to align these two legacy outreach efforts for good," said Ted Low, VP Brand and Marketing.
SMG further impacted the special needs community by adding a Special Needs Screening of "Champions" opening weekend and reaching out nationally to Best Buddies, whose Global and State Ambassadors are stars in the movie. Best Buddies and their families nationwide were invited to celebrate and watch the screening at their local SMG location.
Outreach and building community relations are ingrained in the foundational pillars of Studio Movie Grill and its stakeholder model. SMG teams are encouraged, and have long participated in local outreach programs such as food drives, fundraising runs, prom dress drives, holiday toy drives, as well as working with Autism Speaks, Habitat For Humanity, Make-A-Wish, and Special Olympics amongst others. "Team Members have always been involved in their communities, lending hands to voluntarily support programs that mattered to them," said Jenna Patrick, VP Human Resources. "The chance to positively impact the lives of those within their local communities is a unique attribute to SMG, and one that new Team Members consistently identify as a key factor during their employment search." Beginning in 2023, SMG is very proud to announce that it will be supporting the national charity, Feeding America. Feeding America is the largest hunger-relief organization in the United States with a mission to advance change in America by ensuring equitable access to nutritious food for all in partnership with food banks, policymakers, supporters, and the communities [they] serve. This year, all salaried Field Management, Area Directors and Home Office Team Members will be offered paid time off to volunteer with Feeding America or one of its affiliate programs.
April is World Autism Month and, as in previous years, SMG has announced partnership with Autism Speaks in a month-long culinary offering with a percentage of proceeds going to support the non-profit. This marks the seventh year that SMG Culinary has expanded its commitment to Special Needs families during the month of April.
"It truly is a gift to be a part of an organization that values giving back. Sometimes that's financially, sometimes that's our facilities or a movie on the big screen, and sometimes that's a fun run in our neighborhood, but it's always something. 'Opening Hearts and Minds, One Story at a Time' is a sign inside most every building and at the Home Office, and it serves as a constant reminder that we can impact the people around us for good through the power of movies and sharing a meal with family and friends," said Michael McCreary, SMG's longest tenured Team Member and Vice President of Operations.
About Studio Movie Grill:
Conceived in 1993, Studio Movie Grill ("SMG") modernized the traditional movie-going experience by combining first-run movies with full-service, in-theater dining and now has 226 screens in 7 states. SMG was named to Inc. Magazine's List of "Fastest Growing Private Companies" three years in a row, Best Places to Work in 2021 and 2022, and consistently in the top 15 at the Box Office with key titles regularly grossing as high as #8 in box office receipts. Honoring its commitment to Opening Hearts and Minds, One Story at a Time™, SMG's legacy programs include its longtime Special Needs Screenings and its unique loyalty program, SMG Access® which, as loyal guests earn rewards, has allowed them to join SMG in offering free admissions to Special Needs Screenings. For additional information, visit studiomoviegrill.com.